Caribbean Vacations
Explore the Caribbean Islands
Make the Most of Your All-Inclusive Caribbean Vacation
The Caribbean Islands offer a vast expanse of tropical paradises perfect for sitting out on unspoiled beaches and soaking up the sun. Whether it's your first or hundredth visit to the Caribbean, make the most of your next Caribbean vacation by finding the best location and resort for you. There are countless Caribbean resorts for every type of traveler and age, so make sure you know what you're booking before you go!
Find the Perfect Caribbean Location
Not all Caribbean islands are created equal, and that's especially true when you're tailoring your vacation around your interests and needs. If you're looking for nonstop adventure, fun outdoor activities, and lively entertainment all night, consider an all-inclusive vacation to the Dominican Republic, where the West-African inspired music fills the lively streets of Punta Cana and you can explore waterfalls, mountains, and miles of crystal clear ocean.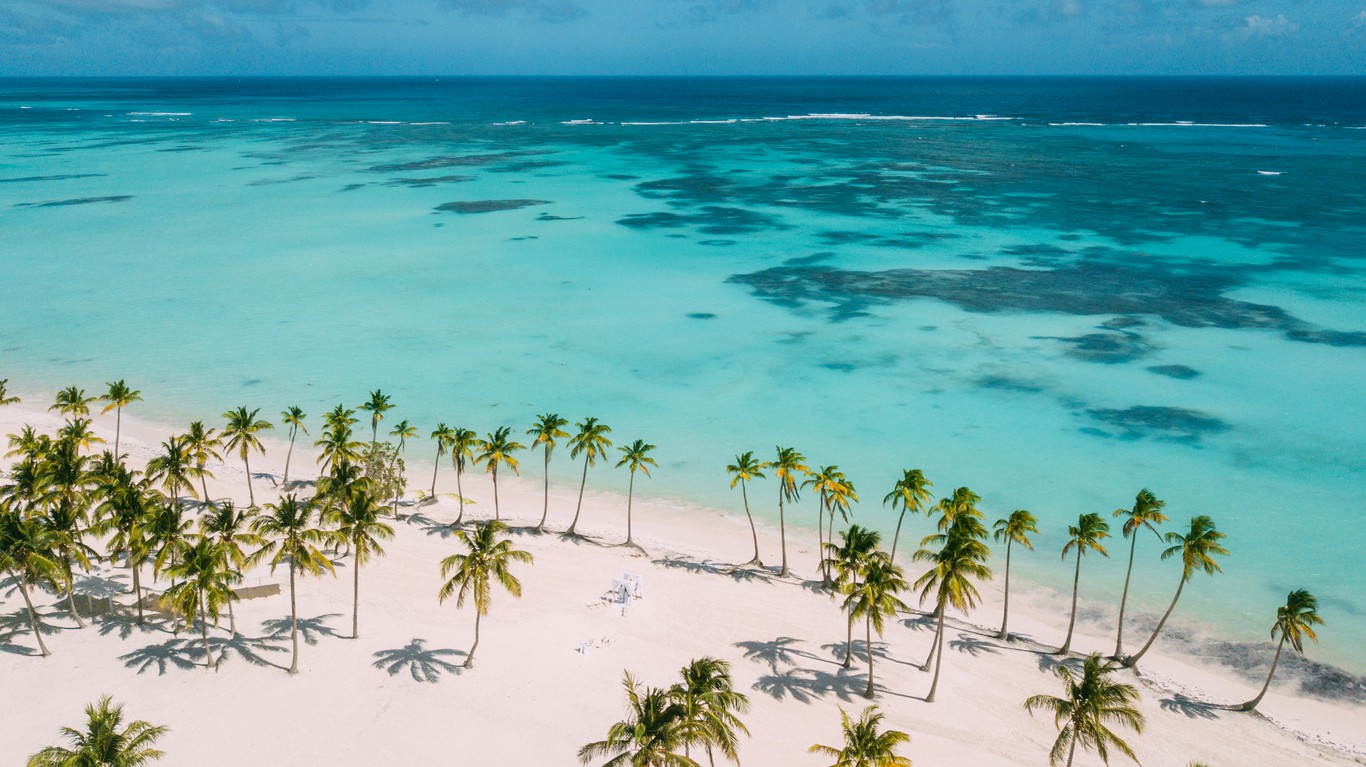 If you're like many tropical vacationers, your goal is simply to relax, unwind, and lie out on gorgeous white sand beaches at an all-inclusive resort right on the ocean. Make Aruba your next vacation and enjoy stunning turquoise waters and excellent service (there's even a private island full of friendly flamingoes you can enjoy!)
Find all-inclusive resorts across beautiful Puerto Rico that have delicious regional cuisine any time of day. You can try classic dishes at your resort including arroz con gandules, pastelón, and arepas de coco. Caribbean resorts across Puerto Rico offer guests soft beaches, great views of the ocean, and enough food for a feast every day of your trip.
Book the Best Caribbean Resorts
All-inclusive vacations in the Caribbean are great for every age, but carefully check any resort you plan on booking to make sure it's a great fit for you. Some Caribbean resorts are perfect for families and offer kids' clubs, special menus, and family pools. There are also resorts offering guests free usage of equipment like snorkel sets, kayaks, and paddleboards, perfect for a fun day on the Caribbean's beaches with the entire family.
For a more relaxed vacation away from the kids, consider an all-inclusive adults-only resort tailored to couples and honeymooners. At these resorts spread across the Caribbean, you can enjoy world-class spa services right on the beach, locally sourced gourmet cuisine from the comfort of your balcony, and unlimited beverages for every taste. Book an adults-only vacation for a peaceful and serene experience on the top beaches of the Caribbean.
Take Advantage of Special Offers
Before you book your tropical getaway, you may find special offers to different resorts and locations based on occupancy or time of year. Summer is a popular time for all-inclusive vacations with the family, so you may snag some adults-only resort perks like specialty dining credits, free massages, or upgraded rooms. Certain Caribbean resorts offer perks year round if you're booking a longer vacation or a certain number of rooms, giving you great discounts and more to spend on those little trinkets.
If you're thinking about a Caribbean vacation, it's time to book! You'll find great deals and specials on tropical islands around the region, so you can tailor your vacation and create the perfect tropical getaway to little-visited islands like Grenada or tourist hotspots like the Bahamas. Wherever you go, there's a Caribbean all-inclusive waiting to give you the trip of your dreams.
Discover Destinations in Mexico
Signup for Vacation Deals
Exclusive access to private sales, customized specials & more