No Kids Allowed: The Most Romantic Adults-Only Resorts
When it comes time for reconnecting with your significant other, it is always best to leave the children at home. Since we have a blog dealing with family friendly vacations, today we are addressing the grown-ups and talking about adults-only resorts and destinations designed for couples.
Escaping the day-to-day stress of managing the kids, the job and mind-numbing responsibilities of housework is the purpose of an adult vacation experience. Even if you don't have children, you may want to escape to a place where the pool is not crowded with screaming mini-people and the restaurants are free of whimpering toddlers. Here are some great escapes for adults.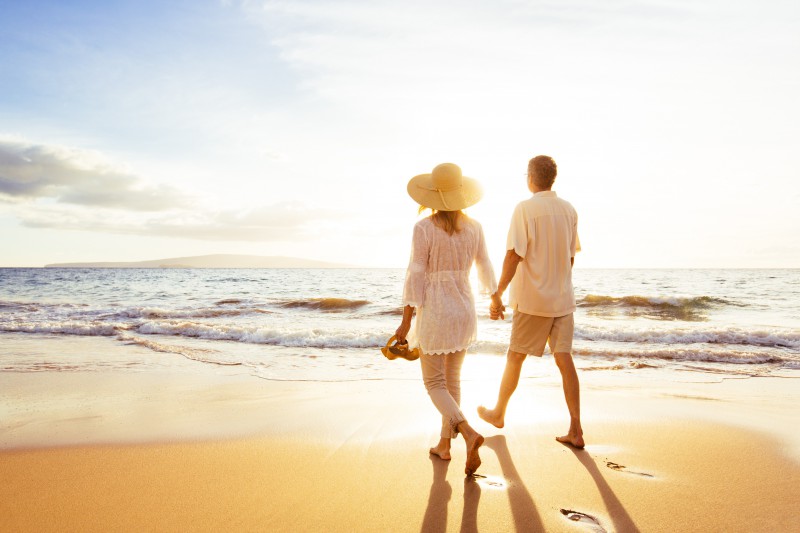 Hedonism II – Negril, Jamaica
Hedonism resorts are described as "a sandbox for your inner child." For one upfront price, you can enjoy all the drinking, dining, playing and dancing you can imagine, and in most areas clothing is optional. This is a place for casting off inhibitions, where you can go skinny dipping, have a rum drink before noon and engage in fantasy at costume parties. The best part may be the setting on the 500-foot long sugar sand beach of Negril on the far western point of the island. It is the ideal spot for sipping rum drinks and marveling at the orange and pink tropical sunset.
Sandals LaSource – Grenada
Grenada is called the "Island of Spice," and you'll notice the aromas of cloves and cinnamon wafting in on the sea breeze even from the airport. Local cuisine is flavored with the nutmeg, ginger and turmeric that grow in abundance here. Designed to complement the beauty of the island, The Sandals LaSource Resort is a collection of three villages: Pink Gin, South Seas and Italian Village, with private plunge pools, lazy meandering rivers and refreshing waterfalls. You may find an infinity pool just outside your living room or a heated plunge pool on your private patio. Your veranda may be furnished with a deep soaking tub with room enough for the two of you. With ten restaurants and all the water activities you can fit in (including unlimited diving), this is a vacation you'll both remember for a long time.
Excellence Playa Mujeres – Cancun, Mexico
Just 25 minutes north of the Cancun airport is a new luxury resort on the southern end of a narrow, untouched peninsula jutting into the Caribbean Sea. The Excellence Playa Mujeres is an oceanfront oasis facing Isla Mujeres, with seven refreshing pools that wind their way through the palm trees and walkways. Relax in a lounge chair under your own private tiki hut, or nap in a hammock hanging above the canal pool. When you get hungry, just order a fresh pizza from the poolside brick pizza oven. Then, walk it off on the two miles of soft sand beaches. This is an intimate and exclusive resort in a private community with a golf course and a marina. It is all-adult, all-inclusive and all-gorgeous. This one will spoil you.
Barcelo Bavaro Beach – Dominican Republic
Punta Cana Beach in the Dominican Republic is recognized as one of the ten best beaches in the world. Facing this treasured beach is a complex of luxury resorts, the Barcelo Bavaro Beach Resort, which contains the adults-only hotel with its nine ala carte restaurants and choice of creative pool areas. If you love swimming laps you'll have plenty of room, but there are an abundance of pool beds, water jets, waterfalls and shaded cabanas. Eighty percent of the rooms face the ocean, and some have private Jacuzzis. You'll have fun at the many shows in the new Beach Theatre where you can end up on stage with the performers. There is waitress service on every level and a different show every night. The casino is open at all hours with American roulette, black jack, Caribbean poker and Texas Hold'Em in addition to the slot machines. And, I haven't even described the water sports or golf courses yet. Let's just agree, you won't be bored here.
Palm Island Resort – The Grenadines
The Palm Island Resort occupies its own 135-acre island in the Grenadines between St. Vincent and Grenada. With just 37 rooms, it is uncrowded, unspoiled and part of the untouched natural surroundings with its white beaches and coconut palms. Island life here is relaxed and slow-moving, a place to get away from modern annoyances and walk the beach at sunset. Most activities revolve around sun, sand and ocean with opportunities for windsurfing, snorkeling, sailing and kayaking. The swimming pool has a refreshing waterfall and sun terraces. You can choose from a number of room options, including cozy Island Lofts with private terraces, or a Cliffside Villa with three bedrooms and a huge covered deck for entertaining. All have water views, sitting areas, stylish rattan furnishings and best of all for couples in love, privacy.
For more suggestions on where to take your all-adult vacation with your loved one, take a closer look at these romantic destinations.
By Kay D. Harrison
Signup for Vacation Deals
Exclusive access to private sales, customized specials & more