Explore Jamaica's Rainforests, Rivers and Curious Sights
For a small island, Jamaica has a world of fascinating sights to see. From the Blue Hole of Ocho Rios to Floyd's bar in the middle of the ocean, the curious traveler will find a number of worthy destinations in this friendly tropical country. Spanish sailors, pirates, British explorers and native peoples have brought a kaleidoscope of cultural influences to the island, but it's the wonders of the land, the rivers and the sea that impress Jamaica's visitors.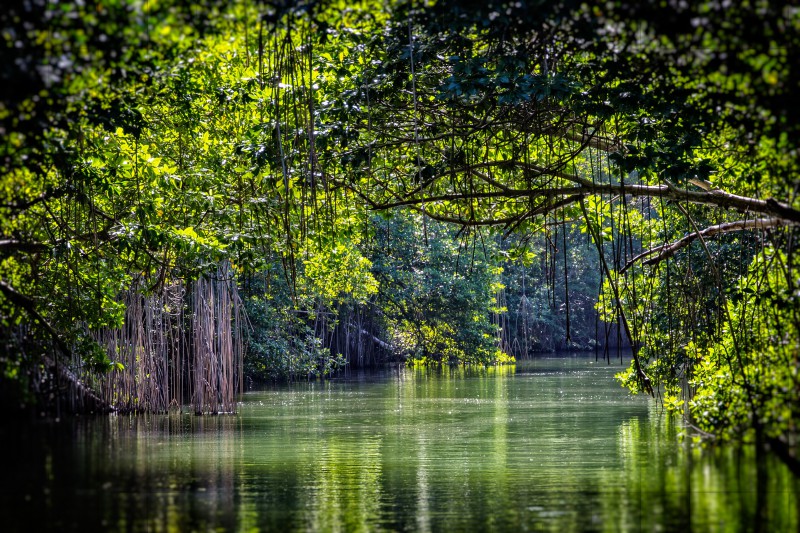 1. White River Tubing in Ocho Rios
I have seen this water tour described as both "thrilling" and "relaxing," so I believe the river is wild one day and slow the next. You and 12-14 companions will go by bus to a location upstream and be dropped in the river on large inner tubes with full bottoms. With one or two knowledgeable guides, you will float down the river to the beach, about an hour through mild rapids and long, slow eddies. A mid-ride stop allows you to take a break, purchase a beer, and swing from a rope to drop into the 12-foot-deep swim hole. The natural beauty of this ride – with the canopy of trees above you and the fresh, cool water rushing you along – is really stunning. Did I mention that the water is cool? On hot days, you'll be refreshed by the bubbling water streaming down from the mountains, but it's downright cold in winter. You'll quickly get used to it.
2. Glistening Waters (Luminous Lagoon) near Falmouth
There are only four places in the world where you can experience luminous waters that glow an eerie green after dark. The Glistening Waters of Jamaica are formed where fresh water from the river and salt water from the Caribbean Sea combine in layers. In these layers, microorganisms called dinoflagellates thrive, throwing off a bright green glow that outlines everything in the water, including fish, boats and swimmers. You can take a 45-minute boat tour from Glistening Waters Marina out to the Luminous Lagoon and jump in. The green lights will swirl around your limbs and light up the splashing water all around you. It is an experience that will shimmer in your memory long after you return home.
3. Floyd's Pelican Bar in Negril, St. Elizabeth Parish
Floyd's Pelican Bar is simply unique. It is an ultra-casual bar sitting in shallow ocean waters about a quarter-mile from the coast of Negril. The unlikely structure is made of coconut palm logs, driftwood and thatch, and looks like something the tide washed in. It was not quite sturdy enough to survive Hurricane Ivan and was washed away in 2004. A local hotel owner donated materials and local fishermen and businesses donated labor to rebuild the structure. The best way to get there is by small boat from Treasure Beach or the Black River. Ask at your hotel or resort for reputable drivers. Once there, you can enjoy $5 ice-cold beers and local rum drinks. There is no set menu, but sometimes fresh seafood is served, and you are welcome to bring your own picnic. Also bring a personal item to leave, such as a license plate, cap, t-shirt or memento, and for a price, a carver will add your initials to the wood floor.
4. Rainforest Bobsled Jamaica at Mystic Mountain in Ocho Rios
Take a cable car through a beachside rainforest to the top of Mystic Mountain for an unforgettable view of turquoise waters and the cruise ship port. There are several heart-stopping ways to descend, including a Cool Running bobsled ride (ask for the Olympic push-off) or a zip line through the treetops. The cable car ascent is a little rough if you have a fear of heights, and the bobsled is absolutely terrifying – the first time.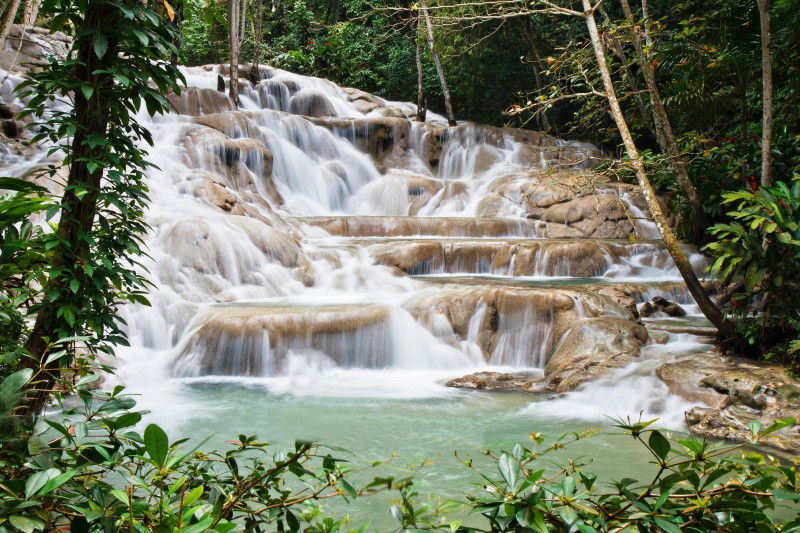 5. Blue Hole, in a rainforest above Ocho Rios
Many tourists – busloads of them – visit Dunn's River Falls (pictured above), a spectacularly picturesque destination for waterfall lovers. But a little more off the beaten path, and just as beautiful, is the Blue Hole. Climbing into the hills from Ocho Rios, the poorly maintained road to the site is an adventure in itself. You'll have to book a tour (recommended) or ask around for a driver who will agree to the trip, but once you get there, professional guides will help you navigate the falls, the water hole jumps, and the caves. Adventurous tourists (and avid photographers) should also walk along the river to a rushing waterfall about ten minutes' hike upstream. Brilliant wildflowers, topaz-blue water and lush greenery make an artistic backdrop for an outstanding vacation portrait. Ask one of the guides to take it for you – they are incredibly good at it.
Signup for Vacation Deals
Exclusive access to private sales, customized specials & more