Pacific Princess
Overview
The Pacific Princess is one of two R Class cruise ships from Princess Cruises. This smaller ship attracts a more mature 50+ crowd, and fewer families traveling with children, compared to other ships in the fleet. Cruise on board the Pacific Princess to exciting destinations such as British Columbia, Alaska, Hawaii, Tahiti and Polynesia.
Built in 1999, the Pacific Princess got a makeover in January 2010, when it underwent a refurbishment adding new upgrades and features. A second makeover was completed in June of 2017. All 338 cabins are newly fitted with the most luxurious amenities at sea.

There's an ambience that you find on a small ship like Pacific Princess, where you'll share your cruise with just 680 guests and visit ports inaccessible to larger cruise ships. The ship offers a sophisticated elegance, yet has many of the large-ship amenities. With a smaller group of guests on board, you'll meet fellow travelers who share your interests and experiences.
Awards for Pacific Princess by Princess Cruises
2014 - Cruise Critic Cruisers' Choice Award - Best Embarkation
2013 - Condé Nast Traveler Readers' Poll - Best Cruise Ships in the World - Top 20 Medium Ships
Cabin Options
There are a total of 338 cabins on board the Pacific Princess with space for 680 guests. Standard room amenities include a television, refrigerator, A/C, security safe, and 24-hour room service.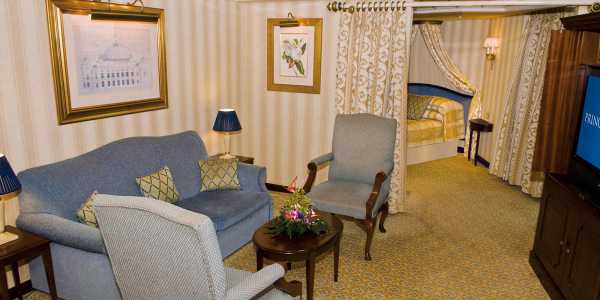 Suite
Size: 874 sq. ft.
Suites feature a large, furnished balcony. These suites have a queen-size bed, spacious closet, vanity, bathroom with whirlpool tub, a second guest bathroom, two TV's, a DVD/CD player and a comfortable living room with a sofa bed, armchairs and dining table.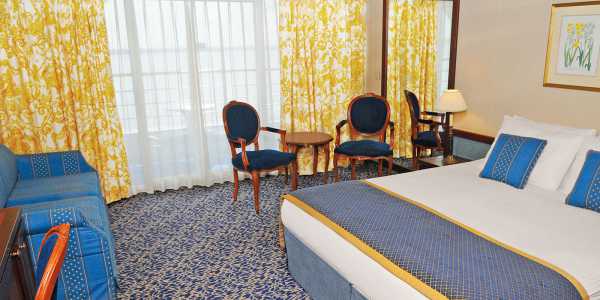 Mini Suite
Size: 322 sq. ft.
Occupancy: Up to four guests
Mini Suites have large sliding glass doors leading to their private balcony. These rooms have two twin beds that convert to queen-size, a bathroom with tub and shower, a spacious closet and a living room with sofa, armchairs and a desk. Mini Suites with extra bedding accommodate three to four guests.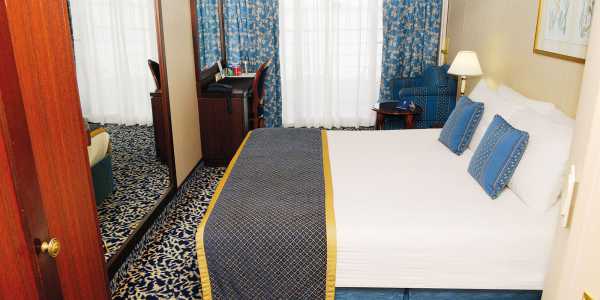 Balcony Stateroom
Size: 216 sq. ft.
Occupancy: Up to 2 guests
Balcony Staterooms have floor-to-ceiling windows leading to the furnished balcony, two twin beds that convert to queen-size, a closet, bathroom with shower and a sitting area with a sofa and desk. These rooms have enough space for two to three guests.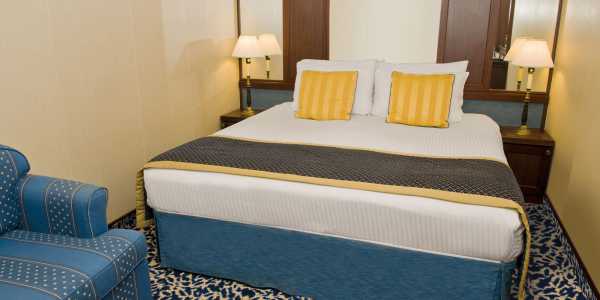 Inside Stateroom
Size: 158 sq. ft.
Occupancy: Up to 2 guests
Inside Staterooms have two twin beds that convert to queen-size, a closet, bathroom with shower and a sitting area with a sofa and desk. Some rooms come with extra bedding and sleep up to four guests
Entertainment & Activities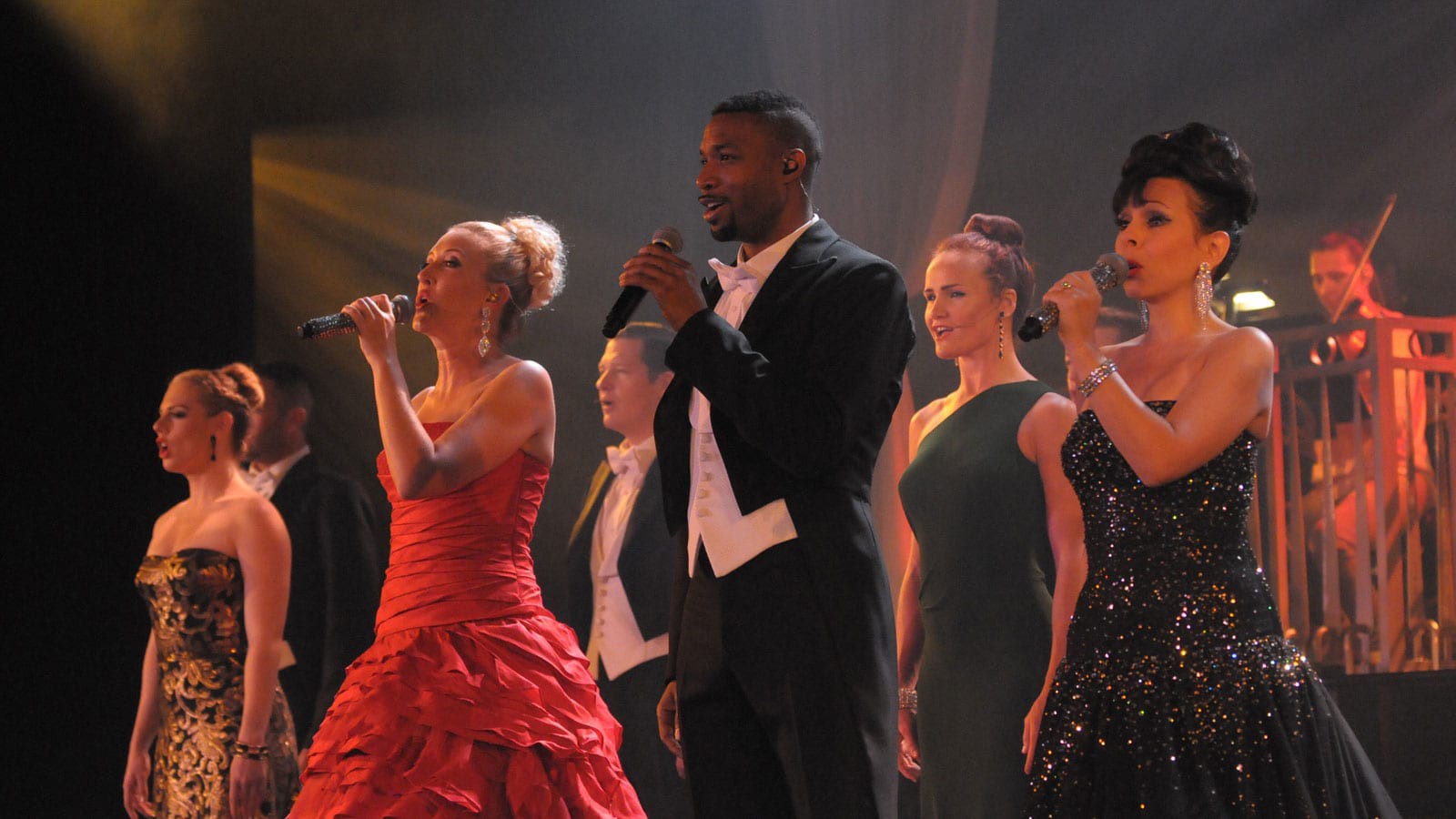 Take in a live show or the latest feature-length film at the Cabaret Lounge, play a game of chance at the Casino, or imbibe in your favorite cocktail at one of several lounges including the Piano Bar, Club Bar, and Pacific Lounge.
Visit the Lotus Spa® for a day of rest and relaxation, get in an invigorating workout at the Fitness Center, or lounge by the pool while enjoying a refreshing beverage. Enjoy daytime activities like the jogging track, shuffleboard, or golf cage.
On the Pacific Princess, you can browse through The Shops of Princess, learn about international cultures at our Festivals of the World, or master a new skill in dancing or cooking — our onboard activities will keep you interested every minute of your cruise.
Dining Options
There are a variety of casual and fine dining options to choose from including Sterling Steakhouse, Sabitini's Italian Restaurant, and the Ultimate Balcony Dining experience.
Casual Dining Options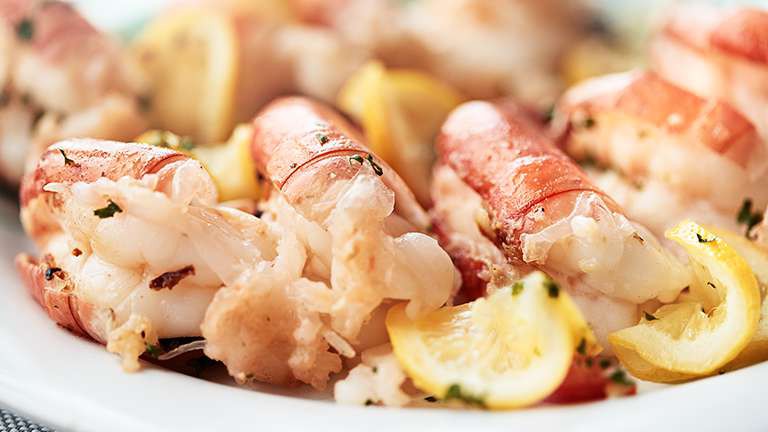 Club Restaurant is the main formal dining room on the Pacific Princess. This dining option is free to all guests. Breakfast is served from 7:30 to 9:30 am, while lunch is available on sea days, turnaround days and select port days. The Club Restaurant offers fixed dinner seating at 5:15, 6 or 8:15 pm, or guests can opt for Anytime Dining to eat between 5:30 and 10 pm.
Panorama Buffet is the ship's main casual dining area open for breakfast, lunch, and dinner.
Grab a burger or hot dog at the Deck BBQ.
Pizzeria, Pâtisserie and Afternoon Tea are other casual options for a snack or quick bite to eat.
Specialty Dining Options
Sabitini's Italian Restaurant is open for dinner and serves classic Italian cuisine for $25 per adult and $12.50 per child. Complimentary breakfast is available at this specialty restaurant for all guests staying in one of the suites.
Sterling Steakhouse is open for dinner from 6 to 11 pm and charges $25 for adults and $12.50 for children.
The Ultimate Balcony Dining option is a special meal option served by dedicated wait staff. Breakfast is served from 7 to 11 am, for $32 per couple and dinner is served from 6 to 10 pm for $100 per couple. Dinner service includes a cocktail party, fresh flowers, champagne and a four course meal. Order this unique dining experience on board or as a pre purchased special service item.
Find your princess cruise
Discover the World on These Cruise Lines
Search for Cruises & Compare Deals!
Signup for Cruise Deals
Exclusive access to private sales, customized specials & more