Majestic Princess
Overview
Majestic Princess is the newest sister ship to Princess Cruise Line's Royal Princess and Regal Princess. This Royal Class sails to ports around Asia and often visits it's neighbors down south, Australia and New Zealand.
This luxury cruise ship features a variety of room types including Suites, Club Class, and Mini-Suites; as well as Deluxe Balcony, Balcony, Interior; and Wheelchair Accessible staterooms. With room for 3,560 guests and an assortment of dining and entertainment options, sailing on this luxury ship will be a treat for any traveler. Let Dunhill Travel Deals find the best promotions for your sailing so you can enjoy the best cruise rates as you sail across Asia.
Cabin Options
Majestic Princess ship features a variety of room types for 3,560 guests.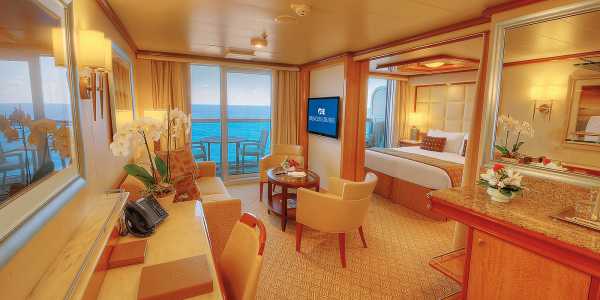 Suite
Suites include extra living space and upscale amenities like floor-to-ceiling glass doors, flat-screen TVs, and 24-hour room service. Suites also include walk-in closets, complimentary laundry services, and a luxuriously furnished private balcony.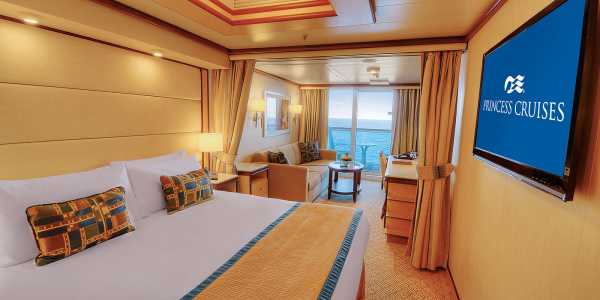 Mini-Suite
Mini Suites feature a private balcony, floor-to-ceiling glass doors, a refrigerator, separate sitting area with sofa bed & coffee table, and a complimentary welcome glass of Champagne on embarkation day.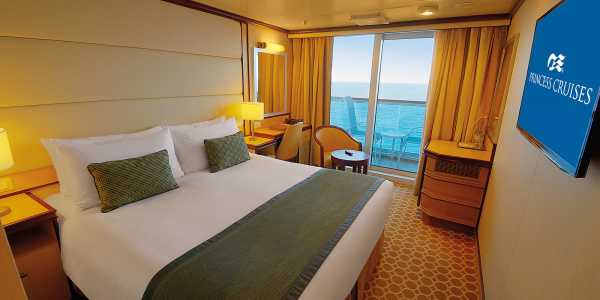 Balcony Stateroom
Balcony staterooms are a great place to escape the hustle and bustle of the ship, featuring private balconies, private bathrooms, and amazing views. Balcony staterooms give guests room to relax with accommodations for two.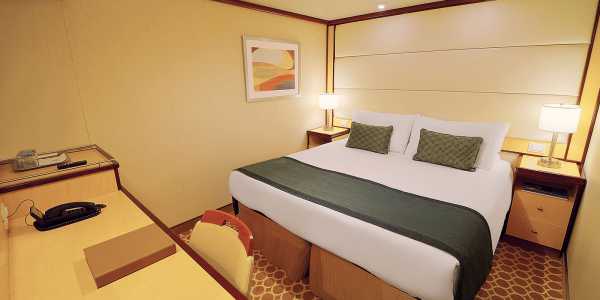 Interior Stateroom
Interior staterooms are budget-friendly and feature two twin beds or a queen-size bed, a refrigerator, hair dryer, TV, closet and bathroom with shower.
Itineraries, Sailing Dates & Pricing
Entertainment & Activities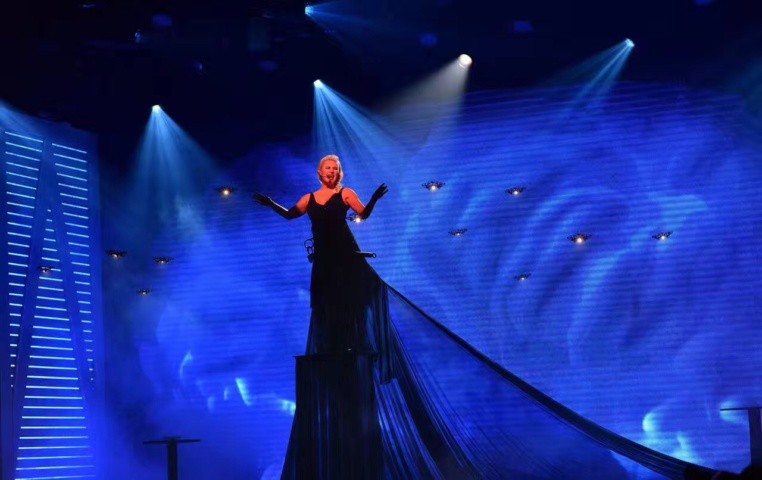 When it comes to entertainment options, the Majestic Princess doesn't disappoint. You can enjoy a movie under the stars, the Princess Watercolor Fantasy Show, original musical productions, and a Vegas-style casino.
There's also the Seawalk, Sports Central, The Greens, a fine art gallery, The Atrium, and more. And if you're traveling with kids or teens, the Majestic Princess provides multiple spaces just for families with three separate kids programs for children aged 3-17.
Dining Options
There's no reason to go hungry on the Majestic Princess with more than eight dining options and six specialty restaurants. You'll wish your cruise were longer just so to experience the incredible delicacies on board.
Anytime Dining - With Anytime Dining, you'll have the freedom to eat when you want-no reservations required.

Traditional Dining - Sit in the grand dining room and relive the heyday of cruising. You'll sit with the same group each night and enjoy sharing stories and meals with your new friends.

World Fresh Marketplace - With food stations from around the world, treat your palate with a new delicacy each day with French crepes, Asian noodles, German grilled sausages, Japanese satays, and more.

The Bakery - When you need to satisfy your sweet tooth, head to the bakery. From fresh pies to decadent pastries, you'll find just the thing to satisfy your craving.

International Café - Find small bites, treats, and gourmet beverages around the clock at the International Café.

Alfredo's Pizzeria - Enjoy watching the chef freshly prepare your pizza as you sip a glass of beer or wine in Alfredo's Pizzeria.

Lobster & Dim Sum Bar - Grab a bite at this relaxed al fresco eatery and indulge on three types of lobster and three varieties of Dim Sum.

Chopsticks Noodle Bar - If you're looking for an amazing bowl of soup, stop by the Noodle Bar where you'll find freshly prepared noodle soups and classic wok noodle dishes.

Harmony - This specialty restaurant features Chef Richard Chen's interpretation of classic Cantonese dishes, with innovative plates and impeccable techniques.

La Mer - Have a taste of France with this casual bistro-style dining created by Chef Emmanuel Renaut.

Crown Grill - For the tastiest premium aged beef and fresh seafood items, head to the Crown Grill and watch as the chefs cook to order top-quality cuts of beef, chops, and seafood.

Chef's Table Lumiere - Ideal for any special occasion, Chef's Table Lumiere gives diners a behind-the-scenes galley tour with champagne and hors d'oeuvres, followed by an extravagant multi-course dinner created and hosted by the ship's executive chef.

Ocean Terrace - If you're looking for a seafood feast, the Ocean Terrace is the place for you. Sample an array of the ocean's best in an a la carte atmosphere.
Find your princess cruise
Discover the World on These Cruise Lines
Search for Cruises & Compare Deals!
Signup for Cruise Deals
Exclusive access to private sales, customized specials & more