Diamond Princess
Overview
The Diamond Princess is one of nine Grand Class cruise ships from Princess Cruises. This ship first sailed in April 2004 and underwent a refurbishment with many new upgrades in February 2019.
The Diamond Princess offers cruises to exciting destinations in Japan and Asia. Find information below about the elegant Diamond Princess, its entertainment, dining options, cabins, and itineraries.
Awards for Diamond Princess by Princess Cruises
2013 - Condé Nast Traveler Readers' Poll - Best Cruise Ships in the World - Top 20 Large Ships
2012 - Condé Nast Traveler Readers' Poll - Best Cruise Ships in the World - Top 20 Large Ships
Cabin Options
The Diamond Princess cruise ship has 1,337 cabins and suites with space for up to 2,670 guests.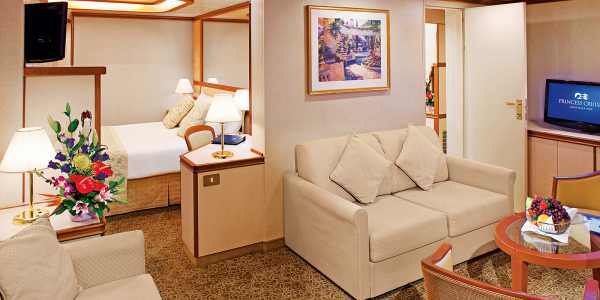 Family Suites
Size: 525 to 1,320 sq. ft.
Occupancy: Up to 6 guests
Family Suites have a huge balcony, include two staterooms connected by a living area and sleeps up to six guests. Both rooms have twin beds that convert to queen-size, a closet, bathroom with tub and shower, mini-bar, refrigerator and a safe.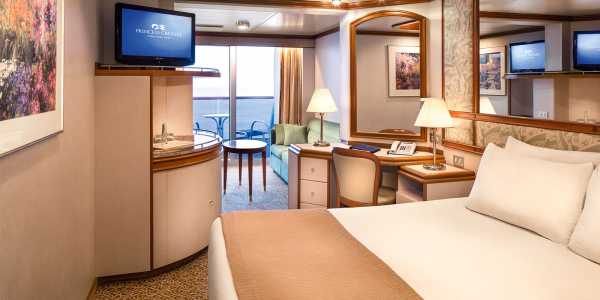 Mini-Suite with Balcony
Size: 354 sq. ft.
Occupancy: Up to 4 guests
Mini-Suites with Balcony have two twin beds that convert to queen-size, television, refrigerator, hair dryer, safe, closet, phone and desk. Premium amenities include a welcome glass of champagne, combination tub and shower in the bathroom, separate seating area with sofa bed and chocolates on your pillow.
Balcony Stateroom
Size: 237 sq. ft.
Occupancy: Up to 2 guests
Balcony Staterooms feature 46 sq. ft. balcony, have two twin beds that convert to queen-size, private bathroom with shower, television, safe, refrigerator, hair dryer, phone, closet and desk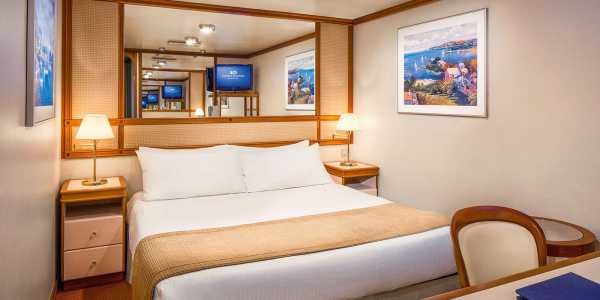 Interior Stateroom
Size: 168 to 182 sq. ft.
Occupancy: Up to 2 guests
Interior Staterooms have two twin beds that convert to queen-size, private bathroom with shower, refrigerator, hair dryer, television, safe, closet, phone and desk.
Entertainment & Activities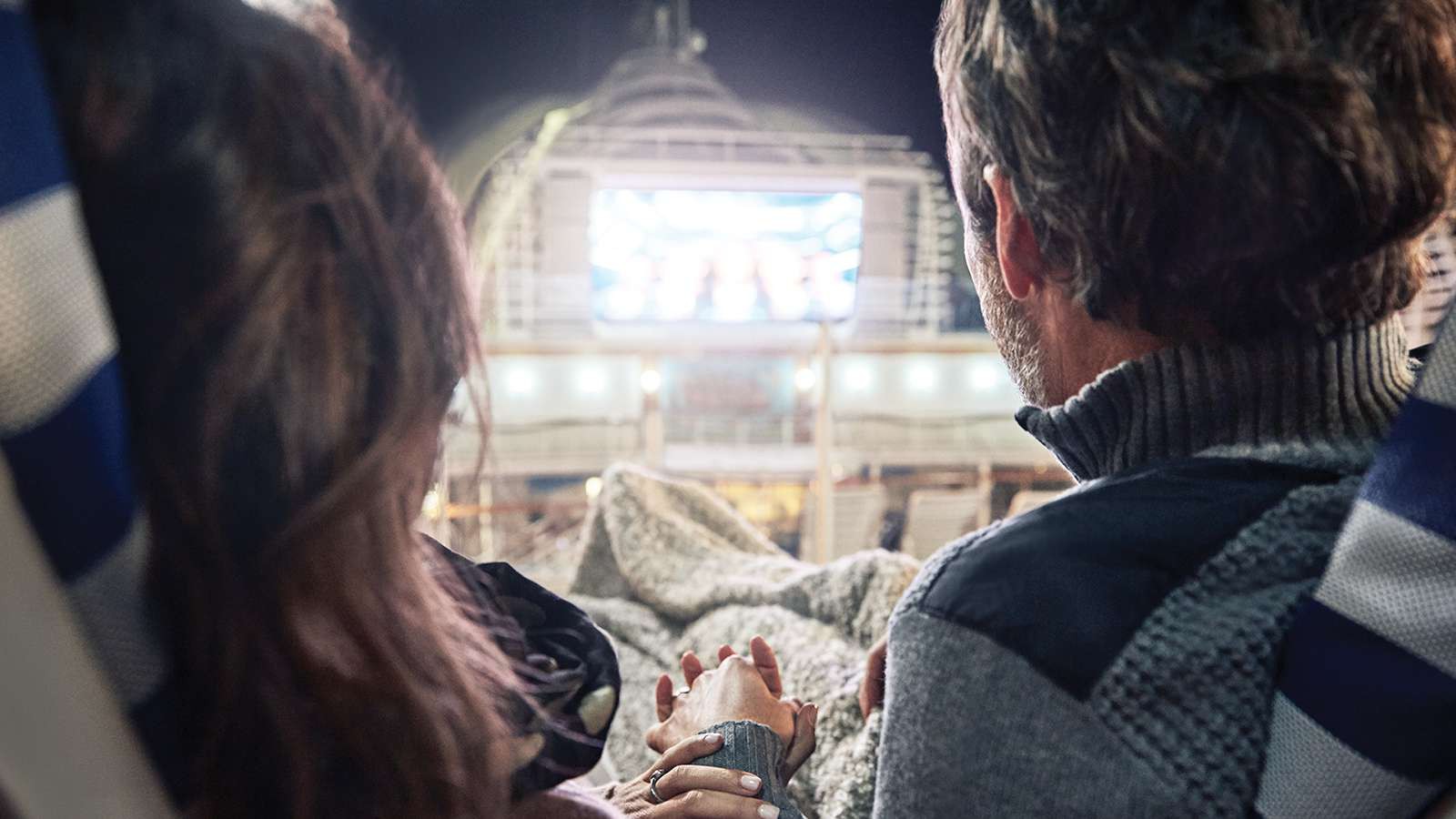 Hang out at the adults-only Sanctuary deck area while your children are playing video games or watching a movie at the Kids' Center or Teens' Center. Hang out with friends and dance the night away at Club Fusion or Skywalkers Nightclub or enjoy a Cuban cigar and cocktails at Churchill's Cigar Lounge.
Enjoy Movies Under the Stars®, drop in on a spin class at the Lotus Spa® and Fitness Center or practice your putting skills at the nine-hole mini-golf course. Entertainment in the Princess Theater might be a lively musical revue or a hilarious comedy show. If you want a quiet evening, find one of the piano bars and enjoy singing along with a live performer. You can find street entertainers in the Piazza performing folk arts, music, acrobatics and juggling. There's never a dull moment on the Diamond Princess.
Dining Options
Enjoy a traditional Italian meal at Sabitini's, dine on juicy steak with sautéed mushrooms and a side of grilled asparagus at the Sterling Steakhouse, or satisfy your sweet tooth at La Patisserie. Room service is also available 24 hours for private, in-room dining whenever you want.
Included Dining

Main Dining Rooms (International, Pacific Moon, Santa Fe, Savoy and Vivaldi) - Breakfast, lunch and dinner with open seating from 7:30 to 9:30 am and noon to 1:30 p.m. on sea days and embarkation day. Dinner is available as either fixed seating or guests can choose the Dine My WaySM dining option.
Chocolate Journeys - Decadent, hand-crafted treats exclusively for Princess' Chocolate JourneysSM program.
Horizon Court - Delightful array of worldwide cuisine, freshly baked breads and regional comfort foods, in a casual setting at breakfast, lunch or dinner.
Prego Pizzeria - Classic Italian calzones stuffed with delicious Italian deli meats and cheeses or fresh made pizza.
Trident Grill - Burgers flipping and hot dogs roasting, served with a variety of fixin's and crisp fries.
La Patisserie - Quick treats in a comfortable, casual sidewalk café-style setting.

Specialty Dining

Sabatini's Italian Restaurant - Classic Italian food including a variety of appetizers, soups, salads, main courses and desserts for $25 per person.
Ultimate Balcony Dining - Intimate breakfast or dinner for two. Breakfast is served from 7 am to 11 am for $32 per couple, while dinner is served from 6 pm to 10 pm for $100 per couple. Dinner includes a cocktail party, fresh flowers, champagne and a four-course meal.
Chef's Table Experience - Pre-dinner cocktails and hors d'oeuvres in the galley for you and a limited number of fellow guests and gourmet dinner.
Sterling Steakhouse - Highest quality cuts of premium, grain-fed beef including New York strip steak, Porterhouse and Filet Mignon.
Kai Sushi - Traditional sushi bar, serving up sushi and sashimi expertly prepared before your eyes.
Discover the World on These Cruise Lines
Search for Cruises & Compare Deals!
Signup for Cruise Deals
Exclusive access to private sales, customized specials & more