Royal Princess
Overview
The Royal Princess is the flagship Royal Class from Princess Cruises, later joined by sister ship the Regal Princess. Completed in 2013 this ship travels to exciting destinations like the Caribbean, Mexico, Western Europe, Alaska, and New England.
The award-winning design of the piazza-style Atrium makes a dramatic impression when you board. For a dare-devil look at the ocean below, guests can head to the glass-floored SeaWalk®, or delight in the WaterColor Fantasy, a light and music showby the top deck pools after dark. Adults can relax at The Sanctuary, a tranquil haven with no kids allowed, or indulge in world-class treatments at the full service, award-winning spa.
Find rates, itineraries, cabin options, and dining details below and start planning an unforgettable vacation aboard Royal Princess.
Awards for Royal Princess by Princess Cruise>
2013 - Travel Weekly Magellan Gold Awards - Best Large Cruise Ship Design
2013 - Travel Weekly Magellan Gold Awards - Best Large Cruise Ship Spa Design
2013 - Travel Weekly Magellan Gold Awards - Best Large Cruise Ship Atrium Design
2013 - USA Today - 10 Most Gee-Whiz Features at Sea - The SeaWalk®
2013 - Cruise Critic - Most Popular Ships at Sea
Cabin Options
The Royal Princess cruise ship has 1,780 cabins and suites with space for 3,560 guests. Room service is available 24-hours a day in all staterooms.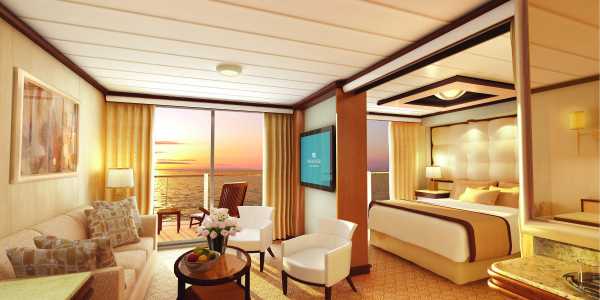 Suite with Balcony
Size: 440 to 682 sq. ft.
Occupancy: Up to 4 guests
Suites with Balcony offer all the amenities of a mini-suite, plus two 42" flat screen televisions, separate bathtub and shower, marble floors and counter-tops, access to the Concierge Lounge, a sound station iPod dock, web access in the Internet Cafe and more.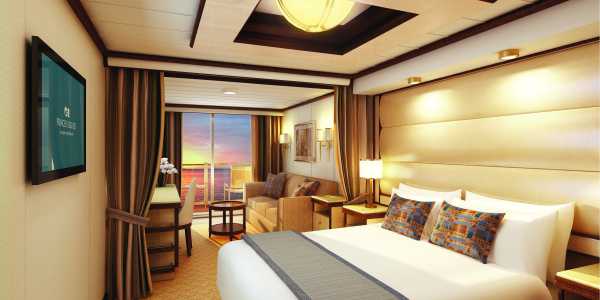 Mini-Suite
Size: 299 sq. ft.
Occupancy: Up to 4 guests
Mini-Suites include all the same amenities of a balcony stateroom plus a welcome glass of champagne, separate seating area, sofa bed, two flat screen televisions, marble top furniture, a spacious closet and bathroom tub.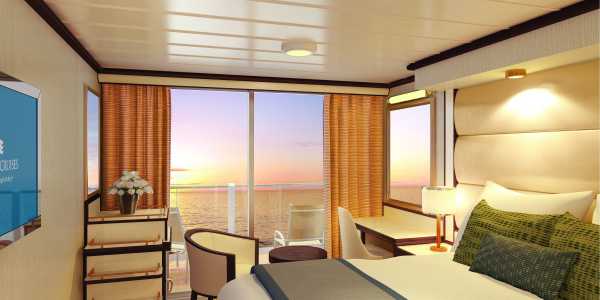 Balcony Cabin
Size: 222 sq. ft.
Occupancy: Up to 2 guests
Balcony Cabins have a balcony with patio furniture, two twin beds that convert to queen-size, refrigerator, television, closet, desk and bathroom with shower.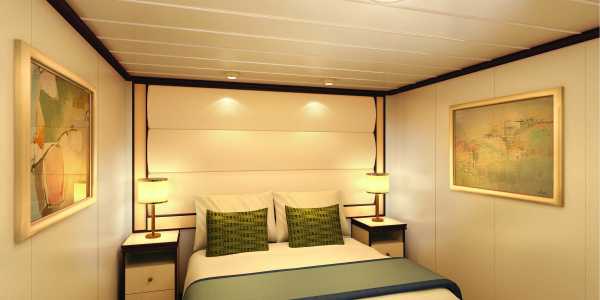 Inside Cabin
Size: 166 to 175 sq. ft.
Occupancy: Up to 2 guests
Inside Cabins have two twin beds that convert to a queen-sized bed, refrigerator, TV, closet and bathroom with shower.
Itineraries, Sailing Dates & Pricing
Entertainment & Activities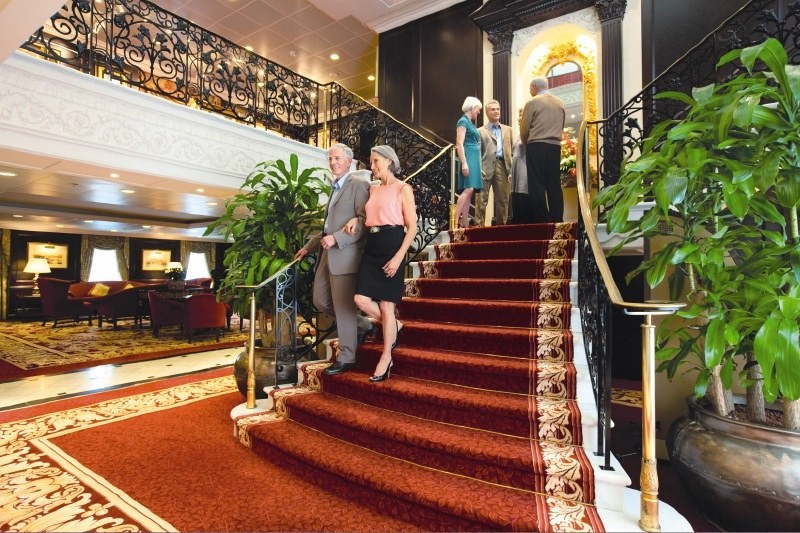 Are you traveling with the entire family? There are many exciting and kid-friendly options for children of all ages to enjoy on the Royal Princess. The youth and teen center is fully equipped with the latest video games, big screen TV, arts and crafts, DJ booth, and more.
Relax in one of the private VIP cabanas at the adults-only Sanctuary. Book an invigorating massage or special spa treatment at Lotus Spa®, voted one of the Best Cruise Ship Spas by USA Today. If you're looking for something a bit more active, take a spinning or Pilates class in the aerobics studio, run a few laps around the outdoor jogging track, or play a game of basketball, volleyball, or tennis.
Dining Options
There are many great dining options to enjoy on the Royal Princess. Feast on fresh sushi at the Ocean Terrace Seafood Bar, sit down to a traditional Italian dinner at Sabitini's, or indulge in a cold and creamy bowl of ice cream at Gelato.
Casual Dining Options

Horizon Court Buffet is the ship's main, casual dining area open for breakfast, lunch, and dinner.
The Pastry Shop offers pastries, desserts, and a full service coffee bar.
Alfredo's Pizzeria serves hand-tossed pizza, antipasti, and desserts.
Head over to Prego's Pizzeria for a slice of pizza by the pool.
Trident Grill is the place to go for hamburgers, hot dogs, grilled chicken, and more.
Ocean Terrace Seafood Bar is a fresh seafood bar featuring caviar, sushi, and raw oysters.
Gelato offers cool and creamy gelato, ice cream sundaes, and waffle cones.
Swirls is a fantastic ice cream bar.
International Cafe serves up fresh pastries and warm paninis.
Princess Live Cafe serves coffee, tea, juices, and baked goods.
Vines is a wine, sushi, and tapas bar.

Formal Dining Options

All meals in the three main dining rooms, Allegro, Symphony and Concerto, are free. Concerto has open seating for breakfast and lunch while Anytime Dining is available for dinner seating from 5:30 to 10 pm. Allegro and Symphony are open for dinner only with either fixed or Anytime Dining options.
If you're craving a juicy steak, Crown Grill is the perfect dining option for chops, seafood, or filet mignon. Open for dinner from 6 to 11 pm, this premium restaurant charges $25 for adults and $12.50 for children.
Sabitini's Italian restaurant serves up classic Italian style cuisine including appetizers, salads, main courses, and desserts.
Wine Maker's Dinner is available in both the Symphony and Concerto dining rooms for $40 per person. Delicious menu selections are paired with wines specially selected to compliment the meal.
Chef's Table Lumière is a private dining option available for $95 per person. This exclusive food experience takes place in a private area of one of the main restaurants and features a gourmet feast prepared by an executive chef.
The Ultimate Balcony Dining option is available on all cruise ships from Princess Cruises. Enjoy an intimate breakfast or dinner for two, served by a dedicated wait staff. Breakfast is served from 7 to 11 am for $32 per couple, while dinner is served from 6 to 10 pm for $100 per couple.
Find your princess cruise
Discover the World on These Cruise Lines
Search for Cruises & Compare Deals!
Signup for Cruise Deals
Exclusive access to private sales, customized specials & more