Regal Princess
Overview
The Regal Princess is one of the latest cruise ships to join Princess Cruises. This ship is one of two Royal Class cruise ships, joining flagship Royal Princess. Regal Princess was completed in 2014 then refurbished in 2017 with brand new amenities, posh rooms, and additional activities. travels to exciting destinations such as the Eastern Caribbean, Western Caribbean, and Europe.
In winter months, find the Regal Princess in the Caribbean Islands and the Bahamas, sailing from Port Everglades in Fort Lauderdale. For summer season, you can book a discount cruise on the beautiful Regal Princess to Italy, France, Spain, Portugal, and the warmth and sun of the Mediterranean Ocean, or sail off to Northern Europe to see the historic cities of Denmark and Sweden. See cabin options, dining, itineraries and rates for the Regal Princess below.
Cabin Options
The Regal Princess cruise ship has 1,780 cabins and suites with space for 3,560 guests. Standard amenities include 100% Egyptian cotton bed linens, daily housekeeping service, evening bed turn-down, chocolates on your pillow, and shampoo, conditioner and body lotion.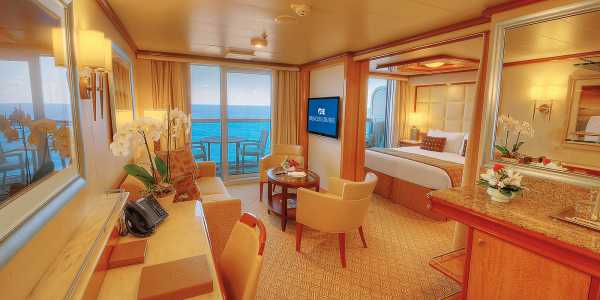 Suite with Balcony
Size: 440 to 682 sq.
Occupancy: Up to 4 guests
Suites with Balcony offer all the amenities of a mini-suite, plus two 42" flat-screen televisions, separate bathtub and shower, marble floors and counter-tops, access to the Concierge Lounge, a sound station iPod dock, web access in the Internet Cafe and more.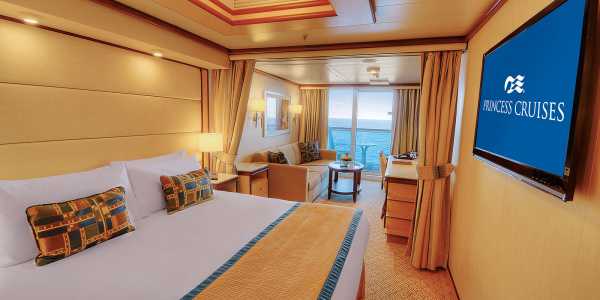 Mini-Suite
Size: 299 sq. ft.
Occupancy: Up to 4 guests
Mini-Suites include all the same amenities of a balcony cabin plus a welcome glass of champagne, separate seating area, sofa bed, two flat-screen televisions, marble top furniture, a spacious closet and bathroom tub.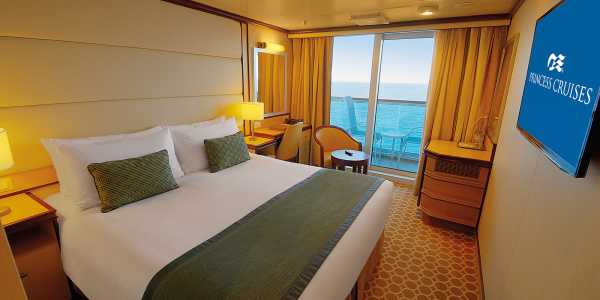 Balcony Cabin
Size: 222 sq. ft.
Occupancy: Up to 2 guests
Balcony Cabins have a balcony with patio furniture, two twin beds that convert to queen-size, refrigerator, television, closet, desk and bathroom with shower.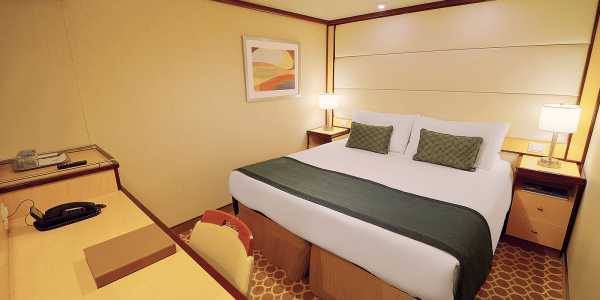 Inside Cabin
Size: 166 to 175 sq. ft.
Occupancy: Up to 2 guests
Inside Cabins have two twin beds that convert to a queen-size bed, a refrigerator, television, closet and bathroom with shower.
Itineraries, Sailing Dates & Pricing
Entertainment & Activities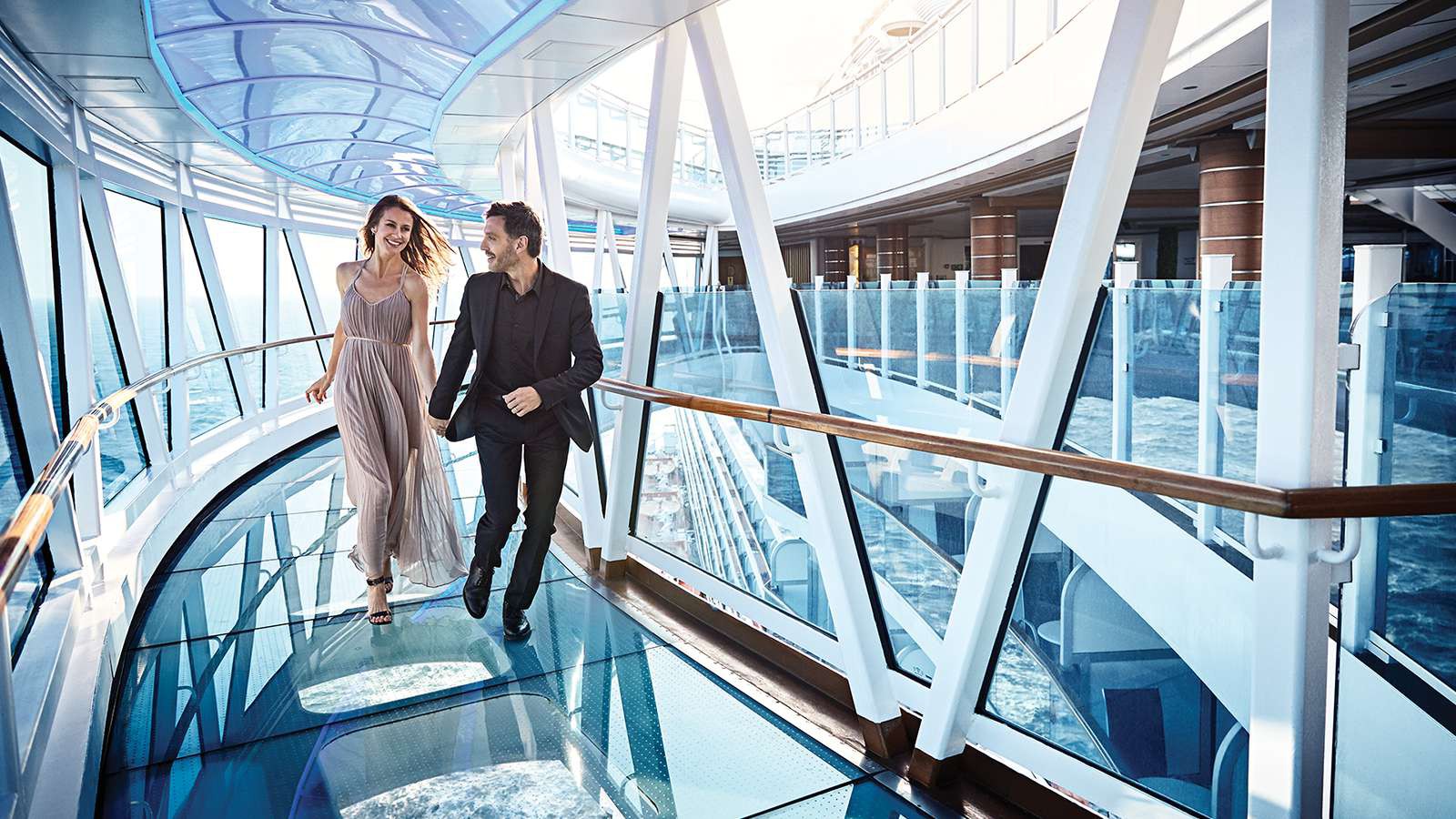 Looking for great entertainment for the entire family to enjoy? Watch the latest motion picture at the Movies Under the Stars® poolside screen, take in a live show at the Princess Theater, or sit in on broadcast-ready events-like an interactive culinary show-at the Princess Live TV studio.
If you're feeling energetic, take a spin class at the Lotus Spa® and Fitness Center, run a few laps around the jogging track, or work on your shooting skills at the laser game center.
Nightlife onboard the Regal Princess is both sophisticated and fun. On Deck 6, you'll find Club 6, the lively DJ-led dance club offering a vibrant space with an intimate atmosphere and contemporary decor. For quieter pursuits, find Crooners Martini bar, where you can order one of 50 martini varieties and sing along with the piano player.
A delight for the whole family, the famous Princess WaterColor Fantasy® is a dazzling water and light show at the top deck pools that shoots colorful fountains and plumes of water into the air with brilliant lighting.
Dining Options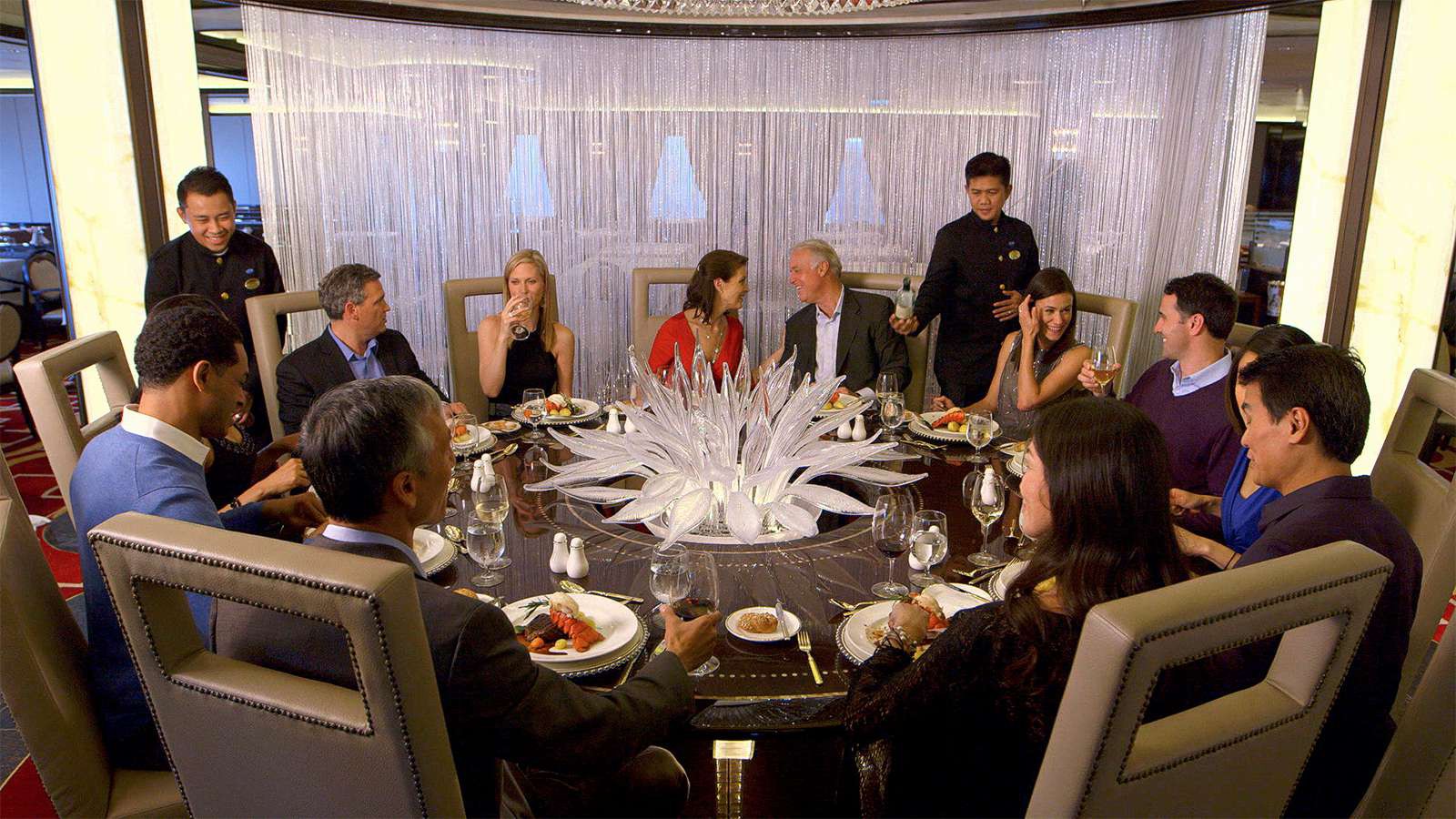 Choose from many great dining options on board the Regal Princess, from casual to formal settings. Or, go all the way to the Ultimate Balcony Dining experience and have a privately catered cocktail party and dinner for two on your balcony.
You can find a snack or meal any time of the day. Order a made-to-order pizza at Alfredo's, enjoy a hot cup of tea and warm panini at the International Cafe or sip on a glass of wine while nibbling on tapas at Vines. Room service is available 24 hours a day in all staterooms on board Princess Cruises.
Casual Dining Options

Horizon Court is the ship's buffet dining area open for breakfast, lunch, dinner, and snacks. The buffet has a multitude of specialty serving stations like the salad bar and hibachi grill.
The Pastry Shop will satisfy your sweet tooth with a variety of fresh pastries, hot desserts, and specialty coffees.
Alfredo's Pizzeria offers hand-tossed Neapolitan-style pizza, hot out of the oven.
Ocean Terrace is a fresh seafood bar in the Atrium serving ceviche, sushi, and raw oysters.
Gelato features cool and creamy gelato, ice cream sundaes, waffle cones, and other sweet treats.
International Cafe serves pastries, warm panini; and is the perfect place to grab a cup of tea and a light snack.
Vines is a wine bar offering wine, sushi, and tapas.

Formal Dining Options

All meals in the three main dining rooms, Allegro, Symphony and Concerto, are free. Concerto has open seating for breakfast and lunch while Anytime Dining is available for dinner seating from 5:30 to 10 pm. Allegro and Symphony are open for dinner only with either fixed or Anytime Dining options.
If you're craving a juicy steak, Crown Grill is the perfect dining option for chops, seafood, or filet mignon. Open for dinner from 6 to 11 pm, this premium restaurant charges $25 for adults and $12.50 for children.
Sabitini's Italian restaurant serves up classic Italian cuisine like marinated green and black olives, calamari fritti, and baked striped bass with grilled asparagus and parsley potatoes.
Wine Maker's Dinner is available in both the Symphony and Concerto dining rooms for $40 per person. The menu changes each night and selections include the chef's prelude, appetizer, soup, entrée, and dessert paired with wines selected to complement the meal.
Chef's Table Lumière is a private dining option available for $95 per person. This exclusive epicurian experience takes place in a private area of the Allegro dining room and features a crystal privacy curtain of light, tour of the main galley, appetizers, champagne toast, and a gourmet meal prepared by one of the ship's executive chefs.
The Ultimate Balcony Dining option is available on all cruise ships from Princess Cruises. Enjoy an intimate breakfast or dinner for two, served by a dedicated wait staff. Breakfast is served from 7 to 11 am for $32 per couple, while dinner is served from 6 to 10 pm for $100 per couple.
Ocean Terrace - If you're looking for a seafood feast, the Ocean Terrace is the place for you. Sample an array of the ocean's best in an a la carte atmosphere.
Find your princess cruise
Discover the World on These Cruise Lines
Search for Cruises & Compare Deals!
Signup for Cruise Deals
Exclusive access to private sales, customized specials & more