Celebrity Millennium
Overview
A popular choice for the discerning vacationer, Celebrity Millennium® features many award-winning Solstice® Class features like spa-inspired AquaClass® staterooms and exclusive access to Blu, the spa-inspired restaurant with healthy 'clean cuisine.'

Sail to 'The Last Frontier' on your luxurious Alaska cruise or take an adventurous trip through Japan and other parts of Asia.
Millennium is one of the Millennium Class of cruise ships from Celebrity Cruises along with sister ships Infinity, Constellation and Summit. This ship underwent major refurbishment in 2016 and added Blu Restaurant; the Celebrity iLounge; and all-new AquaClass staterooms, bringing the occupancy level up to 2,158 passengers.
Cabin Options
During the ship's makeover, 107 AquaClass cabins were added to the Celebrity Millennium and private verandas were added to all Celebrity suites. Suites and staterooms come with many amenities including twice daily service, custom bath products, mini bar, flat-screen TV, security safe, Wi-fi internet and premium Celebrity eXhale™ bedding.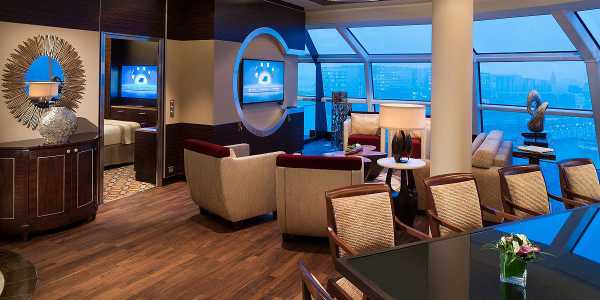 Suites
Size: 308-2,530 sq. ft.
Occupancy: Up to 4 guests
Suites range from 308 sq. ft. for the Sky Suite to an amazing 2,530 sq. ft. in the Penthouse Suite with its huge 1,098 sq. ft. balcony. Guests staying in the suites are pampered with extra amenities like 24-hour butler service, large bathrooms with both a tub and shower, afternoon tea with canapés, and fresh flowers.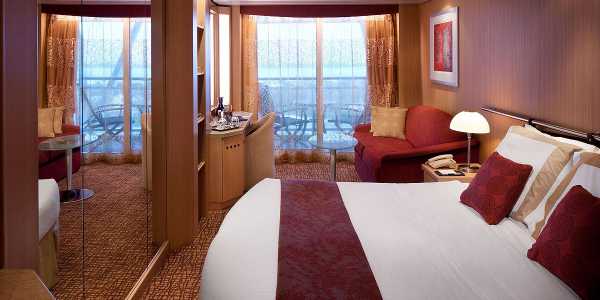 AquaClass Staterooms
Size: 249 sq. ft.
Occupancy: Up to 2 guests
The AquaClass Staterooms are situated near the Canyon Ranch SpaClub and include priority seating at Blu Restaurant, daily water and tea delivery, on-demand wellness classes including yoga.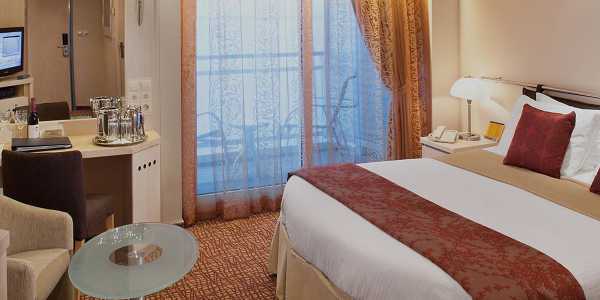 Concierge Class Staterooms
Size: 233 sq. ft.
Occupancy: Up to 4 guests
Concierge Class Staterooms offer fresh flowers, daily fresh fruit platter, bottle of sparkling wine, afternoon snacks, and express luggage delivery. Standard concierge rooms are 233 sq. ft., while wheelchair accessible rooms offer 446 sq. ft. of space.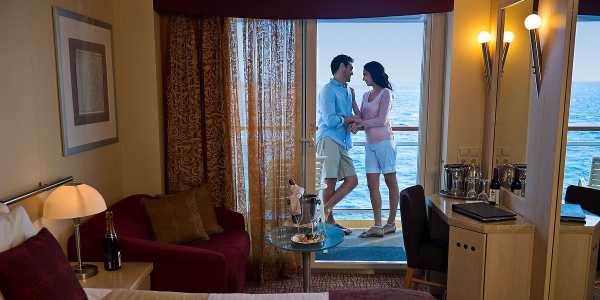 Veranda Class Staterooms
Size: 208-513 sq. ft.
Occupancy: Up to 4 guests
Veranda Class Staterooms have either private or semi-private balconies. All Veranda rooms have 2 twin beds that convert to queen-size, plenty of closet space, bath with shower and a large sitting area.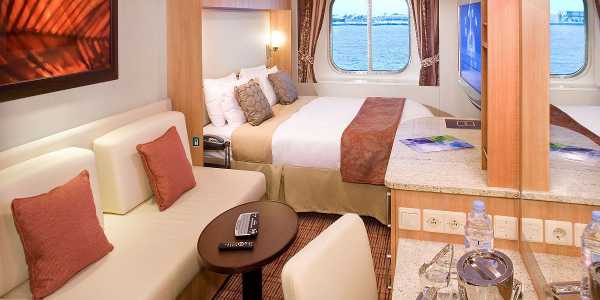 Ocean View Class Staterooms
Size: 170 sq. ft.
Occupancy: Up to 4 guests
Most Ocean View Class Staterooms sleep up to 3 guests, while a few have bunk beds and accommodate up to 4 passengers. The wheelchair accessible rooms have roll-in showers. Standard rooms have a private bath with shower stall.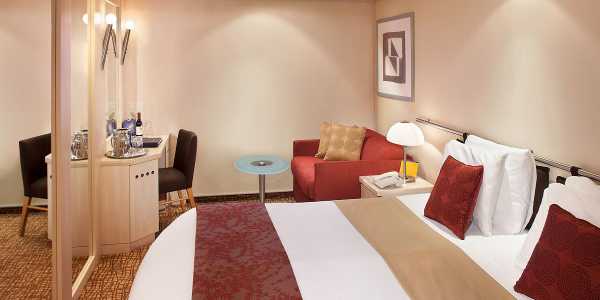 Inside Class Staterooms
Size: 170 sq. ft.
Occupancy: Up to 4 guests
Book your cruise on an economically priced Inside Class Stateroom. These cabins have either 2 twin beds or a double bed and a sitting area featuring a writing desk and chair, couch and coffee table. Wheelchair accessible rooms are 240 sq. ft., while regular rooms are 170 sq. ft.
Entertainment & Activities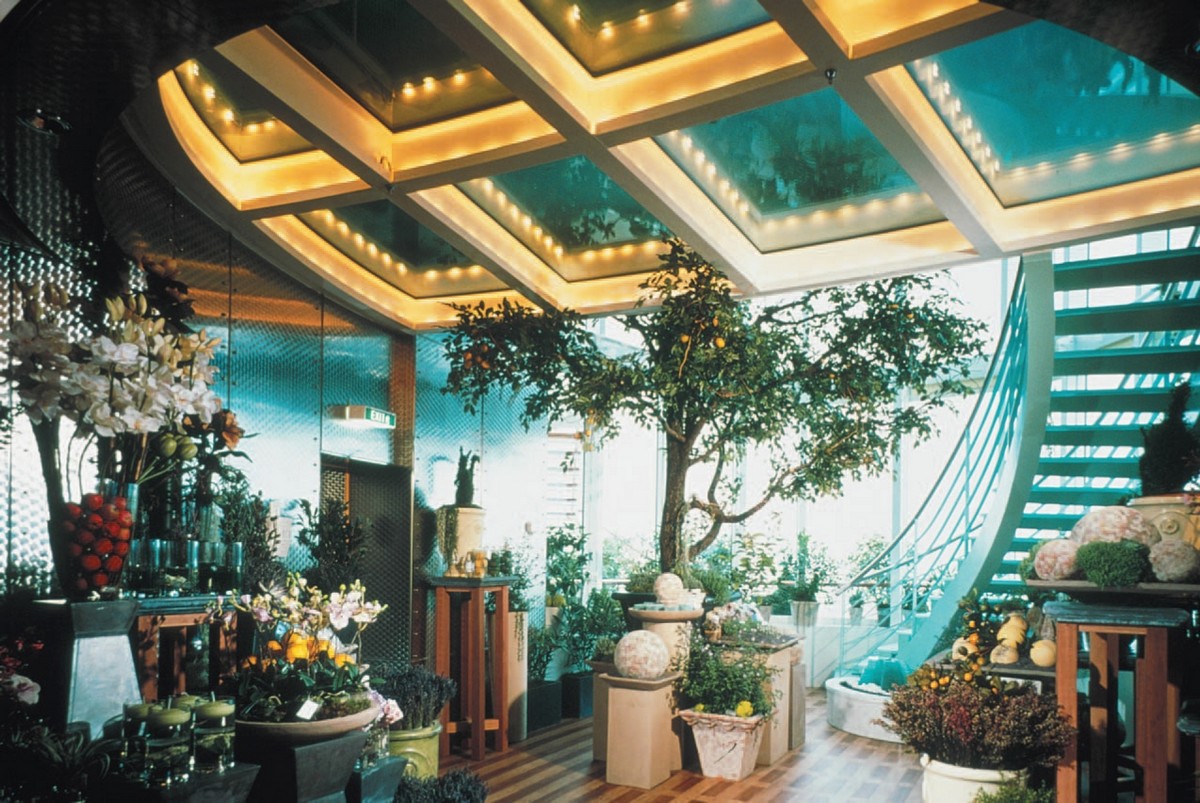 Take advantage of the onboard Innovations Store with all the latest high-tech Apple® electronics including: iPad® , iPod® , MacBook® and other popular devices-all duty-free. You can also visit the Celebrity iLounge, the first Authorized Apple® Reseller at Sea, and keep in touch 24 hours a day. Send emails and photos of your trip, or take an iLearn class to master your photography, video, and audio skills.
Kick your cruise vacation off with a relaxing treatment in Celebrity Millennium's AquaSpa® by Elemis®, one of the largest and most luxurious spas on the sea. There's something to meet every guest's needs aboard the Millennium.
Dining Options
When it's time to refuel, head over to Qsine®, Celebrity's signature specialty restaurant that features artfully presented, one-of-a-kind dishes from around the world. Or, visit main restaurant The Metropolitan for inspired, fresh cuisine that changes with the seasons.
Included Dining

Mast Bar & Grill - Grilled-to-order food you can eat outside by the pool deck including burgers, hot dogs, and french fries with your choice of toppings like cheese or sauteéd mushrooms
Tuscan - Main dining room with mouthwatering cuisine inspired by authentic southern Italian eateries, featuring all homemade pastas prepared with a rustic flare
AquaSpa Café - Fresh, spa-inspired delights to nourish body and mind offering smoothies, juices, cereals, and omelets
Blu - Clean, crisp flavors and inventive cuisine with an extensive list of sustainable and biodynamic wines
Luminae - Fresh new menu every day including pastas, desserts, meats, and vegetarian entrees (exclusive for Suite Class)
Oceanview Café - Market-style cafe that features select offerings inspired by the destinations around the world

Specialty Dining

Qsine - One-of-a-kind restaurant featuring a uniquely unordinary approach to dining
Sushi on Five - Authentically prepared sushi and other Japanese specialties from a menu crafted by expert restaurateur and sushi chef, Yoshikazu
Café al Bacio & Gelateria - The place to go for ice cream, coffee, cookies, or dessert cocktails
Discover the World on These Cruise Lines
Search for Cruises & Compare Deals!
Signup for Cruise Deals
Exclusive access to private sales, customized specials & more