Celebrity Equinox
Overview
Part of the Solstice Class, along with sister ships Eclipse, Solstice, Silhouette and Reflection, the Celebrity Equinox epitomizes the ultimate luxury cruise experience. Choose from ten sophisticated dining venues and enjoy a variety of unique entertainment options as you sail away on your cruise through the Caribbean.
The Equinox underwent major refurbishment in May 2014, adding many new features like a Michael Kors Boutique, Celebrity iLounge, The Studio fine art photography, Slush frozen drinks, and Gastrobar handcraft beers. Save on your vacation by finding the best Celebrity Cruise Line rates from Dunhill Travel Deals.
Awards for Equinox by Celebrity Cruise Line
2014 - Cruise Critic UK Cruisers' Choice Awards - Best Service and Best Public Rooms
2014 - Conde Nast Traveler's 26th Annual Readers' Poll - Top 100 Cruise Ships in the World (Large Ship)
2014 - Cruise Critic UK Cruisers' Choice Awards - Best Mediterranean Cruises
Cabin Options
All cabins on Celebrity Equinox come with standard amenities such as robes, custom bath products, hairdryer, mini-bar, 24-hour room service, security safe, Wi-Fi, and flat-screen TV.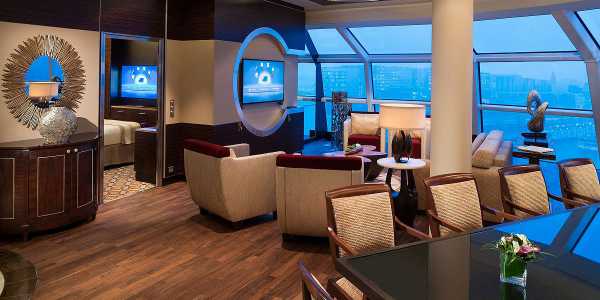 Suites
Size: 380-1,680 sq. ft.
Occupancy: Up to 3 guests
Suites are equipped with a king-size bed in the master bedroom. These cabins feature your own personal butler, in-room lunch and dinner service, evening hors d'oeuvres, complimentary espressos, daily fruit platter, and fresh flowers.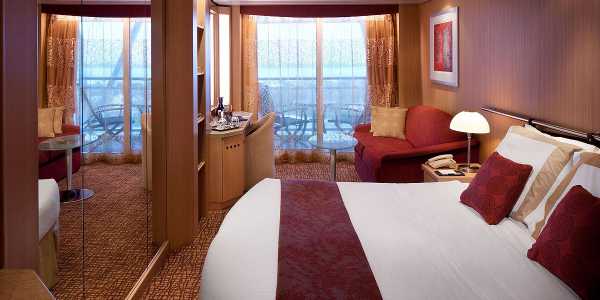 AquaClass Staterooms
Size: 248 sq. ft.
Occupancy: Up to 3 guests
AquaClass Staterooms, with 248 sf of space, provide the ultimate spa experience. These rooms have access to the Canyon Ranch SpaClub and include entry to the Persian Garden. The AquaClass rooms come with a personal spa concierge, upgraded room service menu, and exclusive access to Blu Restaurant.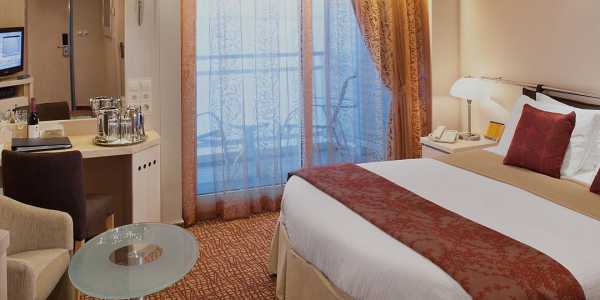 Concierge Class Staterooms
Size: 248 sq. ft.
Occupancy: Up to 3 guests
Concierge Class Staterooms offer special concierge level services. Special amenities include fresh flowers, pillow menu, upgraded room service menu and priority seating at specialty restaurants.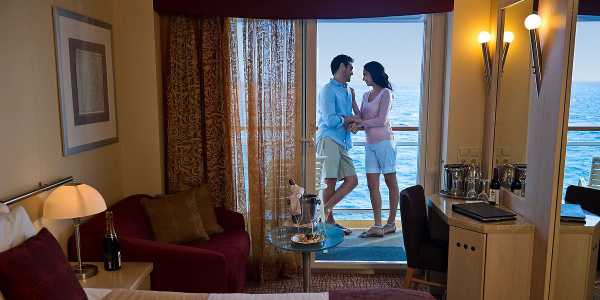 Veranda Class Staterooms
Size: 196 sq. ft.
Occupancy: Up to 4 guests
Veranda Class Staterooms range from 196 sq. ft. for the standard rooms to 680 sq. ft. for the 2-bedroom family stateroom. All rooms have floor-to-ceiling glass doors leading to your private balcony, and rooms with either a sofa bed or upper pull down bed sleep 3 to 4 guests.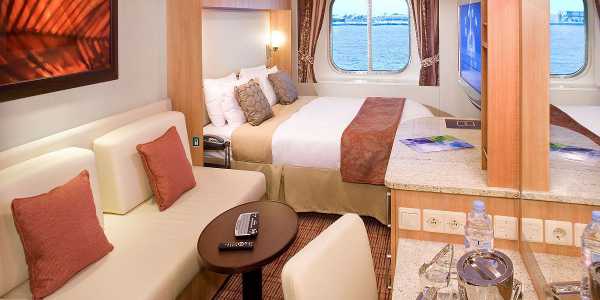 Ocean View Class Staterooms
Size: 177 sq. ft.
Occupancy: Up to 3 guests
Ocean View Class Staterooms offer 177 square feet of living space and have a large ocean view window. These rooms normally sleep 2 guests, but rooms with upper bunk beds sleep up to 3 passengers. Standard room features include a cozy sitting area, ample closet space, and a private bathroom with shower.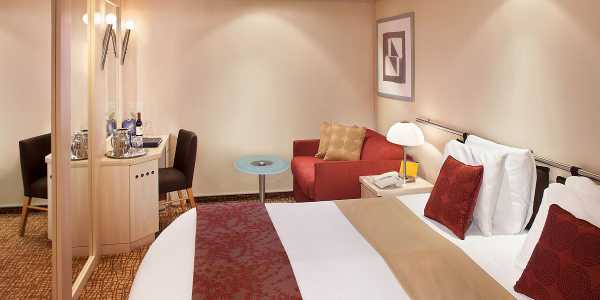 Inside Class Staterooms
Size: 183-200 sq. ft.
Occupancy: Up to 4 guests
Inside Class Staterooms range from 183 to 200 sq. ft. and are the perfect size for 2 guests. Some rooms have a sofa bed, or pull down bunk beds and accommodate 3 to 4 passengers. These rooms a bathroom with shower stall and sitting area with vanity desk, chair, sofa and small coffee table.
Itineraries, Sailing Dates & Pricing
Entertainment & Activities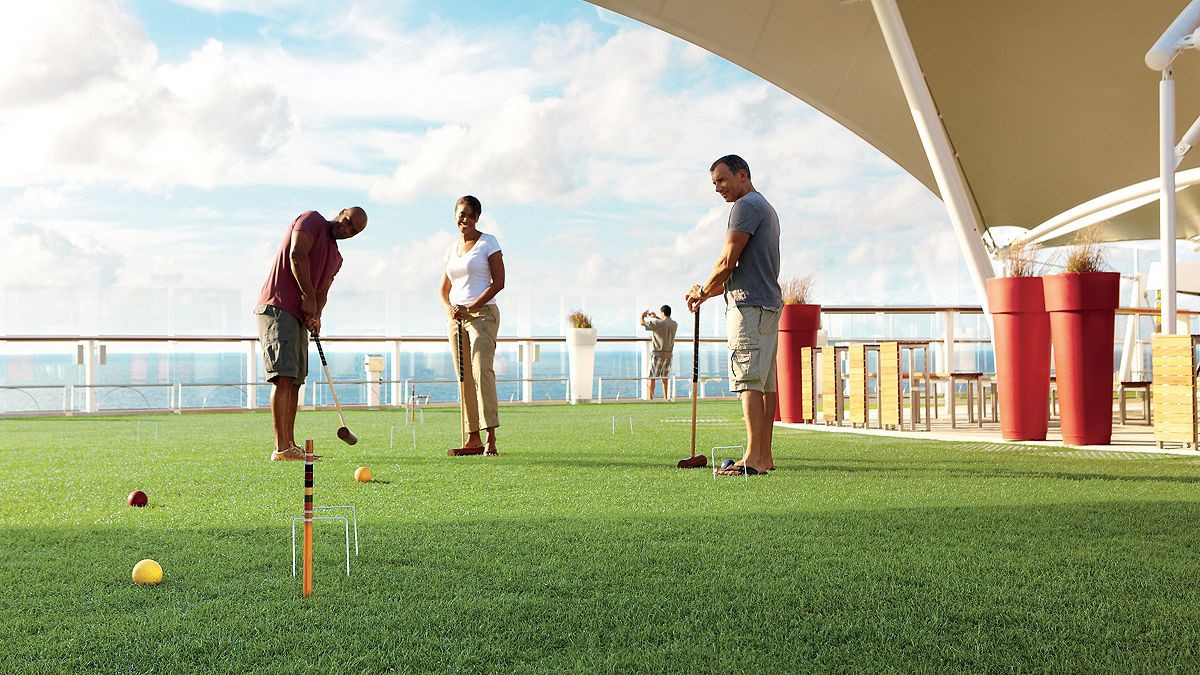 Equinox features the Hot Glass Show with professional performers demonstrating the art of glassblowing. This unique exhibition is brought to you by the respected Corning Museum of Glass. Relax with a Thai Herbal Poultice Massage or another exclusive treatment in one of the largest spas at sea, AquaSpa® by Elemis®.
Cellar Masters has been replaced with the brand new Gastrobar, a craft brew and comfort food venue featuring a menu of over 40 beers and snacks not typical of normal bar fare. Enjoy a quiet moment with a cocktail in the Sky Observation Lounge by day and live music, dancing, and Live@Sky theme party by night. Participate in casual, Country Club-style activities at the Lawn Club, featuring a well-manicured lawn on the highest deck.
Dining Options
The Equinox has many exciting dining options to choose from for breakfast, lunch, dinner, or late night snack. For all guests, you'll find world-class cuisine and excellent service in the main dining room for no extra charge.
Main Restaurant on decks 3 and 4 is the main dining room onboard Equinox. Breakfast, lunch and dinner in this restaurant is included with your cruise fare.

Deck 5 Dining Options

Enjoy spa-inspired choices at Blu, the specialty restaurant reserved for guests staying in AquaClass rooms. Enjoy light and healthy choices for breakfast or dinner such as grilled tamarind glazed quail with cinnamon pickled carrots and tabbouleh salad or a breakfast parfait with muesli, strawberry yogurt, fresh fruit, and mint.
Silk Harvest offers traditional Chinese food for $30 per guest. Indulge in Vietnamese, Taiwanese, Japanese, Chinese, and Indian cuisine at this chic restaurant with small plates perfect for sharing.
There is a $35 per guest surcharge to eat at the Tuscan Grille specialty restaurant. Tuscan serves up classic Italian dishes and mouth-watering steaks like NY Strip, Rib Eye, and Filet Mignon.
Bistro on 5 only charges $5 for all the sweet or savory crepes and paninis you can eat. Choose a traditional breakfast crepe featuring smoked applewood bacon, scrambled eggs, and cheddar cheese.
Stop by Cafe al Bacio or Gelateria if you have a craving for a coffee creation or sweet cup of Italian ice or gelato. The cafe also serves up FREE pastries with the purchase of a drink.
Michael's Club is the private dining and lounging area for guests staying in suites. The club serves continental breakfast, light lunch, and snacks throughout the day.

Deck 14 Dining Options

If you're looking for a light lunch, quick dinner, or late night snack, grab a burger or hotdog at the Mast Grill by the pool deck.
Oceanview Cafe & Grill is open all day for breakfast, lunch and dinner. Buffet selections include made-to-order pasta, stir-fry, pizza and sushi, a full salad bar, and a variety of appetizer entrées and desserts.

Additional Dining Options

Spa Café, near the Canyon Ranch SpaClub on deck 12, serves up a variety of refreshing fruit smoothies, salads, lean cuts of meat, and fresh seafood for breakfast or lunch.
Patio on the Lawn by the Lawn Club on deck 15 is the perfect place to grab a cup of coffee and relax with your favorite book or magazine.
Find Your Celebrity Cruise
Discover the World on These Cruise Lines
Search for Cruises & Compare Deals!
Signup for Cruise Deals
Exclusive access to private sales, customized specials & more