Celebrity Infinity
Overview
The Celebrity Infinity® cruise ship marries the luxuries of its Millennium Class with the conveniences of the Solstice Class. Sail away on your Eastern Caribbean cruise and save when you find the best Celebrity Cruise promotions from Dunhill Travel Deals.
The Infinity is a Millenium Class of cruise ship along with sister ships Constellation, Millennium and Summit from Celebrity Cruises. The Infinity underwent a $30 million refurbishment in the winter of 2011. Major upgrades included the addition of the new eating establishments Blu Restaurant and Bistro on Five along with 60 new cabins and the Celebrity iLounge.
Cabin Options
The 2011 cruise ship refurbishment added 60 staterooms allowing the Infinity to hold up to 2,070 guests at a time, based on double occupancy. Features that come standard with each room include twice daily maid service, stainless steel ice buckets, dual voltage 110/220 AC outlets, hair dryer, mini bar, flat-screen televisions, private safe, Wi-fi internet connection and premium bedding featuring 100% cotton bed linens.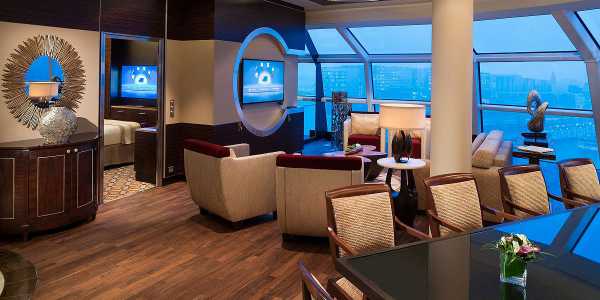 Suites
Size: 308-2,530 sq. ft.
Occupancy: Up to 3 guests
Suites range from 308 to 2,530 sq. ft. and sleep up to 3 guests. Special amenities include butler service, bathrooms with a tub and shower, in-suite espresso, afternoon tea, fresh flowers, daily fruit platter and a complimentary specialty dinner for each guest.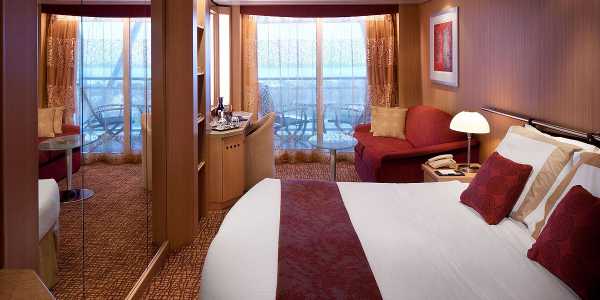 AquaClass Staterooms
Size: 249 sq. ft.
Occupancy: Up to 2 guests
AquaClass Staterooms include priority seating at Blu Restaurant, daily water and tea delivery and on-demand yoga or meditation service. AquaClass staterooms, with a private veranda, are 249 sq. ft., the perfect size for 2 guests.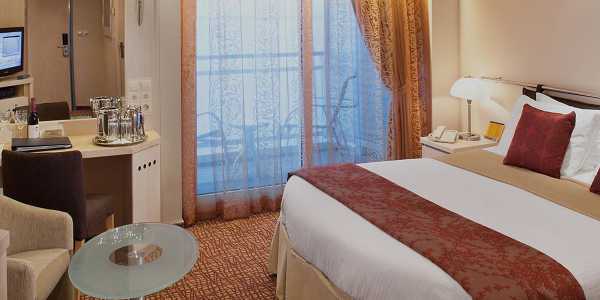 Concierge Class Staterooms
Size: 233 sq. ft.
Occupancy: Up to 4 guests
Concierge Class Staterooms offer luxury room amenities including fresh flowers, daily fruit platter, complimentary bottle of sparkling wine, and afternoon snacks. Larger concierge rooms provide wheelchair accessibility with 446 sq. ft. Concierge rooms include a private balcony, and 2 twin beds that convert to a queen-size bed.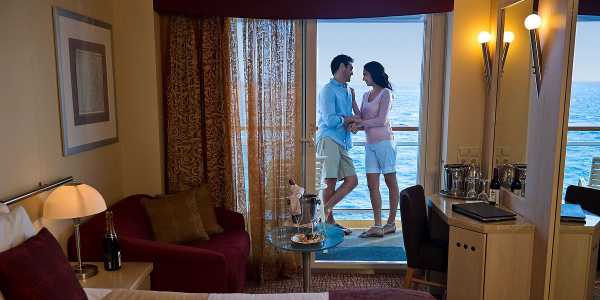 Veranda Class Staterooms
Size: 208-513 sq. ft.
Occupancy: Up to 4 guests
Veranda Class Staterooms have furnished verandas and offer passengers 208 to 513 sq. ft. of space. Rooms with Pullman-style bunk beds accommodate up to 4 passengers, while all other rooms comfortably sleep 2 to 3 guests. Family staterooms have a separate bedroom and offer 513 sq. ft. of space.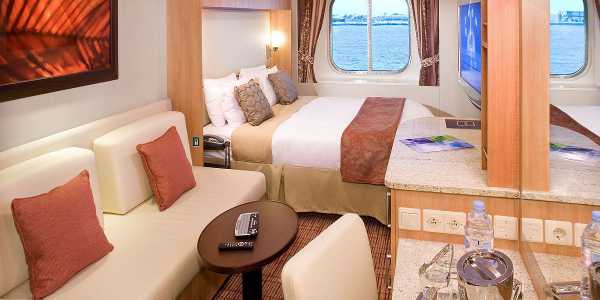 Ocean View Class Staterooms
Size: 170 sq. ft.
Occupancy: Up to 3 guests
Standard Ocean View Class Staterooms are 170 sq. ft. while wheelchair accessible rooms are 381 sq. ft. These cabins have a generous window or porthole for an amazing view of the ocean. These rooms have 2 twin beds that can be set up as a queen-size bed. Ocean view rooms have a 20" flat-screen television.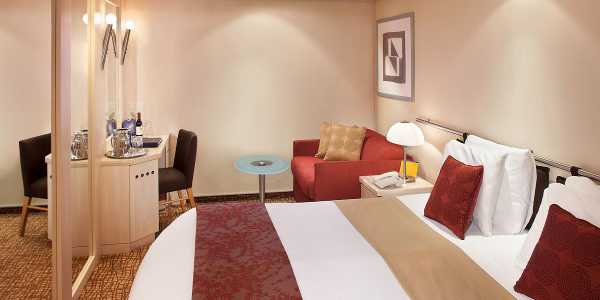 Inside Class Staterooms
Size: 170 sq. ft.
Occupancy: Up to 3 guests
Inside Class Staterooms are in the interior section of the ship and either 170 sq. ft. for standard rooms, or 240 sq. ft. for rooms that are wheelchair accessible. Inside cabins have 2 twin beds and some rooms come with a sofa bed or Pullman-style bunk beds to sleep up to 3 guests.
Itineraries, Sailing Dates & Pricing
Entertainment & Activities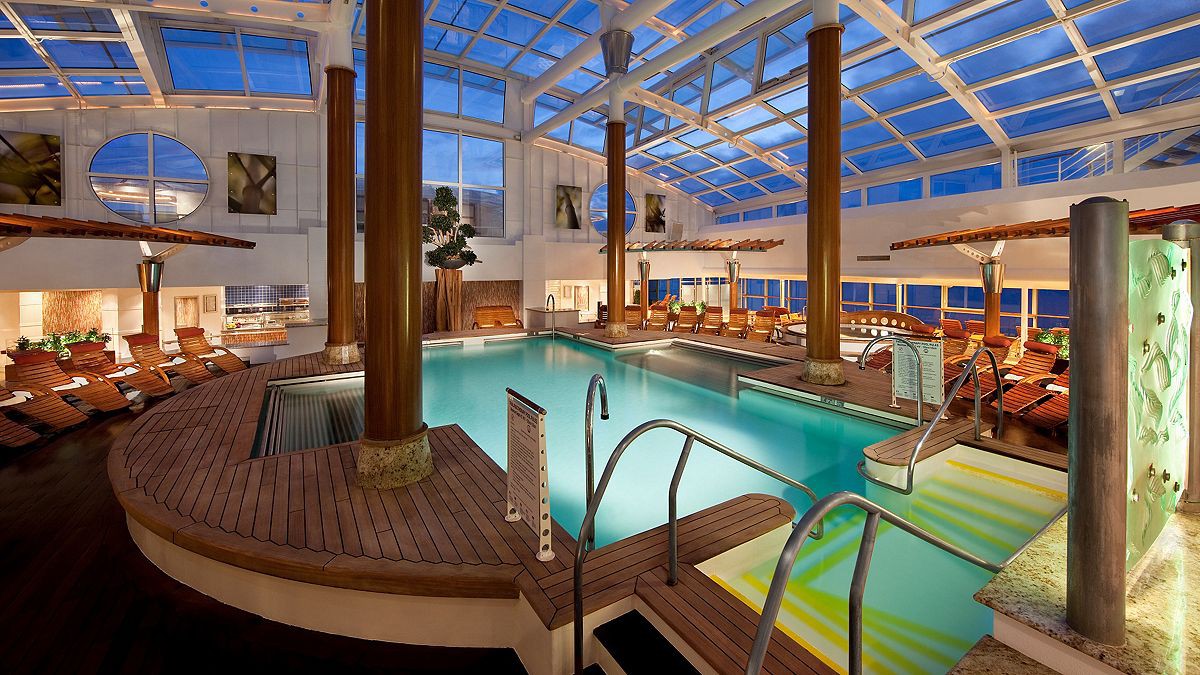 The Celebrity Infinity has all the amenities of a classic cruise ship with modern innovations to keep pace with your technology driven lifestyle while maintaining a relaxing spa-like environment. Visit the Innovations Store to check out all the newest tech gear then unwind with one of AquaSpa's health and beauty treatments featuring Elemis® products.
Keep in touch with loved ones on the shore at the Celebrity iLounge, Infinity's onboard internet lounge. Infinity is a cruise experience like no other providing the latest technology, the relaxation of a spa and the familiar conveniences of traditional cruise ships.
Dining Options
Before retiring for the night to your AquaClass staterooms, which include Hansgrohe showers and custom spa inspired bath products, experience the finest dining on the sea at our Blu Restaurant, which features fresher and healthier takes on classic dishes, or share wildly unique options presented in creative ways at Qsine.
SS United States Restaurant, on deck 3, offers elegant table-top service, a dine-in wine cellar and an open demonstration kitchen. Guests can order off the menu for $45 per person, or enjoy a 6-course meal paired with wines, from the Five Senses Menu for $89 per person. Reservations are required for this gourmet dining option.
Deck 4 Dining Options

Michael's Club is an exclusive lounge and dining area for guests staying in the Celebrity, Signature, Royal, Penthouse or Reflection suites. The club is open 24-hours and equipped with large, flat-screen TVs and many sitting areas. Dining options include a continental breakfast, light lunch or self-serve snacks.
Trellis Restaurant is the 2-story, main dining restaurant on deck 4 & deck 5 of the Celebrity Infinity. Breakfast, lunch and dinner is served here with options for a variety of diets. Ask your server about vegetarian, gluten-free, dairy-free and no-sugar-added food choices. Guests can make dinner reservations for either a 6 pm or 8:30 pm seating, or choose the open select dining seating available from 5:45 pm to 9:30 pm.

Deck 5 Dining Options

Do you desire a cup of coffee or creamy cup of ice cream? Then head over to Cafe al Bacio & Gelateria. Anyone purchasing a coffee creation enjoys FREE pastries and bakery treats. Enjoy a cup of Italian ice or get your favorite flavor of gelato served up in a delicious waffle cone.
Bistro on Five, behind the Cellar Masters Bar, serves up crepes, sandwiches, soups, salads and desserts. Reservations aren't required to eat at the casual bistro open from 8:30 am to 12:30 am
Blu Restaurant is the exclusive dining for passengers staying in the AquaClass staterooms. Blu serves up a variety of healthy, Mediterranean style fare for breakfast and dinner. The restaurant is open for breakfast from 7:30 to 9 am and for dinner from 6 to 9:30 pm.
Deck 10 Dining Options

The Pool Grill is open for dining from noon to 6 pm. Enjoy a quick snack while lounging in the ocean breeze and choose from burgers, hot dogs, french fries and more.
Oceanview Café offers casual, buffet dining for breakfast and lunch and sit down service at dinner time. The café is open from around 6:30 am to 1 am allowing guests to enjoy a meal almost any time of day or night. Selections include curry dishes, stir-fry, pizza, pasta, sushi, salad, desserts and more.
Spa Café, conveniently located by the ship's fitness center and spa area, is the perfect place to grab a bite to eat after a hard workout. Light and healthy fare is served up buffet style and available from 7 to 10 am for breakfast, and noon to 2 pm for lunch.

Deck 11 Dining Options

Enjoy a meal poolside from the Mast Bar & Grill. Guests can order a variety of grilled-to-order items such as hamburgers.
Qsine offers gourmet menu selections from a James Beard Master Chef. Instead of printed menus, guests order their meal using an interactive iPad menu. Reservations are required for this chic restaurant with a $45 per person surcharge.
Find Your Celebrity Cruise
Discover the World on These Cruise Lines
Search for Cruises & Compare Deals!
Signup for Cruise Deals
Exclusive access to private sales, customized specials & more