Celebrity Silhouette
Overview
Celebrity Silhouette® boasts all the special amenities shared by the Solstice Class® with some impressive new additions. Choose from five luxurious staterooms including the accessible sky suite and penthouse suite when you find great Celebrity cruise deals from Dunhill Travel Deals. Enjoy European butler service and more as you set sail to Europe, the Caribbean, and even Canary Islands.
The Celebrity Silhouette is the fourth of five Solstice Class cruise ships along with Eclipse, Equinox, Reflection, and Solstice. Celebrity launched this ship in January 2011 and has room for over 2,880 guests with an attentive crew of 1,500.
Awards for Silhouette by Celebrity Cruises
2013 - Travel & Leisure's 18th Annual World's Best Awards - Best Mega-Ship Cruise Line
2014 - Conde Nast Traveler's 26th Annual Readers' Poll - Top 100 Cruise Ships in the World (Large Ship)
2014 - Cruise Critic UK Cruisers' Choice Awards - Best Mediterranean Cruises
Cabin Options
Choose from a variety of roomy suites and staterooms onboard the Silhouette and enjoy many amenities such as: bathrobes, custom bath products, private mini-bar, security safe, Wi-Fi, flat-screen TV, and 24-hour room service.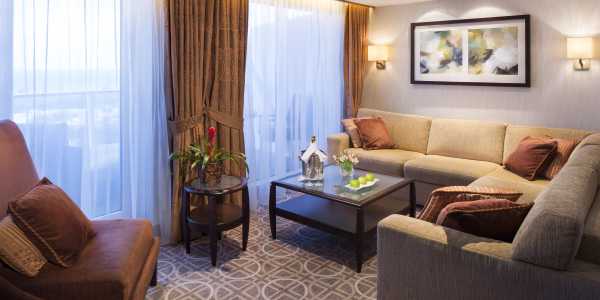 Suites
Size: 380-1680 sq. ft.
Occupancy: Up to 4 guests
Suites range from 380 sq. ft. (Sky Suites) to 1,680 sq. ft. (Penthouse Suites) with a king-size bed in the master bedroom. These cabins include your own personal butler, in-room lunch and dinner service, evening hors d'oeuvres, daily fruit platter, and fresh flowers.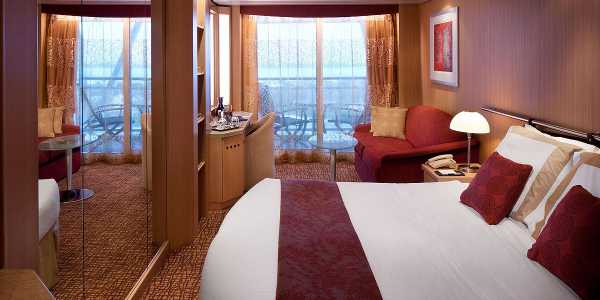 AquaClass Staterooms
Size: 248 sq. ft.
Occupancy: Up to 3 guests
AquaClass Staterooms offer 248 sq. ft. and are perfect for guests in a spa-like setting. AquaClass rooms include entry to the Persian Garden and Relaxation Room and the use of an in-room aromatherapy diffuser. These staterooms come with your own personal spa concierge.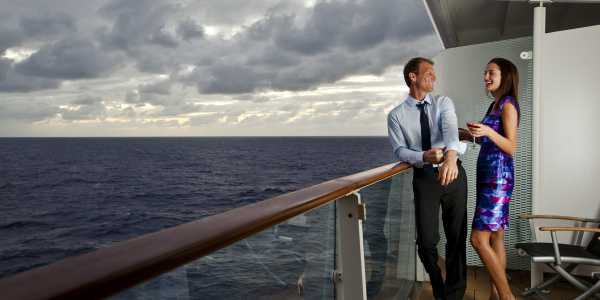 Veranda Class Staterooms
Size: 248-680 sq. ft.
Occupancy: Up to 4 guests
Veranda Class Staterooms range from 248 to 680 sq. ft. for the 2-bedroom family stateroom. These rooms have a private balcony with lounge furniture, and some come with either a sofa bed or bunk beds to sleep up to 4 guests.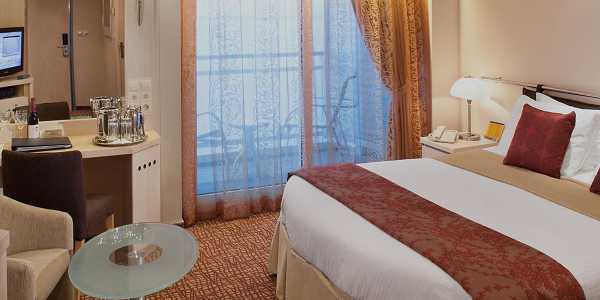 Concierge Class Staterooms
Size: 248 sq. ft.
Occupancy: Up to 3 guests
The Concierge Class cabins have 248 sq. ft. of living space, 2 twin beds that convert to queen-size, and some rooms have a sofa bed to accommodate as many as 3 guests.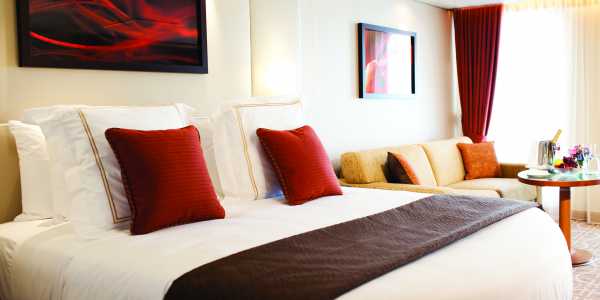 Ocean View Class Staterooms
Size: 183-200 sq. ft.
Occupancy: Up to 4 guests
Book one of the Ocean View Class Staterooms with it's picturesque window and 177 sq. ft. of living space. These rooms are meant to sleep 2 guests, but some have a sofa bed to accommodate up to 4 passengers.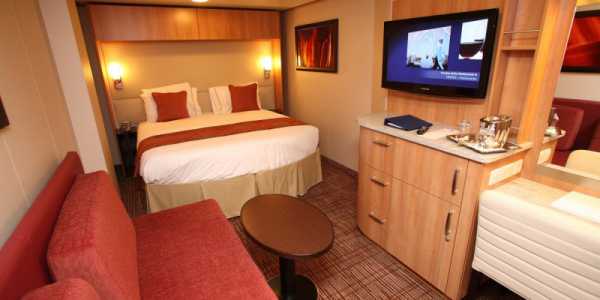 Inside Class Staterooms
Size: 183-200 sq. ft.
Occupancy: Up to 4 guests
The perfect size for 2 passengers, Inside Class Staterooms range from 183 to 200 sq. ft. Some cabins sleep up to 4 guests with a sofa bed or pull down bunk beds. Inside staterooms have 2 twin beds that convert to a queen-size bed, private bathrooms with a shower plus a sitting area.
Itineraries, Sailing Dates & Pricing
Entertainment & Activities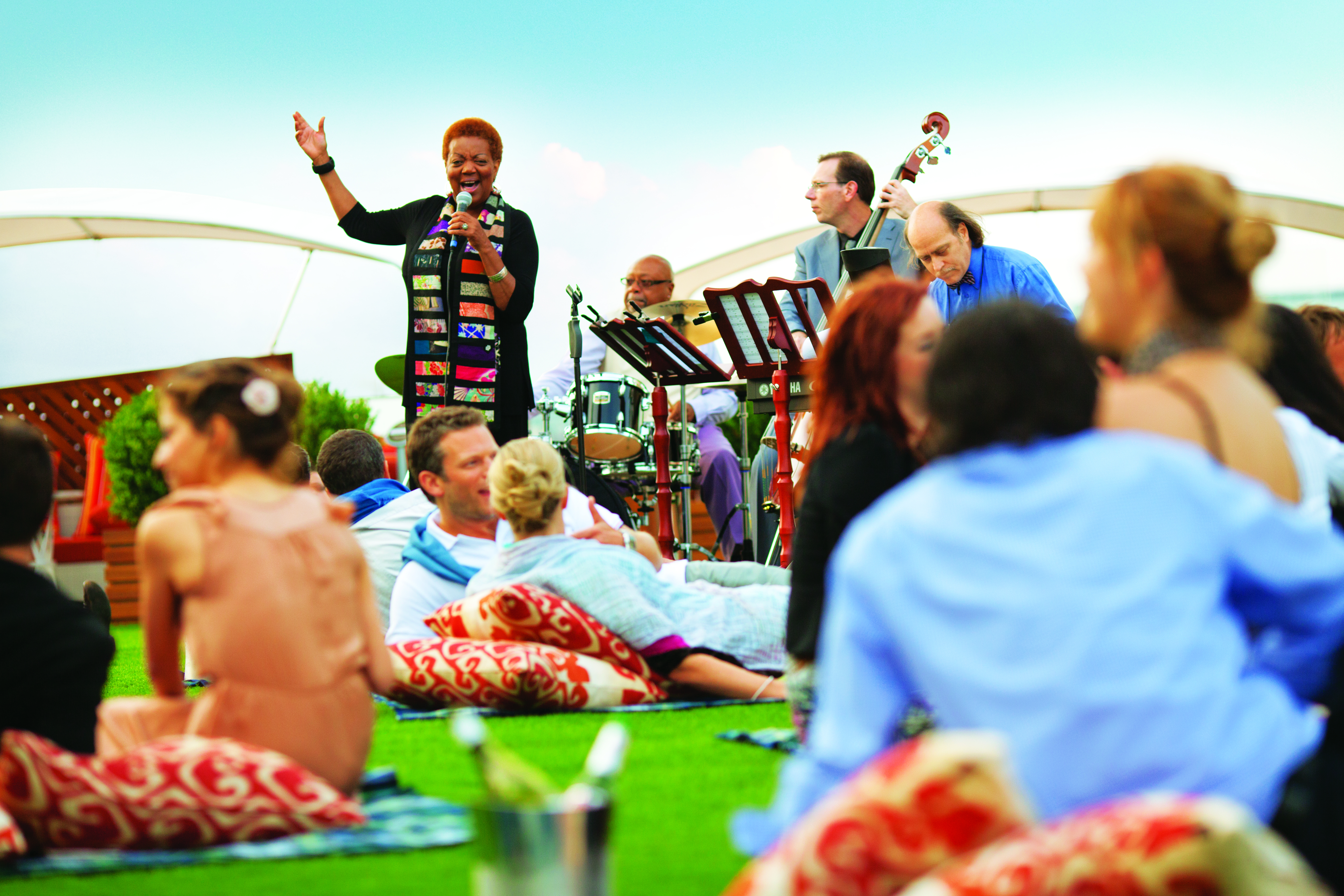 Visit The Art Studio at The Lawn Club for instruction from a master artist from the ArtCenter/South Florida. Participate in an interactive class and learn how to make jewelry; bead; sketch; cook a delicious, nutritious meal; and more. Take advantage of upscale tax and duty-free shopping aboard Celebrity Silhouette with Bulgari, Michael Kors, Tag Heuer, Armani, Versace, Dolce & Gabbana, and other designer stores and boutiques.
Relax with your friends and family at The Alcoves with eight chic cabanas that accommodate up to four guests. Here, you'll enjoy soothing, ambient mood lighting, breathtaking views of the ocean, complimentary fresh fruit plate, hand-held fans, chilled towels, bottled water, and all-day use of an iPad® full of music, movies, games, and magazines. If you get hungry, simply ask your dedicated Alcove Attendant for a fresh picnic basket from Celebrity Silhouette's specialty restaurants.
Dining Options
Expand your culinary horizons with Qsine®, a one-of-a-kind dining experience where you order food and wine from an interactive iPad® menu. Dine at Murano Restaurant for a more traditional experience featuring timeless decor, an extensive selection of artisanal cheeses, a robust American and French wine list, and a tableside lobster presentation. Ready to come aboard? Explore Dunhill Travel Deals to find great rates on Celebrity Cruises.
Grand Cuvee is the ship's main dining room for breakfast, lunch, and dinner. Passengers eat free in this restaurant that features delectable cuisine: cold smoked salmon roulade, Mediterranean chicken pasta, and New York cheesecake.
Deck 5 Dining Options

Blu is the exclusive, spa-inspired dining option for passengers staying in AquaClass cabins. Open for breakfast and dinner, Blu serves up healthier versions of classic continental cuisine. Hint: if this restaurant has available seating, guests staying in the suites can request a table too.
Silk Harvest Restaurant offers a variety of Asian-inspired cuisine from China, Japan, Thailand, and Vietnam. Start off with miso soup and cream cheese wontons before digging in to the main course of spicy pad thai or beef chow mein.
Murano is another specialty restaurant on the Silhouette that serves up a variety of French-inspired cuisine. For $50, guests can feast on delicacies like Maine lobster bisque, porcini morel risotta, or seared tenderloin with butternut squash, brussels sprouts, and sauteed mushrooms.
Tuscan Grille focuses on steaks and Italian cuisine and costs $45 per person. Start your meal with fried calamari, then enjoy toscana ribeye with cajun spiced butter and a side of mac and cheese. Finish it with a sinfully sweet toffee panna cotta and caramel macchiato.
Qsine is a quirky dining option with interactive iPad menus and unique cuisine for sharing. There is a $45 per person surcharge to order intriguing selections such as popcorn fish-n-chips, persian kebobs, crunchy munchies, or sushi lollipops.
There is a small $5 surcharge to eat at Bistro on Five, where you can have all the sweet and savory crêpes and delicious paninis you can stomach. Try the Indian Summer crêpe with grilled zucchini, eggplant, peppers, provolone cheese and herb dressing or the decadent Italian crêpe with nutella, banana and pistachios.
Stop by Café al Bacio or the Gelateria for a cup of coffee, frozen coffee treat, Italian ice, or scoop of gelato served in a waffle cone. The café also has a variety of tasty desserts available FREE with your drink purchase.
Passengers staying in any of the Celebrity suites can visit Michael's Club to eat a continental breakfast, light lunch, or quick snack.

Deck 14 Dining Options

Mast Bar & Grill is a great place to enjoy a light meal or quick snack while lounging by the pool. Mast serves up grilled-to-order hot dogs, chicken, and hamburgers.
Oceanview Cafe serves up breakfast, lunch and dinner from various island serving stations. Enjoy treats like made-to-order pasta, stir-fry, pizza, sushi, salads, and desserts. There is no charge to enjoy a meal at Oceanview Cafe.

Deck 15 Dining Options

Grab a table at The Porch and gaze out over the green grass of the Lawn Club as you enjoy your meal. The Porch serves up soups, salads, panini and other freshly made food in a casual dining experience.
The Lawn Club Grill allows guests the joys of outdoor grilling while enjoying selections such as BBQ chicken flatbread, tandoori chicken kabobs, or lobster mac and cheese. There is a $45 surcharge to eat enjoy a meal at the Lawn Club.
Find Your Celebrity Cruise
Discover the World on These Cruise Lines
Search for Cruises & Compare Deals!
Signup for Cruise Deals
Exclusive access to private sales, customized specials & more