Celebrity Reflection
Overview
Celebrity Reflection offers comfortable cruising for 3,046 guests in some of the newest stateroom suites and 34 new AquaClass® Suites with 79-square-foot verandas for unparalleled relaxation.
The Reflection is the 5th and final ship in the cruise line's Solstice Class of ships, joining sister ships Eclipse, Equinox, Silhouette and Solstice. Set sail on your Eastern European, Mediterranean, and even Caribbean cruise aboard Reflection.
Awards for Reflection by Celebrity Cruises
2013 - Travel Weekly's 11th Annual Readers Choice Award - Best Premium Ship
2014 - Cruise Critic Cruiser's Choice Awards - Top 3 Best Mediterranean Cruises
Cabin Options
The first two-bedroom suite in Celebrity's fleet-the Reflection Suite-is located in a private area only accessible to guests with a special SeaPass® card. Complete with a customizable mattress, European-style butler service, and all-glass bathroom with sweeping ocean views, this suite defines luxury.

All cabins on the Celebrity Reflection come with standard amenities such as robes, custom bath products, mini-bar, 24-hour room service, security safe, Wi-fi, and a flat-screen TV.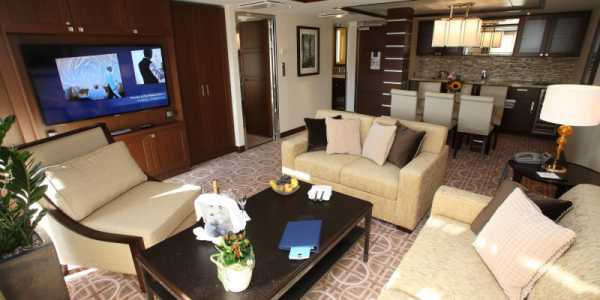 Suites
Size: 380-1830 sq. ft.
Occupancy: Up to 4 guests
Suites range from 380 sq. ft. to the incredible 1,830 sq. ft. Some suites have a sea-view bathroom and 2nd bedroom. All Suites come with fresh fruit and flowers, Bulgari bath products, daily delivery of tea and snacks, and 24-hour butler service.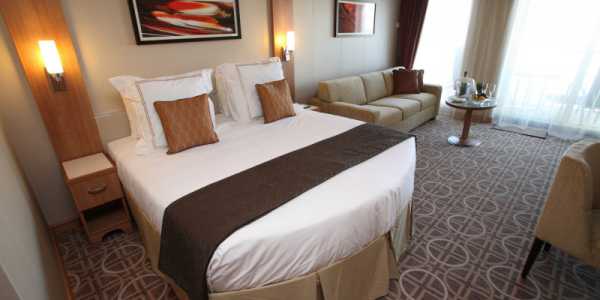 AquaClass Staterooms
Size: 248 sq. ft.
Occupancy: Up to 4 guests
AquaClass Staterooms offer 248 sq. ft. and are perfect for guests in a spa-like setting. AquaClass rooms include entry to the Persian Garden and Relaxation Room and the use of an in-room aromatherapy diffuser.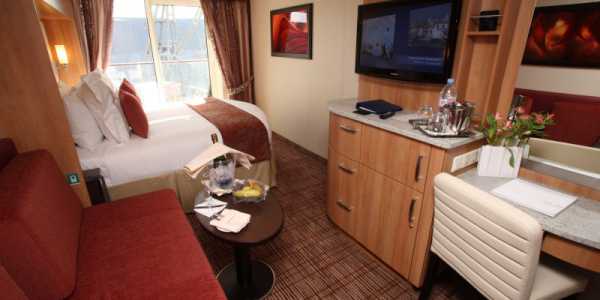 Concierge Class Staterooms
Size: 248 sq. ft.
Occupancy: Up to 3 guests
The Concierge Class cabins have 248 sq. ft. of living space, 2 twin beds that convert to queen-size, and some rooms have a sofa bed to accommodate as many as 3 guests.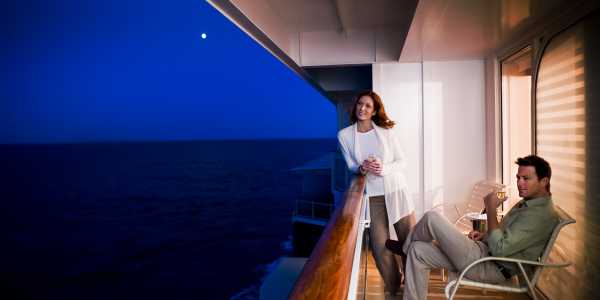 Veranda Class Staterooms
Size: 196-680 sq. ft.
Occupancy: Up to 4 guests
Veranda Class Staterooms range from 248 to 680 sq. ft. for the 2-bedroom family stateroom. These rooms have a private balcony with lounge furniture, and some come with either a sofa bed or bunk beds to sleep up to 4 guests.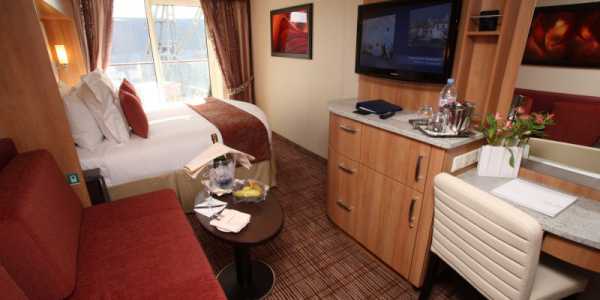 Ocean View Class Staterooms
Size: 177 sq. ft.
Occupancy: Up to 3 guests
Ocean View Class Staterooms offer 177 sq. ft. of living space and have a large ocean view window. These rooms normally sleep 2 guests, but rooms with upper bunk beds sleep up to 3 passengers.
Itineraries, Sailing Dates & Pricing
Entertainment & Activities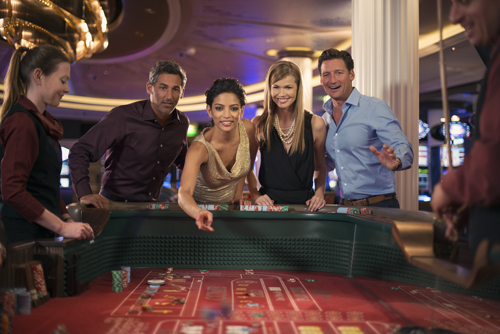 Celebrity Reflection introduced the AquaClass Suites, designed for spa lovers, with all your favorite spa and suite amenities coupled with priority access to the ship's exclusive and highly rated specialty restaurant, Blu. Visit the Enhanced AquaSpa and relax in the Infrared Sauna, Aromatic Steam Room, Cold Room, Sensory Showers, and enjoy new spa and salon offers.
The Art Studio features interactive classes in jewelry making, beading, painting, and sketching hosted by two Master Artists from The ArtCenter/South Florida. Unwind at Michael's Club in an intimate atmosphere with leather chairs, 50 international craft beers, and an extensive collection of whiskey, scotch, cognac, and bourbon. If you're looking to get pampered on your next Celebrity vacation, Celebrity Reflection is the ideal ship for you.
Dining Options
Be the "Grill Master" at the Lawn Club Grill, where you'll be paired with a Celebrity chef to prepare flavorful grilled favorites. Other dining options include the Qsine® experience and SPE-Certified Dining that emphasizes farm-to-table dining. Explore unique, gourmet dining options on the Reflection while enjoying your next Celebrity cruise vacation.
The Main dining room has a 2-story glass wine tower. Guests can pick a 6 or 8:30 pm dinner seating or opt for the open Celebrity Select Dining anytime between 6 and 9:30. Enjoy appetizers like beef carpaccio or buffalo style frog legs before digging into your main course of cedar plank grilled salmon or vegetable paella.
Deck 5 Dining Options

Bistro on Five serves up all the sweet and savory crepes you can eat for $5 per guest. A variety of sandwiches are served up including the chicken panini with shredded lettuce, diced tomato, spicy chicken, and cheddar cheese.
Cafe al Bacio & Gelateria offer à la carte pricing on a variety of ice cream treats and coffee drinks. Pastries, such as croissants and pain au chocolate, are free with your drink purchase.
Michael's Club is a private lounge serving light breakfast, lunch and snacks for guests in Celebrity, Signature, Royal, Penthouse, and Reflection Suites.
Murano's serves traditional French cuisine. Feast on the chateaubriand for two with baby vegetables and bearnaise and cabernet sauce. There is a $50 per guest surcharge or $89 surcharge for the 5-course, Five Senses meal option.
Qsine is an eclectic restaurant with an iPad menu and interesting menu choices like disco shrimp, sushi lollipops, and crunchy munchies. There is a $45 per person surcharge to experience Qsine.
Blu Restaurant is the exclusive breakfast and dinner dining area for guests of the AquaClass staterooms and AquaClass suites. The restaurant serves spa-inspired, healthy food choices such as grilled tamarind glazed quail with cinnamon pickled carrots and tabbouleh salad.
Tuscan Grille serves classic Italian food including a prosciutto and parmesan appetizer with sweet cantaloupe, baby arugula and fresh basil. There is a $45 surcharge to enjoy a variety of steaks, pasta, lasagna, and other classic Italian favorites at Tuscan Grille.
Deck 14 Dining Options

Aqua Spa Cafe offers pre-made fruit bowls, salads, and other healthy choices for breakfast and lunch.
Oceanview Cafe is the ship's buffet style eating area where guests walk up to individual serving stations and help themselves to eggs, fruit, pasta, salads, and more. The buffet is open almost all day and night for breakfast, lunch, dinner, or snacks.

Deck 15 Dining Options

Mast Grill serves made-to-order burgers, fries, and hot dogs with a delicious toppings bar including guacamole and grilled onions.
The Porch, right next to the Lawn Club, serves breakfast and lunch in a casual setting. Breakfast panini, soups, sandwiches, and beverages are available.
Lawn Club Grill recreates the sensation of eating outdoors with a selection of flatbread pizzas and a delicious array of grilled meats and seafood. There is a $45 per person surcharge to enjoy the D.I.Y. steak experience made table-side by your own designated Grill Master.
Find Your Celebrity Cruise
Discover the World on These Cruise Lines
Search for Cruises & Compare Deals!
Signup for Cruise Deals
Exclusive access to private sales, customized specials & more