Celebrity Reflection
Overview
Celebrity Reflection offers comfortable cruising for 3,046 guests in some of the newest stateroom suites and 34 new AquaClass® Suites with 79-square-foot verandas for unparalleled relaxation.
The Reflection is the 5th and final ship in the cruise line's Solstice Class of ships, joining sister ships Eclipse, Equinox, Silhouette and Solstice. Set sail on your Northern European, Holy Land, or Caribbean cruise aboard Reflection.
Awards for Reflection by Celebrity Cruises
2013 - Travel Weekly's 11th Annual Readers Choice Award - Best Premium Ship
2014 - Cruise Critic Cruiser's Choice Awards - Top 3 Best Mediterranean Cruises
Cabin Options
The first two-bedroom suite in Celebrity's fleet-the Reflection Suite-is located in a private area only accessible to guests with a special SeaPass® card. Complete with a customizable mattress, European-style butler service, and all-glass bathroom with sweeping ocean views, this suite defines luxury.

All cabins on the Celebrity Reflection come with standard amenities such as robes, custom bath products, mini-bar, 24-hour room service, security safe, Wi-fi, and a flat-screen TV.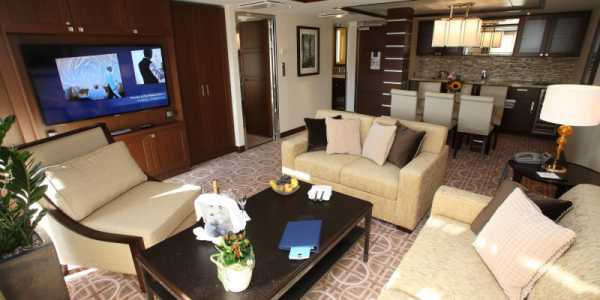 Suites
Size: 380-1830 sq. ft.
Occupancy: Up to 4 guests
Suites range from 380 sq. ft. to the incredible 1,830 sq. ft. Some suites have a sea-view bathroom and 2nd bedroom. All Suites come with fresh fruit and flowers, Bulgari bath products, daily delivery of tea and snacks, and 24-hour butler service.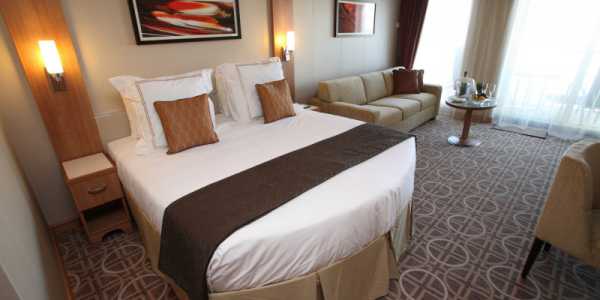 AquaClass Staterooms
Size: 248 sq. ft.
Occupancy: Up to 4 guests
AquaClass Staterooms offer 248 sq. ft. and are perfect for guests in a spa-like setting. AquaClass rooms include entry to the Persian Garden and Relaxation Room and the use of an in-room aromatherapy diffuser.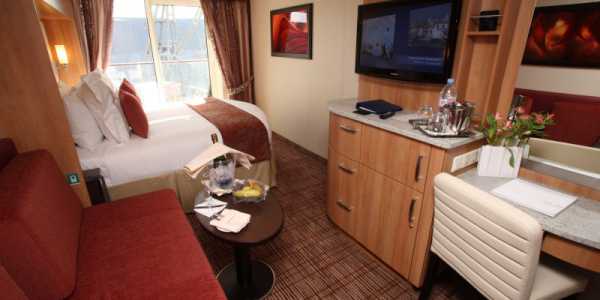 Concierge Class Staterooms
Size: 248 sq. ft.
Occupancy: Up to 3 guests
The Concierge Class cabins have 248 sq. ft. of living space, 2 twin beds that convert to queen-size, and some rooms have a sofa bed to accommodate as many as 3 guests.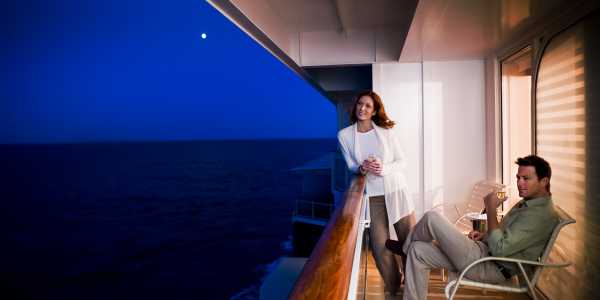 Veranda Class Staterooms
Size: 196-680 sq. ft.
Occupancy: Up to 4 guests
Veranda Class Staterooms range from 248 to 680 sq. ft. for the 2-bedroom family stateroom. These rooms have a private balcony with lounge furniture, and some come with either a sofa bed or bunk beds to sleep up to 4 guests.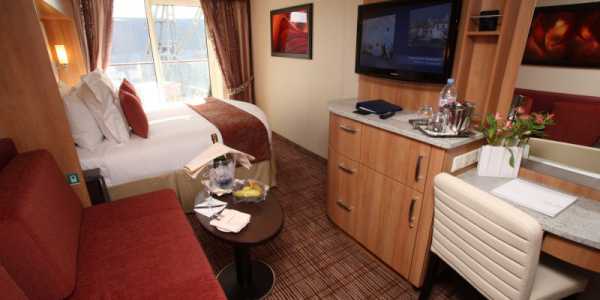 Ocean View Class Staterooms
Size: 177 sq. ft.
Occupancy: Up to 3 guests
Ocean View Class Staterooms offer 177 sq. ft. of living space and have a large ocean view window. These rooms normally sleep 2 guests, but rooms with upper bunk beds sleep up to 3 passengers.
Entertainment & Activities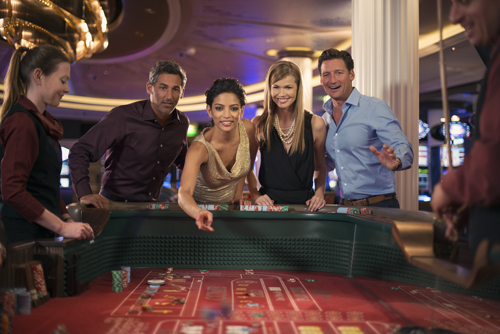 Celebrity Reflection introduced the AquaClass Suites, designed for spa lovers, with all your favorite spa and suite amenities coupled with priority access to the ship's exclusive and highly-rated specialty restaurant, Blu. Visit the Enhanced AquaSpa and relax in the Infrared Sauna, Aromatic Steam Room, Cold Room, Sensory Showers, and enjoy new spa and salon offers.
The Art Studio features interactive classes in jewelry making, beading, painting, and sketching hosted by two Master Artists from The ArtCenter/South Florida. Unwind at Michael's Club in an intimate atmosphere with leather chairs, 50 international craft beers, and an extensive collection of whiskey, scotch, cognac, and bourbon. If you're looking to get pampered on your next Celebrity vacation, Celebrity Reflection is the ideal ship for you.
Dining Options
Relax near a lawn of growing grass at the Lawn Club Grill, where you'll enjoy open-air seating and outdoor grilled favorites while overlooking the sea. Other dining options include the truly unique Le Petit Chef®, offering an experience like no other as your enjoy 3D table animations as you dine on Michelin-star chef-prepared dishes. Explore several gourmet dining options on the Reflection while enjoying your next Celebrity cruise vacation.
Included Dining

Mast Grill - Ocean views with burgers, salads, or sandwiches in a relaxed, poolside atmosphere
Main Restaurant - Wide range of globally-inspired dishes created by a Michelin-starred chef
Oceanview Café - Market-style cafe that features select offerings inspired by the destinations around the world
The Spa Café - Fresh, spa-inspired delights to nourish body and mind offering smoothies, juices, cereals, and omelets
Blu - Clean, crisp flavors and inventive cuisine with an extensive list of sustainable and biodynamic wines (exclusive for AquaClass guests)
Luminae - Fresh new menu every day including pastas, desserts, meats, and vegetarian entrees (exclusive for The Retreat guests)

Specialty Dining

Tuscan Grille - Lively, sophisticated atmosphere, serving iconic Italian dishes with a modern twist featuring handmade pasta, artisanal salumi, fish, butcher cut meats, and USDA Prime dry aged steaks
Le Petit Chef - One-of-a-kind restaurant featuring a uniquely unordinary approach to dining
Sushi on Five - Authentically prepared sushi and other Japanese specialties from a menu crafted by expert restaurateur and sushi chef, Yoshikazu
Café al Bacio & Gelateria - The place to go for ice cream, coffee, cookies, or dessert cocktails
Murano - Classic French dishes with a contemporary twist
The Lawn Club Grill - Selection of flatbread pizzas and a delicious array of grilled meats and seafood
The Porch - Fresh seafood and raw bar surrounded by sun-dappled lawns, gorgeous sunsets, and breezy, ocean views
Discover the World on These Cruise Lines
Search for Cruises & Compare Deals!
Signup for Cruise Deals
Exclusive access to private sales, customized specials & more