Celebrity Xpedition
Overview

Searching for the cruise of a lifetime? The Celebrity Xpedition® was built for you, sailing to the Galapágos Islands seven days a week, 365 days a year. Enjoy personal attention from Celebrity Xpedition staff as you cruise along on the intimate, 100-guest mega yacht.
The Celebrity Xpedition is like no other cruise ship, offering an opportunity to learn as you travel to one of the most fascinating areas of the planet. Nightly lectures by world renowned naturalists explain the exotic plants and animals you'll see on your Zodiac shore excursions.
Back on the ship, you can enjoy the pampering you've come to expect from Celebrity. Enjoy room service, in-suite dining, massage services, complimentary plush bathrobes, a fitness room, and live music in the Discovery Lounge. With Celebrity, you'll experience the Galapagos Islands in style.
Find the best daily Celebrity Cruise Line deals, discounts and promotions from Dunhill Travel Deals and embark on your Galapágos cruise for less.
Awards for Xpedition by Celebrity Cruise Line
2014 Cruise Critic Cruisers' Choice Awards - Best Short Excursions Small Ship.
Cabin Options
The Xpedition offers guests all-inclusive cruising including meals, drinks, gratuities, and shore excursions. All cabins include pillow-top mattresses and duvet covers, ample closet space, binoculars, flat-screen TV, security safe, mini-fridge, and more. Another amenity guests will enjoy is the complimentary use of snorkel equipment and wetsuits.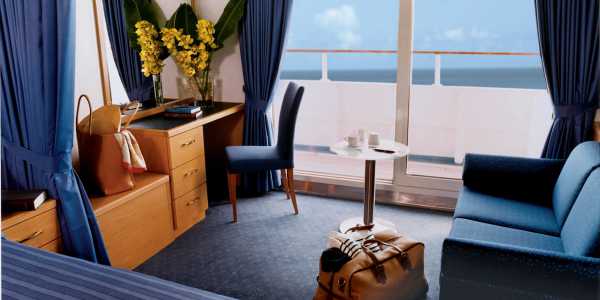 Suites
Size: 228-610 sq. ft.
Occupancy: Up to 4 guests
Suites on the Celebrity Xpedition have either a comfortable queen-size or double bed. The Penthouse suites have a second bedroom and accommodate up to 4 passengers. Special amenities include free sparkling wine, daily fruit basket, hors d'oeuvres and a private balcony.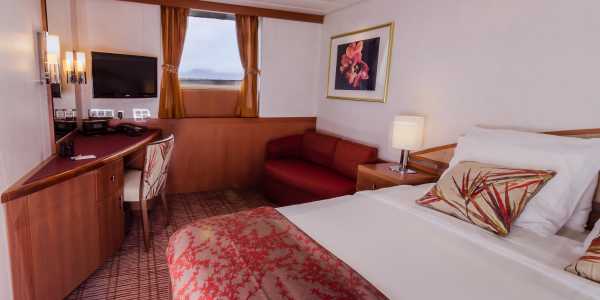 Ocean View Class Staterooms
Size: 145-160 sq. ft.
Occupancy: Up to 2 guests
Ocean View Staterooms range from 145 to 160 sq. ft. and have a picture window. These cabins are the perfect size for 2 guests with their 2 twin beds that convert to queen-size bed. Ocean view rooms also have a sitting area with sofa and desk and a bathroom with shower.
Entertainment & Activities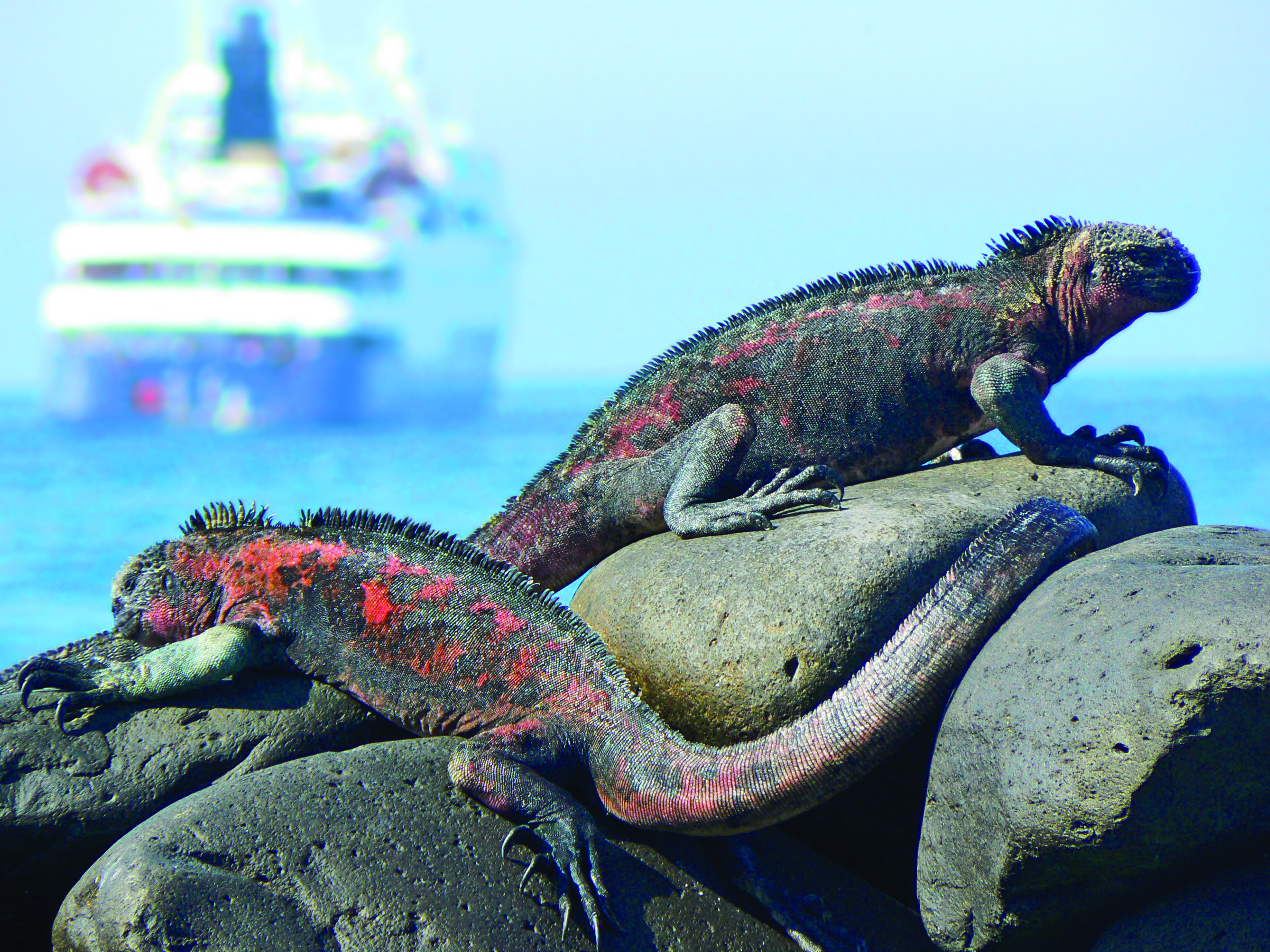 Environmentally sound, Celebrity Xpedition was designed to leave a smaller carbon footprint. Galapágos National Park-certified onboard naturalists help to preserve and protect the fragile archipelago while teaching you everything you want to know about its natural and evolutionary significance.

Head to the Discovery Lounge to learn about the wildlife you'll encounter from knowledgeable naturalists who lead nightly lectures.
Unwind with a delicious drink at the Blue Finch Bar as you absorb the expansive outdoor views from the Panorama Deck. Work on your tan on the Sunrise Deck with a hot tub, sauna, and sunning area.

When you choose Xpedition as your cruise ship, you're guaranteed a unique cruising experience you'll remember for a lifetime.
Dining Options
Discovery Lounge - Choice of snacks are available throughout the day
Beagle Grill - Open daily for lunch and serves a variety of food such as hot dogs, hamburgers, pizza and salad
Darwin Restaurant - Main restaurant onboard serving breakfast, lunch, and dinner buffet style. There is a made-to-order egg and omelette station set up for breakfast; lunch choices include salads, breads, chicken, fish and more
Find Your Celebrity Cruise
Discover the World on These Cruise Lines
Search for Cruises & Compare Deals!
Signup for Cruise Deals
Exclusive access to private sales, customized specials & more