Our Travel Experts Rate the Top Cruise Ships
Huge, stately cruise liners can be found in deep ocean ports throughout the world. Some of these cruise ships carry more than 5,000 guests and offer a wide selection of onboard activities, dining options, and entertainment. Rating the top five cruise ships is a difficult task because all of the cruise giants offer similar experiences.
We used criteria that included: service ratios of crew to guests; innovative amenities; ports of call; quality of cabin space; and passenger reviews of the onboard experience. Here is our list of the top five cruise ships.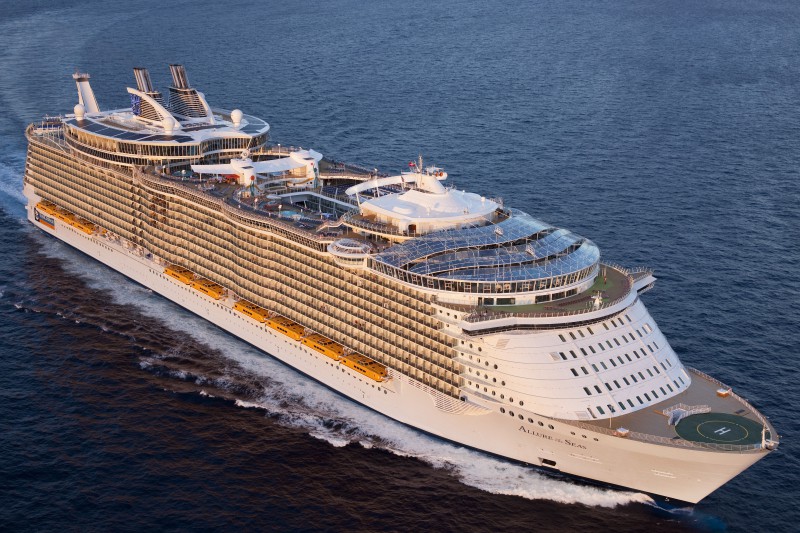 This is the second-largest largest cruise ship in the world (a foot shorter than her big sister, Harmony of the Seas), carrying close to 6,000 passengers when full. According to passenger reviews, the ship does not feel crowded and there are plenty of activities and dining options so you rarely have to stand in line. With seven different neighborhoods, you will find plenty of room to roam. One neighborhood is a Central Park replica with trees, gardens and eateries. There are balcony cabins that overlook the park. A favorite new feature is a hot dog stand, the Boardwalk Dog House. Allure also has the first Starbucks at sea. The service is exemplary, with 2,384 crew members to serve you. Cabins are so well designed, they seem much larger than they are. Reasons for our recommendation: outstanding service, expansive common areas, and cabin comfort.
Norwegian's newest ship, the Getaway, is brightly painted with swirls of color around the bow, making it easy to spot in any port. It is not as large as the RCCL Oasis class ships, but carries around 4,000 passengers and 1,640 crew members. One innovative design detail is The Waterfront, an ocean-side open-air promenade with shops, bars and cafes that eliminates one complaint cruisers often have, that they don't feel the experience of being on a ship. With its innovative "freestyle cruising," NCL has an informal dress code and allows you to dine at any hour. There are five multi-story water slides, impressive magic shows during dinner, and a fireworks display on every cruise. The sports options are extensive, including rock climbing, a ropes course, and mini-golf. In spite of its smaller size, the Getaway has 28 different dining options, 3 more than the Allure. Reasons for our recommendation: variety and number of dining options with "freestyle cruising," sports activities, and The Waterfront promenade.

The six-year-old Solstice cruises some of the more exotic and unusual destinations of the world, including Alaska, New Zealand, Australia, Tahiti, and the South Pacific. The ship's layout is remarkably easy to navigate, with all dining in the back and all entertainment in the front. The top deck has a half-acre "Lawn Club," which is a green grassy area that has a country-club feel. Some of the unusual pastimes are the glass-blowing demonstration, art auction and educational lectures on the local ports. Sleek, modern furnishings give the interior an elegant look with lots of natural light. Even when completely full, Solstice feels half empty because of the passenger flow and the design of the common areas. Reasons for our recommendation: Exotic destinations, uncrowded and easy to get around, elegant design.
4. Disney Dream – Disney Cruise Line
The Disney Dream is forty percent larger than its sister ships, and twelve years newer. Although it has the look of the early 20th century, the ship has been fitted with modern technological enhancements. There are wave phones in every cabin that can be used to call or text other passengers, and some of the wall art moves when you look at it. It is, as all Disney ships, a dream for young children with surprises and treats at every turn. The Dream has also made great strides in appealing to the tweens and teens, with their own gathering places, complete with gaming consoles. Although there are adults-only pools and dining areas onboard, it really is a cruise ship that appeals to families. The Disney Dream sails exclusively to the Bahamas, with 3 or 4-night itineraries. Reasons for our recommendation: an unequalled delight for families, beautiful 20th century décor throughout, and Disney-style excellence in entertainment.

Kate, the Duchess of Cambridge, christened the new Royal Princess in Southampton, launching a sophisticated, award-winning and popular addition to the Princess fleet. The interior design of this ship is airy and lofty, with glass panels that give it an open feel. The design is spacious and calming, with relaxing colors and features from the atrium to the staterooms. There are a few innovations to mention: a "Movies under the Stars" outdoor theater, the Piazza in the ship's atrium, and a sun deck for teens only. But all in all, it is a traditional cruise experience with excellent dining, superb service, and many entertainment options. Although it doesn't have the same expansive features as the Allure of the Seas, a trip on the Princess is a guaranteed delightful cruising experience, with all the superlatives you'd expect from the Princess Line. Reasons for our recommendation: sophistication in design, reliably excellent service, relaxed cruising experience.
By Kay D. Harrison
Signup for Cruise Deals
Exclusive access to private sales, customized specials & more