Norwegian Getaway
Overview
The Getaway is a Breakaway Class cruise ship from Norwegian Cruise Line, along with sister ship Norwegian Breakaway. The Getaway has 2,014 cabins with room for 3,969 guests, from comfortable accommodations for the solo traveler in the Studio, to the luxurious and spacious Haven Deluxe Owner's Suite with large balcony.
Based in sunny South Florida, the Norwegian Getaway is "Miami's Ultimate Ship™". Miami-based artist David "LEBO" LeBatard designed the stunning art on Getaway's hull, with mermaids, pelicans and colors inspired by the sun and ocean in the city. Take your pick of a range of staterooms when you get a great Norwegian Cruise Line deal from Dunhill Travel Deals
Awards for Breakaway by Norwegian Cruise Line
2015 Best Cruise Ship for Entertainment - Cruise Critic Cruisers' Choice Awards
2014 Best Megaship - Porthole Readers' Choice Awards
2013 Best Satellite Restaurants - Porthole Readers' Choice Awards
Cabin Options
Cruise ship guests, from solo travelers to large families, will find a variety of cabins on the Norwegian Getaway.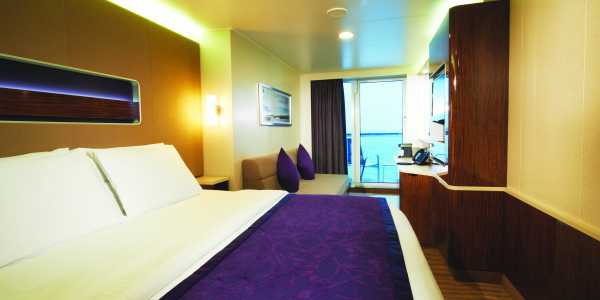 Mini Suite
Size: 239 to 585 sf
Occupancy: 2 to 4
Have large private balconies with room for two to four guests. These suites have either a king-size bed or two lower beds that convert to a queen size bed. Most mini suites have a sofa bed and some even come with a bathtub, perfect for families traveling with young children.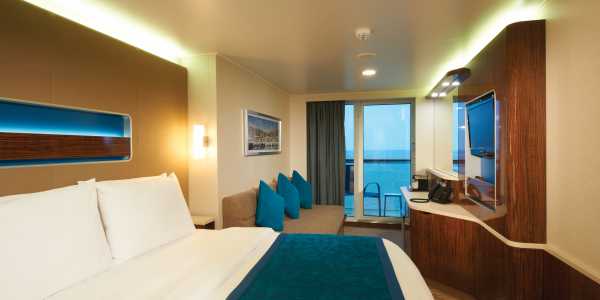 Balcony Stateroom
Size: 207 to 516 sf
Occupancy: 2 to 4
Private balconies with terrific views of the ocean while cruising on board the Norwegian Getaway. All balcony staterooms have two lower beds that can be converted to a queen bed, and some also have an upper bed and sofa bed.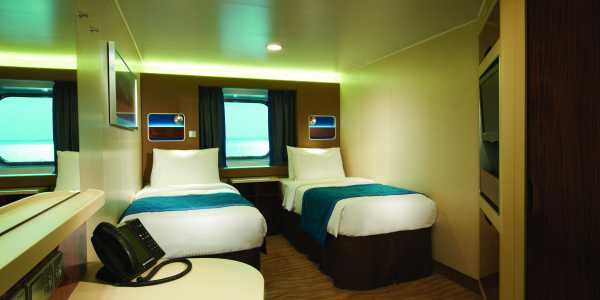 Oceanview Stateroom
Size: 129 to 150 sf
Occupancy: 2 to 5
All Oceanview cabins have a large picture window, for enjoying the ocean view, and include two lower beds convertible to queen size. Certain staterooms come with two pulldown beds for more guest space, and there are even connecting Oceanview staterooms available.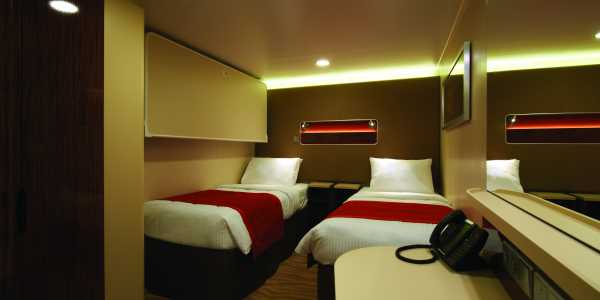 Inside Stateroom
Size: 129 to 150 sf
Occupancy: 2 to 4
Stateroom has two lower beds which convert to a queen size bed, and some inside staterooms also come with two pulldown beds.
Itineraries, Sailing Dates & Pricing
Entertainment & Activities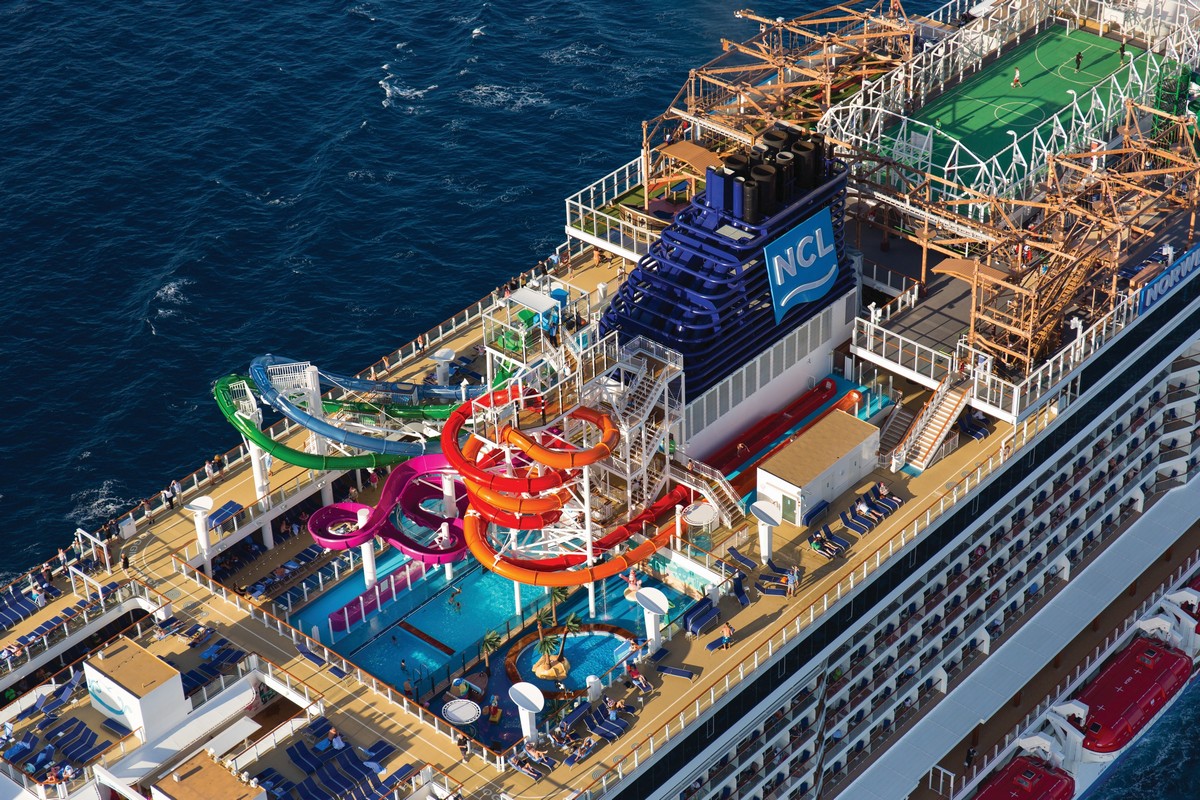 Featuring ground-breaking entertainment, Norwegian Getaway is the first ship to feature the GRAMMY Experience at sea, which is set to include artifacts chosen and curated by the GRAMMY Museum, along with live performances by past GRAMMY winners and nominees. Choose from 12 unique bars and lounges, including the Key West-inspired Sunset Bar, Sugarcane Mojito Bar and the Svedka and Inniskillin Ice Bar.
Children will enjoy the complimentary youth program, including the Splash Academy that features dodgeball and scavenger hunts. Get some R&R at Norwegian Getaway's Day Spa, with over 50 treatment options. Once you step foot on this remarkable ship for your Norwegian Cruise Line discount Eastern Caribbean cruise, you'll never want to leave.
Dining Options
Find great Norwegian Cruise Line specials and dining options on board the Norwegian Getaway. There are 28 restaurants on the Getaway. Dine and dance in the glamorous grand main dining room at the Tropicana Room, or order your favorite frozen drink at the Flamingo Bar & Grill. Specialty dining options include Le Bistro French Restaurant, Cagney's Steakhouse and Ocean Blue, a fine seafood restaurant by Food Network star, Iron Chef and New York City restaurateur Geoffrey Zakarian.
Deck 6

Cafe at the Atrium is the place to go for a cocktail or a cup of coffee.
Illusionarium offers guests a unique dining experience while watching a magic show.
Le Bistro serves classic French cuisine with a fixed menu pricing of $10 for children and $20 for adults.
Savor is one of the main dining rooms on The Getaway where guests can enjoy complimentary food and beverages.
Taste is a main dining room, featuring a different menu each day, and all meals from Taste are included in the cruise fare.
Teppanyaki is a Japanese hibachi restaurant with fixed menu pricing of $12.50 for children and $25 for adults.
Deck 7

O'Sheehan's Irish Pub features complimentary food to all guests including lobster, shrimp and all-you-can-eat ribs.
Shanghai's offers a la carte pricing on dim sum, fried rice and noodle dishes.
The Tropicana Room is one of Getaway's main dining rooms, with all meals included in your cruise fare.
Deck 8

Cagney's is an American Steakhouse featuring steaks, crab cakes and truffle fries. Cagney's offers fixed menu pricing of $15 for children and $30 for adults.
Carlo's Bake Shop features all the decadent treats and confections for which the "Cake Boss" is famous.
Dolce Gelato is the place to go for a cold and creamy ice cream cone.
La Cucina is restaurant featuring Italian specialties such as lobster fettuccine and pasta carbonara. La Cucina offers fixed menu pricing of $7.50 for children and $15 for adults.
Ocean Blue by Iron Chef Geoffrey Zakarian features refreshing cocktails and delicious seafood dishes with a fixed menu pricing of $24.50 for children and $49 for adults.
Wasabi is a sushi bar and grill offering a la carte pricing on all menu items
Deck 15

Garden Cafe is a complimentary buffet for all guests open for breakfast, lunch and dinner. Food choices include omelets, waffles, pasta, carving stations and desserts.
Deck 16

Flamingo Grill is the place to go for a variety of snacks and frozen drinks.
The Haven Restaurant offers complimentary, private dining for guests staying in the Haven suites.
Spice H2O is an adults only oasis where you can lounge by the hot tub or waterfall, during the day, or enjoy dancing at night while snacking on various appetizers and cocktails.
Find Your Norwegian Cruise
Discover the World on These Cruise Lines
Search for Cruises & Compare Deals!
Signup for Cruise Deals
Exclusive access to private sales, customized specials & more