Princess Cruises Offer the Best Itineraries
Cruises are some of the most rewarding vacations as you have the ability to be transported all-inclusively to various locations throughout the world. While the most popular cruise itineraries are typically in the Caribbean due to their affordability, the possibilities are truly endless when it comes to destinations.
One cruise line I would like to focus on in this particular spotlight is Princess Cruises. Princess is known for its top-of-the line amenities and onboard activities that appeal to a wide variety of travelers. Its larger ships appeal to a broad range of preferences, attracting a multi-generational crowd. The smaller ships, Pacific Princess and Majestic Princess, appeal to more mature travelers looking for the exotic, longer itineraries and less family-friendly amenities.
It is also one of the last cruise lines to feature an old tradition, allowing friends and family to accompany guests on board in a "Bon Voyage Experience" for a small fee. This fee can be applied toward a future cruise booking if you are so inspired.
Princess Cruises was first established in 1965 with three to 14-day cruises to Mexico aboard Princess Patricia. In 1977, its popularity expanded when one of its ships had a Hollywood debut on the hit show "The Love Boat." Almost 50 years later, the brand has expanded its reach bringing travelers all across the world, literally.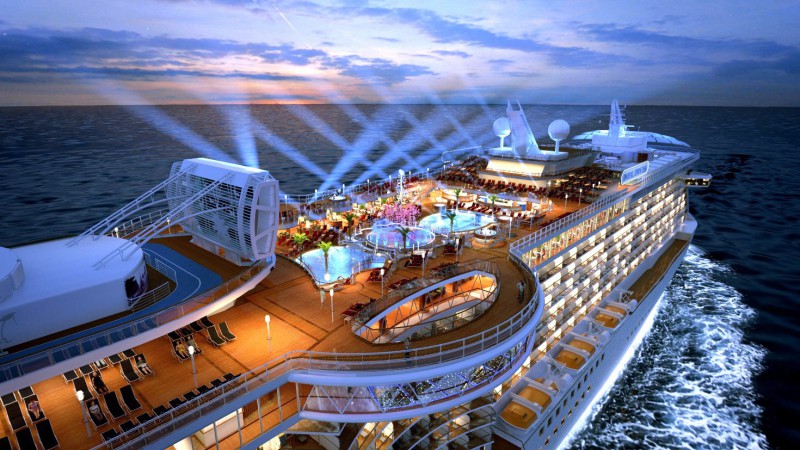 Princess Cruises now features sailings from as short as three days to as long as 111 days. The line offers more than 100 itineraries visiting 300+ ports onboard an 18-ship fleet. The brand recently announced plans to launch a new ship in 2017 that will cost approximately $756 million. This ship will join sister ships Royal Princess, which launched in 2013, and Regal Princess, which launched in 2014.
Though all of the amenities are fabulous, the true differentiator is in its itineraries. Amongst its numerous accolades, one that really stands out is its long-running honor of Best Cruise Itineraries. Princess beats out the competition in this respect taking home this award nine years in a row.
On board a Princess cruise ship, guests can visit destinations in Africa, Australia/New Zealand, the Caribbean, Europe, Hawaii, Alaska, India, Asia, Mexico, South America, the South Pacific and more. On its 111-day World Cruise leaving from North America, guests have the unique opportunity to circle the entire globe. This is a real once-in-a-lifetime itinerary that the average person may only dream of. Visiting 35 destinations and 26 countries, this is one of the most incredible itineraries that ever existed. If you don't have enough vacation days (or money) to embark on this itinerary, don't feel left out. You can take smaller segments of it and see plenty of destinations during your trip.
In 2016, Princess will offer its first circuit around the South American continent that even gives travelers the chance to visit Antarctica through an optional flight tour. Breathtaking and romantic Tahiti and Polynesia itineraries will also return next fall with two full days in Bora Bora and a stop on the secluded island of Nuku Hiva.
Don't worry, not all of Princess's itineraries are extravagantly exotic. More mainstream Caribbean cruises are also available to cruise-heavy destinations like the Cayman Islands, Cozumel and Turks & Caicos at very affordable prices. These cruises last from three days and up.
The itineraries on Princess Cruises are quite intriguing, making the destinations of your dreams easily and effortlessly accessible. As Princess's slogan indicates, once you step aboard you'll "Come Back New." Check out the latest deals and discounts on Princess Cruises and plan your next voyage today!
Signup for Cruise Deals
Exclusive access to private sales, customized specials & more