Packing For a Cruise: What To Leave At Home
There are a few things you just don't need to take with you on your cruise to the Caribbean or Hawaiian Islands. I saw many cruise guests struggling with tremendous bulging suitcases on a brief cruise recently, and I would like to lighten their load. Consider leaving a few things at home.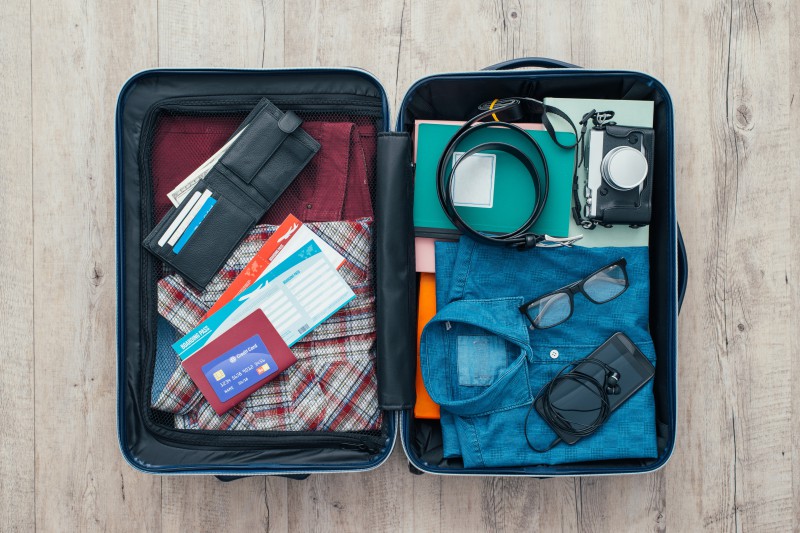 Hair Dryer – On most ships, the cabin will be equipped with a hair dryer, a shampoo dispenser in the shower, a safe with free, coded access and hangers in the closet. If you can't find a hair dryer in your cabin, look inside the desk drawers. On RCI ships, this is where they are stowed. All Celebrity ships have wall-mounted hair dryers in the bathroom.
However, a few of the Carnival ships do not have in-room hair dryers (such as Ecstasy and Elation), but there are a few loaners on each deck. Ask your cabin steward. If you must bring a hair dryer, make sure it is less than 700 watts. Most travel hair dryers will qualify for that limit. The bottom line is, find out before your cruise whether or not you'll need to pack one.
Multiple Pairs of High-Heeled Shoes – There you are on the high seas, struggling to keep your balance as the giant ship sways gently back and forth. Even with stabilizers, the ships do pitch and roll in rough and windy weather, and you don't want to be stumbling across the dining room in heels. One pair for formal night should do it.
Towels – There will be plenty of towels in your room, and probably by the pool and in the spa as well. If you run short, your room steward will bring more without question. You may even get extra towels on your bed in the form of swans, bunnies or elephants. Those creative towel-folders strike when you least expect it.
Electric Power Strips – There should be no need for extra outlets, and you should not plug in multiple appliances anyway. Cruise lines are very cautious about fires. It is probably the high-seas disaster cruise lines worry about the most, so they will not compromise on this rule. Nothing that could cause a spark in your cabin will be allowed. Add heating pads, coffeemakers and hot plates to this list.

Your Own Bottles of Liquor – If you are cruising on Royal Caribbean International, they will confiscate any bottles of alcoholic beverages found in your luggage. On other cruise lines such as Carnival Cruise Line and Norwegian Cruise Line, you are allowed one unopened bottle of wine or champagne per adult on embarkation. There is a corkage fee for these bottles if you drink the wine in a dining room, usually around $15-$25 per bottle. Note that Norwegian specifically prohibits boxed wines on board, but other lines allow boxed wines that do not exceed the 1.5 liter limit per stateroom.
Your Best Jewelry – Although crime onboard has declined in the past few years, and most staterooms now have safes, it is really not wise to bring your best, most valuable jewelry on your cruise. It's just not worth the risks of loss or theft. One note about shipboard crime: Before 2012, cruise lines would fight to keep crime statistics a secret. Now, cruise ships embarking from U.S. ports are required by law to report crimes committed on board to the FBI or the U.S. Coast Guard. Crime statistics for each cruise line are reported on this Coast Guard website.
Travel Iron – Clothes irons are simply not allowed on cruise ships, partly because of the power surge that would occur just before formal dinners and partly because of the threat of fires. So, for the same reason you don't bring power strips, don't bring an iron. If you are concerned about wrinkled clothes, hang them in a hot shower for twenty minutes and let the steam release the wrinkles, or bring along wrinkle relaxer spray. Better yet, don't pack clothes that wrinkle!
For detailed descriptions of the onboard amenities of many cruise ships, visit the cruise line pages at Dunhill Travel Deals.
By Kay D. Harrison
Signup for Cruise Deals
Exclusive access to private sales, customized specials & more