Find Fun Things To Do Every Day In L.A.
There are so many things to do in Los Angeles, you could stay for several weeks and still not get everything checked off. From quaint cafes on the water to vibrant museums and activities everyone will love, make Los Angeles your next California vacation. There is more to Los Angeles than the movie stars in expensive gyms, hipster fashion, and wild parties. Here's a quick list of suggestions for each day of the week.
Museum Monday
Los Angeles museums hold great collections of priceless masterpieces and objects of historical and scientific significance for public viewing and host unique exhibitions year-round. These are great places to learn, relax, and get inspired. The Getty Museum and Getty Villa, Los Angeles County Museum of Art (LACMA), the Museum of Contemporary Art (MOCA), and Natural History Museum of Los Angeles County in the heart of Los Angeles, as well as the Griffith Observatory overlooking the city, are great places to visit whether you are on a romantic trip, family vacation, or getaway with friends.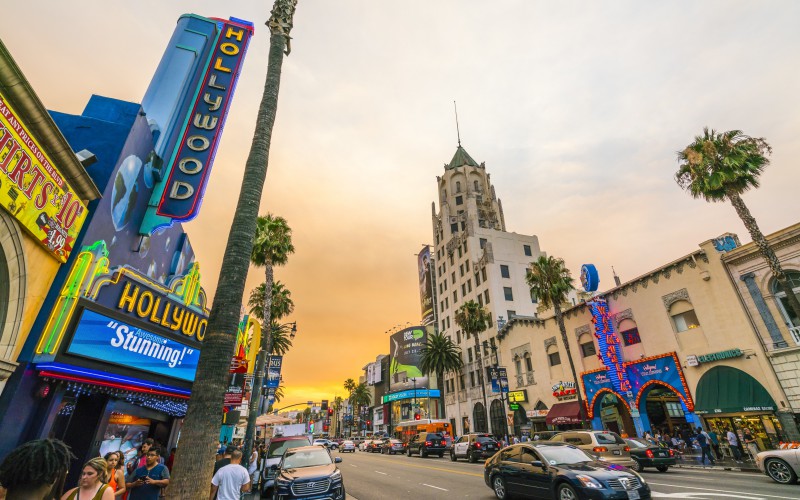 Tourist Tuesday
As in every great city, there are a couple of touristy activities that are simply inevitable: the Universal CityWalk; Hollywood Wax Museum; Hollywood Boulevard; or a hike to the Hollywood sign for a couple of must-take pictures. You could also play Pretty Woman up and down Rodeo Drive, take the paparazzi tour around celebrity houses or visit the studios. Six Flags Magic Mountain, Disneyland, and other theme parks are twice the fun, but you might want to go on a weekday to avoid the crowds.
West Coast Wednesday
Cruise Mulholland Drive west toward the Pacific Ocean, from the Hollywood Hills to the Santa Monica Mountains to take in great scenery. Roll your windows down and play your favorite California song as you roll up the Pacific Coast Highway or PCH, hugging the coastline toward Malibu with the Pacific Ocean breeze and sunshine caressing your skin.
All along the PCH are creeks and canyons with amazing trails and unimaginable views of both the mountains and ocean that will make you forget you're just 10 minutes away from the city. Will Rogers, Topanga, Solstice Canyon, Escondido Canyon Waterfall, and Vasquez Rocks are great places to clear your mind (and lungs) and far less visited than the Hollywood sign or Griffith Park.
Thirsty Thursday
When it comes to going out for a drink or for the night, there is always somewhere to be and good music to dance to. Aside from Hollywood nightclubs like Lure, the Greystone Manor, Emerson, AV, Supperclub, and others where you are likely to find different crowds on different nights and weekends, there are many other bars and clubs in Los Angeles that are just as much fun.
The rooftops in Downtown Los Angeles may not be the best place to dance but the Standard Rooftop and Perch are the perfect place for a drink and socializing with dynamic young professionals. You will also find a great selection of bars, venues, and clubs on Sunset including the House of Blues, XIV, or Hyde. Closest to the beaches are a couple of fun clubs on Santa Monica, Arizona, and Wilshire right off the Third Street Promenade. On Main Street in Santa Monica, you will find a younger crowd in the general area of the Basement Tavern and O'Brien's Irish Pub.

Fashion Friday
The reality is, there are great shops and smaller boutiques all around, perfect for exploring during your trip to Los Angeles: the shopping mall option at the Grove, Beverly Center, Westfield Century City, or the Santa Monica Plaza, right at the end of the Third Street Promenade. There are many popular stores and smaller shops for different budgets on the higher end. Third Street and Montana Avenue in Santa Monica are easily walkable; the first is more frequented by tourists than the latter. Robertson, Rodeo Drive, and Santee Alley Downtown are also shoppers' favorites depending on the depth of your wallet.
Sandy Saturday
Southern California wouldn't be Southern California without its beaches. San Diego (four hours south) and neighboring areas have amazing beaches and good surf, but beaches of the greater Los Angeles area are worthy runners-up. Santa Monica, of course, ranks number one in popularity, and although it doesn't get as crowded as Miami beaches, the traffic and crowds can make the beaches unpleasant for those seeking relaxation. Malibu and the South beaches, such as Manhattan, Hermosa, and Redondo may be better options.
Sunny Sunday
Every day is a sunny day, but Sundays are ten times the fun with a host of street entertainers at the farmers' and flea markets. Walk down to the Santa Monica Pier or to the Venice Beach Boardwalk where you'll find performing artists, swamis on rollerblades, street dancers, and a multitude of small shops and stands. You might be able to catch the drum circle that gathers on the beach a little before sunset on Sundays.
Signup for Vacation Deals
Exclusive access to private sales, customized specials & more