How To Explore Europe On a Budget
As summer approaches, so does the high season for Europe travel. The kids are out of school, summer hours are implemented at the office and the weather is perfect for an overseas adventure.
Summer is considered the priciest season in Europe, so if you have a more flexible schedule a September or October visit may be less of a strain on your wallet. However, contrary to popular belief, a Europe vacation does not have to be a prohibitively expensive experience. Check out these eight tips to help you enjoy a cost-effective yet fulfilling Europe vacation adventure.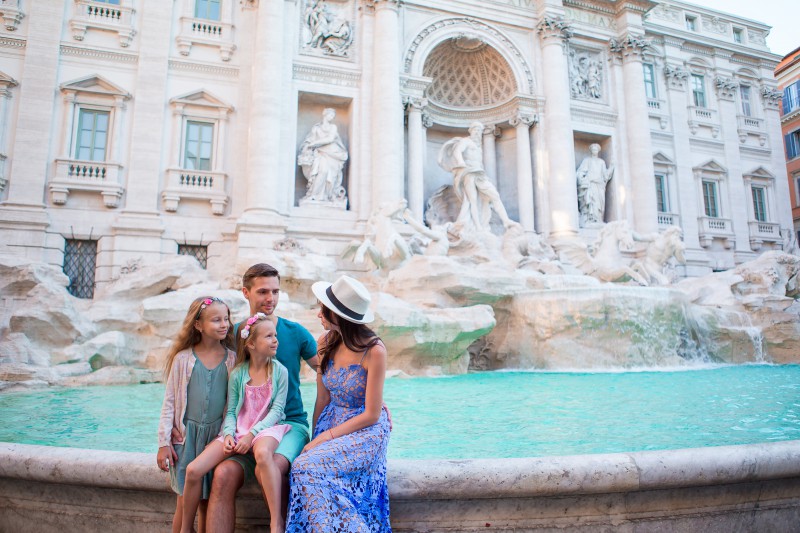 1. Convert Everything to U.S. Dollars.
One of the easiest ways to spend more than you planned is by booking trips, sightseeing and other components of your trip in foreign currency rather than U.S. dollars. Though the exchange rates have improved tremendously since 2011 and 2012, you'll still be paying more if you don't do the conversion before you make a purchase. Know the exchange rates or download an exchange rate app for quick conversions when you are unsure of how much something is going to actually cost you. Currently, for example, the Euro is about 1.09 times to the dollar and the British Pound is about 1.53 times to the dollar. Be conscious of conversion rates as you won't want any surprises when you check your credit card statement upon arrival back home.
2. Use Public Transportation.
Using the city's public transportation system can save you lots of money when traveling in Europe. Many of Europe's top cities have great systems of subways and buses. Buy a multi-trip pass if you plan on staying in a particular city for a few days as it will be even cheaper than buying single trip tickets. In some cases, children or seniors may not need tickets to ride. Almost all of the top tourist attractions in each city will have nearby metro or bus stops. Be sure to grab a transit map or download the city's public transportation app (which many big European cities have for free). If you do decide to use a taxi, something I quickly learned while studying abroad was to only take one that uses a GPS. Ask your driver to turn it on and watch him plug in the correct address, so you can be sure he is taking you the fastest way from point A to point B and not overcharging you (since you are undeniably an American tourist).
3. Fly on Low-Cost Carriers Between Countries.
Trains aren't the only way to easily and affordably travel around Europe. I highly recommend checking prices on airlines like Ryanair, EasyJet and WizzAir as they may be even cheaper than the train system. For example, two quick searches on Ryanair's website just revealed flights in July from London to Frankfurt cost $78 roundtrip and from Madrid to Rome cost $119 roundtrip. When flying between the EU countries you won't have to go through customs, which adds another element of convenience. Be mindful of any additional charges though, as most of these airlines only allow one carry-on item and have strict rules about size.
4. Get Free Museum Admissions.
Unbeknownst to many travelers, some of the most popular European museums are waiting to be explored completely free of charge depending on age, time of day or time of month. Here are a few examples of famous museums where you can take advantage of free admission:
Pablo Picasso Museum (Museu Picasso) in Barcelona:

On the first Sunday of each month
For visitors under 18

The Louvre in Paris:

On the first Sunday of each month from October – March
On Friday evenings for anyone under 26

Prado Museum (Museo del Prado) in Madrid:

Every evening (Monday through Saturday from 6 p.m. to 8 p.m. and Sunday from 5 p.m. to 8 p.m.)
If you're planning on visiting many or all of the museums in a particular city, museum passes would be the cheapest way to do this. These can typically be purchased at airport information centers or kiosks in city-centers, and offer discounted admission to a plethora of popular attractions throughout each city. The two-day Paris Museum Pass, for example, costs $61 for adults but offers admission to 60 museums and attractions like castles, cathedrals, monuments and more. Plus, it allows you priority access so you won't need to spend a bulk of your time standing in lines.

5. Don't be Afraid of Booking Rentals
Staying at the heart of the city doesn't need to be astronomically pricey. Some of the best rates on accommodations may not be at budget hotel and hostels. Sites like Airbnb or Tripping.com offer rentals around the world in great locations at surprisingly cheap rates. For instance, renting a room in a modern, upgraded apartment near Tower Bridge in London costs $71 per night in July while a nearby hotel costs $113 per night for the same time frame. Be mindful, however, as some rentals may charge additional cleaning and service fees not advertised in the nightly rate. To compare apples to apples, compute the total price for the rental including any fees and match that to the nightly hotel rate with all taxes included to select the cheapest option.
6. Use ATMs & Credit Cards for Better Exchange Rates.
Taking out cash directly from the ATMs will give you a much better rate than exchanging your dollars at the airport or any exchange shop. Call or stop by your local bank to see if they have branches or affiliate banks overseas that won't charge additional usage fees. Also, many travel credit cards like American Express Platinum, Capital One Venture and Discover have no foreign transaction fees. Fees and poor conversion rates add up quickly, so be sure to know the cheapest way to spend before you go. Check out some other travel abroad essentials here.
7. Haggle for Gifts & Souvenirs.
Though you certainly won't be able to do this at major department or chain stores abroad, any time you buy souvenirs or items from open-air markets, smaller shops or street vendors don't be afraid to haggle away! I don't have to tell you that it will be obvious you are a tourist, and although we'd like to give people the benefit of the doubt, if they can make a quick buck off of you, they will. No matter what it is you are buying, try to get the price reduced. If you do the conversion in your head and know you could buy it for much less elsewhere, you are probably being ripped off. You may surprise yourself how much money you can "save" this way.
8. Know the Tipping Etiquette.
Though gratuities of 15 to 20 percent are usually expected in restaurants or service industries, the standards are different across Europe. Some cities automatically add gratuities into the check as a "service charge," while others don't expect restaurant tips at all because the wait staff is paid a full salary, not minimum wage. For restaurants that don't do either of these things, a tip of 5 to 10 percent is more normal to the European ways. Over-tipping may be considered ignorant by a country's natives. A quick google search of tipping customs in the country you are visiting should give you a good idea of the expectations.
Use these strategies for your next Europe vacation and you'll likely surprise yourself when you get home and add up all the additional funds you would have spent without them. Make the memories of your trip last a lifetime – not the dent in your wallet!
Signup for Vacation Deals
Exclusive access to private sales, customized specials & more