California's National Parks - North to South
Tour the Wild and Beloved Parks of California
California has more national parks than any other state, evidence of the extraordinary beauty and diversity of our western coastal regions. Deserts, islands, mountains and beaches are all represented in this collection of parks. You'll see gigantic redwoods, towering waterfalls and gatherings of marine mammals on the beach. Let's take a tour of the nine National Parks of California, from north to south.
1. Redwood National Park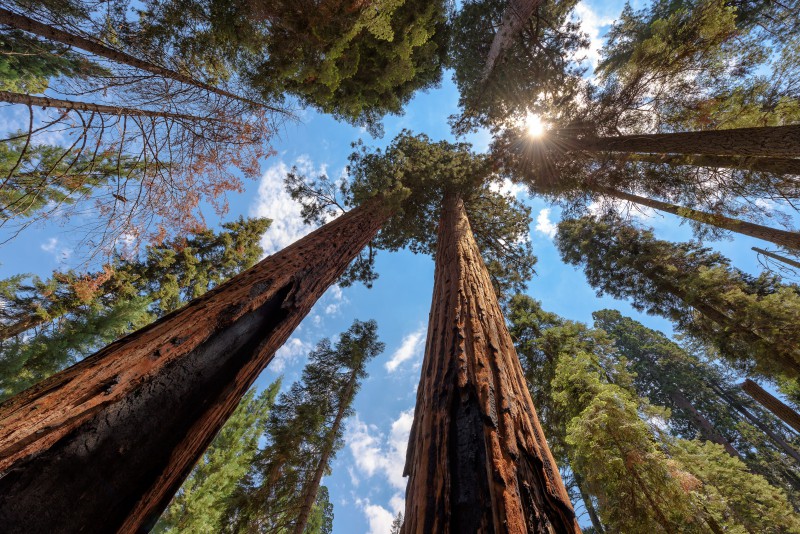 As you drive south from the Oregon border along the coast, the first national park you'll encounter is actually four parks clustered in the foothills of the Klamath Mountains. The Redwood National Park and three state parks are around 5 miles south of Crescent City, CA. It's a landscape of rumpled hills and steep gorges that meet the Pacific Ocean amid thick clouds of fog. This is the environment redwood trees love. If you drive south on Highway 101, the Redwood Highway, you will see redwoods, but the experience is more dramatic if you choose a park trail and hike through the redwood groves. Grab a visitor guide at the ranger station, or download it here: https://www.nps.gov/redw/learn/news/upload/REDW-2017-Visitor-Guide-Feb-X-1a_R-2.PDF.
Where to stay: Crescent City on the northern edge of the parks or Eureka, California, just to the south on Humboldt Bay.
2. Lassen Volcanic National Park
This is the least well-known of the California parks, but it is a fascinating tract of mountains, volcanic activity, boiling springs, steam vents and bubbling mudpots. Lassen park is located in the volcanic Cascade Range, about 200 miles east of Eureka. The cinder cone of the Lassen Peak volcano is 700 feet high. Trails around the park take hikers to hydrothermal sites with acres of bubbling mud. Alpine paths wind around picturesque mountain lakes leading to the Pacific Crest Trail on the north end of the park. The twisting 30-mile highway through Lassen Park is the highest in the Cascades, and it is not unusual for snow removal to last into July. It is one of the snowiest places in California. It is also one of the most beautiful 30-mile drives in the world.
Where to stay: Currently, wildfires threaten the areas near Redding, California, the nearest city. Eureka is a half-day drive to the west.
3. Point Reyes National Seashore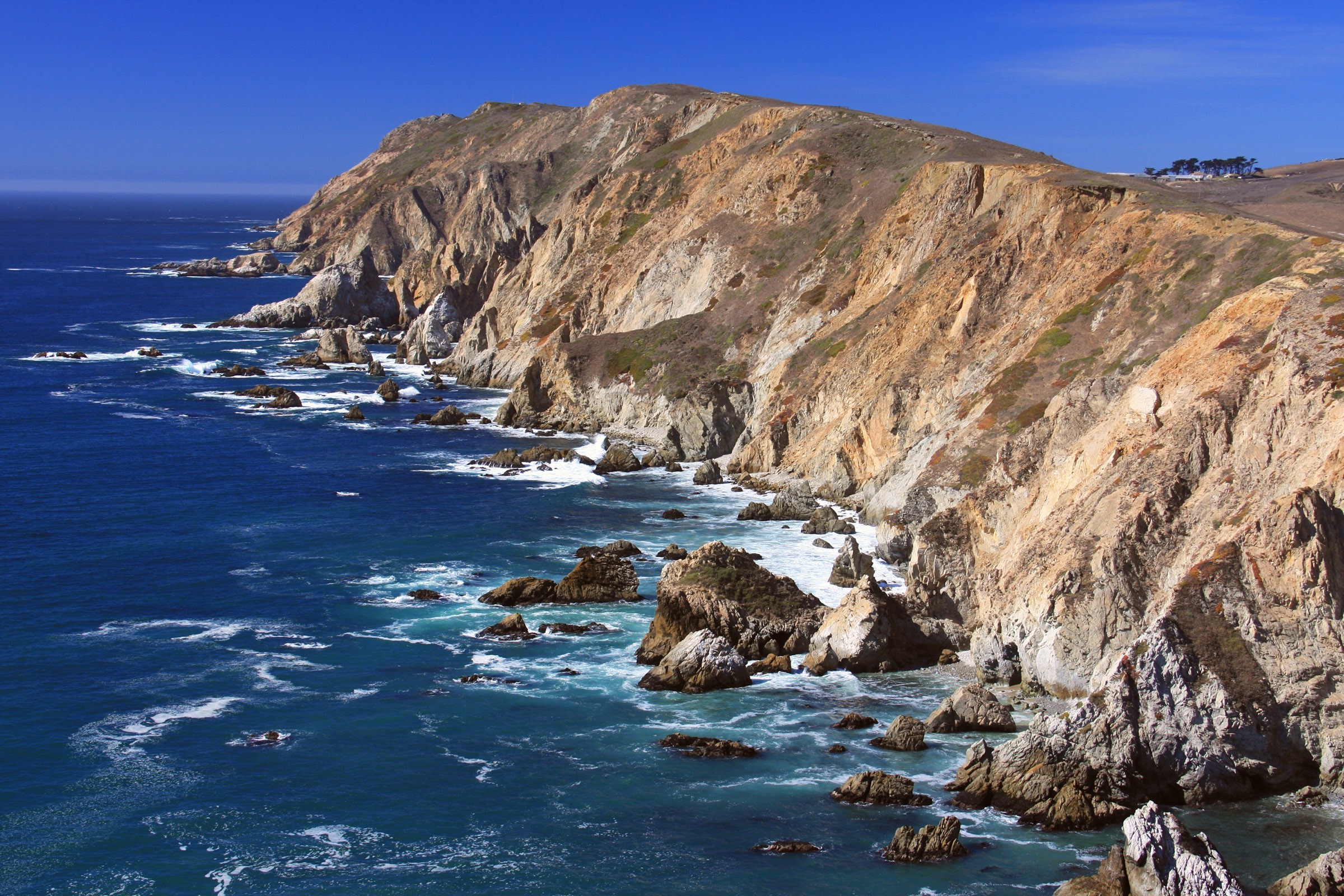 Where the San Andreas fault crosses from the Pacific Ocean to the coast of California just north of San Francisco, water flows into the rift. This creates a unique peninsula that will one day drop into the ocean. Meanwhile, the Point Reyes National Seashore offers steep beach cliffs with waterfalls, numerous shore birds, herds of elk and incredible sunsets. This national seashore is a dangerous place at times, prone to both earthquakes and tsunamis. The main trail goes out to Tomales Point, where you'll see steep cliffs dropping down to the water on both sides. On the western edge of the peninsula is the Point Reyes Lighthouse and visitor center, where you can watch migrating gray whales between December and mid-April.
Where to stay: The closest hotels will be in Novato, Petaluma or San Rafael. But as long as you are headed south, you can also cross the Golden Gate Bridge and stay in San Francisco.
4. Yosemite National Park
Now we will leave the coast and head east into the high Sierras, to some of the most treasured public lands in the U.S. In the summer of 1864 President Abraham Lincoln signed a bill establishing the Yosemite Grant. It made Yosemite and the nearby Mariposa "Big Tree" Grove "inalienable for all time." It was the first time land was set aside by Congress for its pristine grandeur. It became a national park in 1916 and was transferred to the jurisdiction of the new National Park Service, joining Yellowstone as one of the first national parks.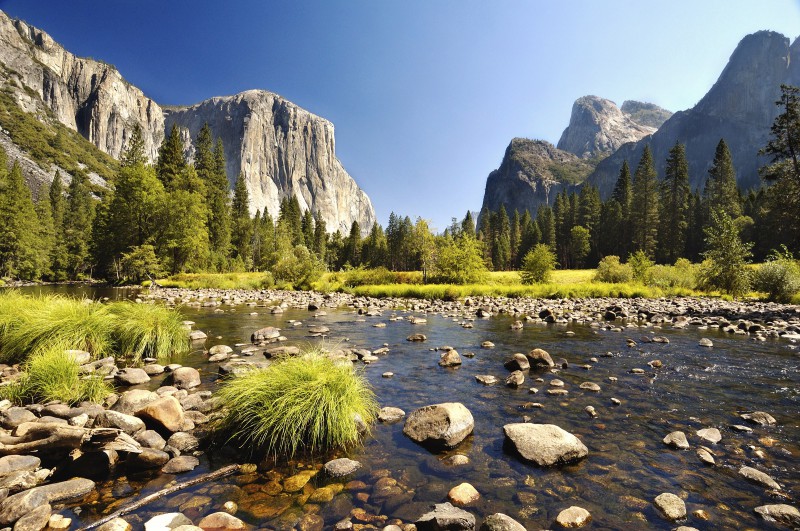 Yosemite Valley is an awe-inspiring area of sheer granite faces washed by hundreds of towering waterfalls. Yosemite Falls, at 2,425 feet, is the highest in North America. The peaks of the Sierras in and around the park reach over 13,000 feet, and the large granite face of Half Dome rises 4,800 feet above the valley floor. The protected wilderness area of Yosemite includes three stands of giant sequoias. Some say that hiking in the park is a religious experience, certainly unrivalled in terms of wild beauty.
Where to Stay: There are campgrounds, lodges and rustic accommodations within the park, including the High Sierra camps featuring dormitory style tents. This camp provides dinner and breakfast served family-style in cozy dining tents. Outside the park, Mariposa is the nearest town, and has many hotels and bed and breakfast inns within a 45-minute drive of a Yosemite entrance gate. Note, currently Yosemite Valley is closed to visitors due to a large, uncontrolled wildfire.
5. Sequoia and Kings Canyon National Parks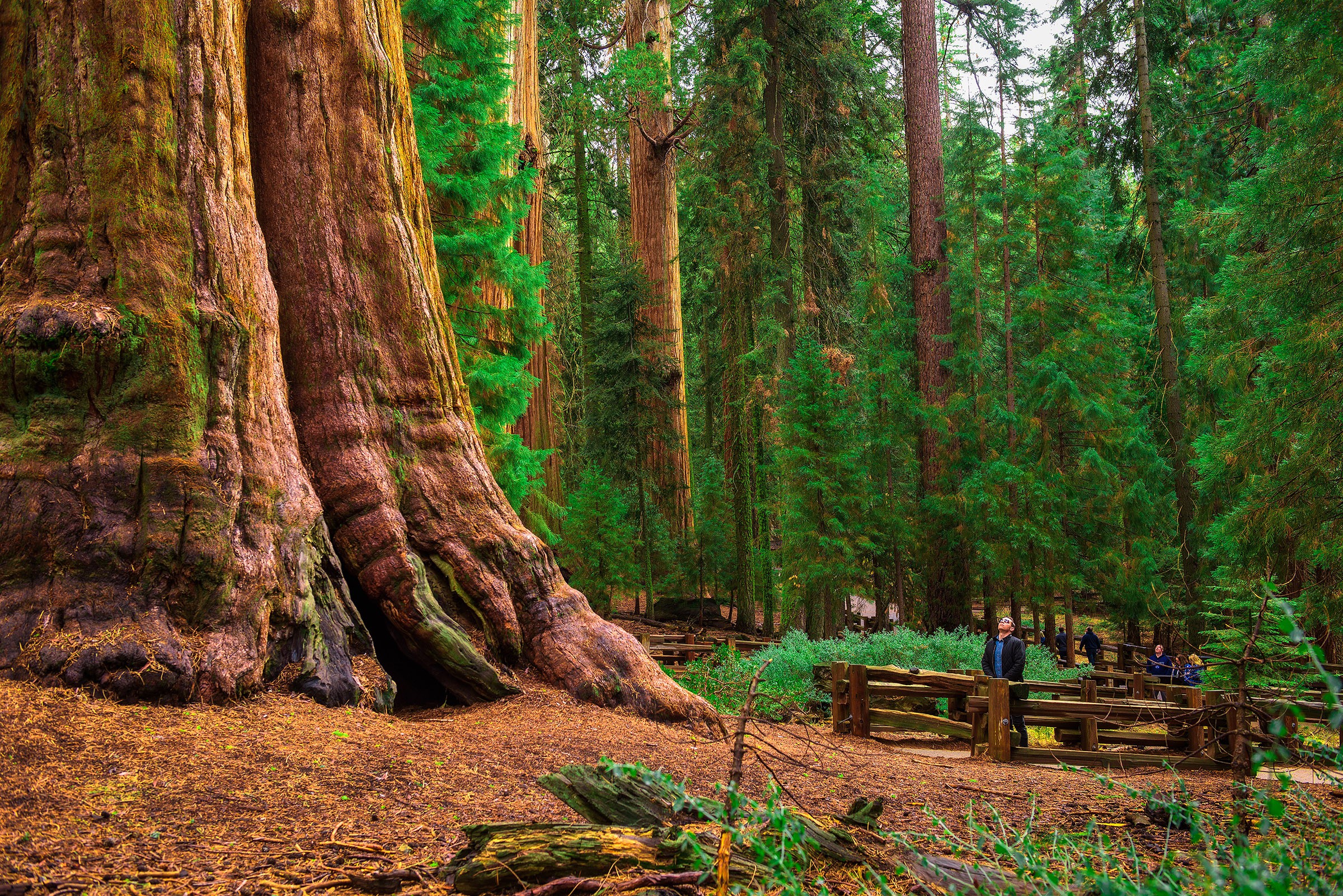 Famous for their giant sequoias, soaring mountains, deep canyons and roaring rivers, this tandem set of parks lies in the southern Sierra Nevada east of the San Joaquin Valley with Kings Canyon to the north and Sequoia at its southern border. These parks contain the largest trees on earth, including the General Sherman Tree, considered the most massive living organism on the planet. It is 36 feet wide at the base and 275 feet tall. It is said that just one branch of this tree is larger than any tree east of the Mississippi. There are several Sequoia groves in these parks and trails that take you past incredibly huge redwoods. California's highest peak, Mount Whitney, is at the eastern boundary of Sequoia National Park, rising 14,494 feet. It Is the tallest mountain in the lower 48 states.
Where to Stay: Kings Canyon National Park is roughly 75 miles south of Yosemite, surrounded by protected wilderness areas. There are dozens of lodges, motels and B&B inns outside of Sequoia NP along Highway 198. They are in the towns of Visalia and Three Rivers, CA. Here is a handy list of lodging: https://www.nps.gov/seki/planyourvisit/lodgingoutsideparks.htm
6. Pinnacles National Park
Now we have a dilemma because this tiny park (compared to the others) is well out of our way. From Sequoia, we would have to head west along Highway 198 from Visalia for the two and a half hour drive to Pinnacles National Park. No matter which entrance you use to this park, you will have to come out the same way. There is no through road. Pinnacles is named for the rocky spires that attract hikers, cave explorers and rock climbers. There are 30 miles of trails here, ranging from flat grasslands to strenuous climbs up rocky slopes. Some of the trails traverse dark caves where flashlights are needed. The unusual landscape is not very high – just 2400 feet in elevation – but it is spectacular for the steep terrain. It is also a favorite spot for bird watching and viewing the night sky. The best times to visit are spring and fall. It is quite hot for hiking in summer.
Where to stay: The location of this small park is near San Benito, Soledad, King City, Salinas and Monterey. Since we are headed east for the next park, it makes sense to find a motel in King City. But being so close to Monterey, we might consider heading to the coast for a stay on Monterey Bay. It is spectacular and unforgettable. Better yet, watch the video of Pinnacles and avoid the park altogether. We have to go east of Sequoia National Park to get to Death Valley.
7. Death Valley National Park
This is the hottest, driest and lowest national park and is probably the hottest spot on the planet. But the park also has snow-covered mountains within its boundaries: the 11,000+-foot Panamint Range. The highest peak is located just 15 miles from the lowest elevation of -282 feet. Death Valley is aptly named. One or two people die every year within the park, mostly due to heat or exposure. The latest victim got her car stuck in sand and decided to walk for help. A short distance away, she succumbed to heat stroke. Be cautious, especially in summer. Always bring water and don't leave your car if you can help it.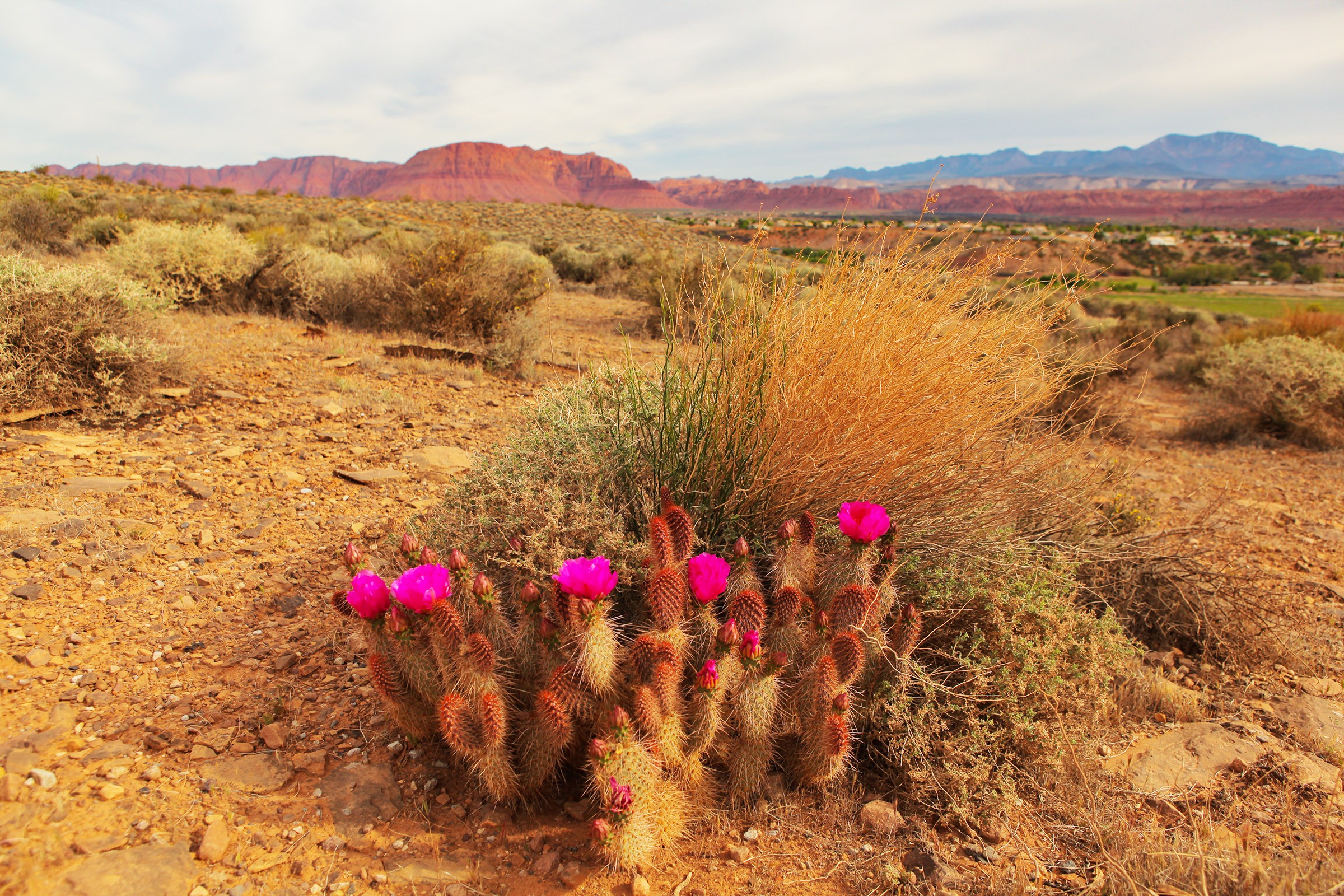 Is there anything worth seeing in Death Valley? It's an area of dramatic beauty, with flat desert stretching out to meet distant mountains. Camping is the way to see the amazing night sky, brilliant in the lack of light pollution. There are 400-foot high sand dunes, trails following the craggy slopes with views across the desert, and miles of peaceful solitude. Yes, it can be beautiful. But it is stark, and inhospitable.
Where to stay: Don't stay, just drive through. If you have time to camp (and the equipment) and it's below 100 degrees F, you might stay in Furnace Creek Campground. Las Vegas is less than two hours from the southern end of the park, so that's a possible side trip. Next, we are headed south, so plot a course to Baker.
8. Joshua Tree National Park
Joshua Tree National Park is east of Palm Springs and south of the Mojave National Preserve. Many people describe this area as "otherworldly," and the Joshua trees are strangely alien. It looks a bit like Mars, if there were life up there. Rock formations that look like giant marbles perch on lofty pinnacles. Huge rounded rocks, smoothed by water in an earlier age, are full of large holes. It is definitely a desert environment and scorching hot in the summer. Bring water! As a wilderness area, it has few services and very little cell phone coverage. If you are a rock climber, though, this may be heaven. Find the giant skull and climb inside the eye holes.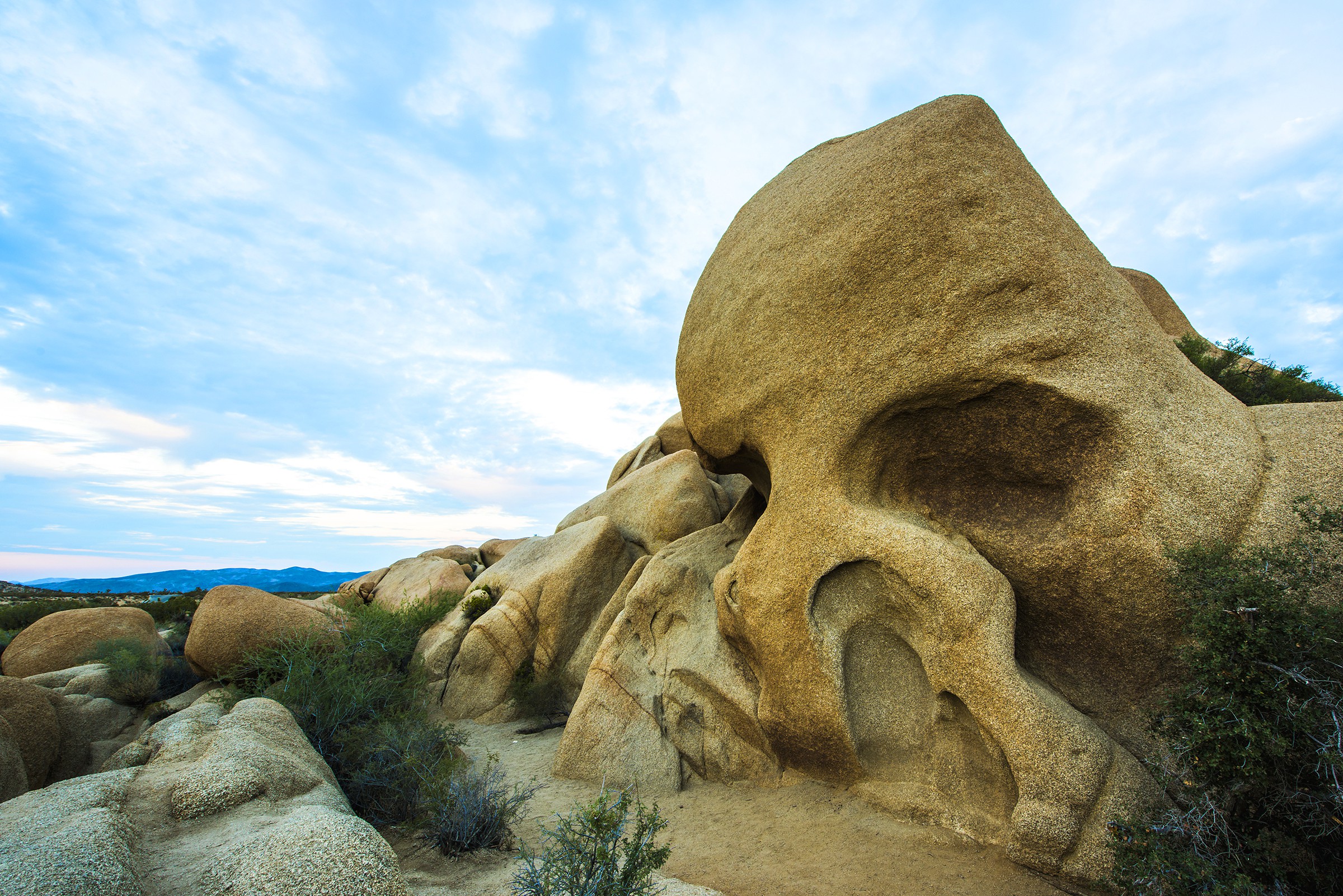 Where to Stay: The famous playground city of Palm Springs is nearby, with lots of lodging – from roadside motels to luxurious golf resorts. Other nearby cities include Indio and Palm Desert. We are headed west on the I-10, so if you have time for one more park, head toward Los Angeles and find Ventura.
9. Channel Islands National Park
The last stop on our tour is a collection of five islands in the Pacific Ocean south of Santa Barbara and west of Ventura, California. To get to the Channel Islands, visitors must catch a boat at Ventura Harbor, where the visitors' center is. These boats, run by Island Packers, take about an hour to reach the Channel Islands, and once on the islands, there is very little transportation – so wear hiking shoes. There are no goods or services on these islands, although they have been inhabited for 13,000 years. The first inhabitants were native American Chumash tribes who lived off the land and the sea, establishing as many as 21 villages on the three largest islands. European invaders brought disease and started depleting natural resources, so by the 1850s, most of the few remaining Chumash moved to the mainland missions.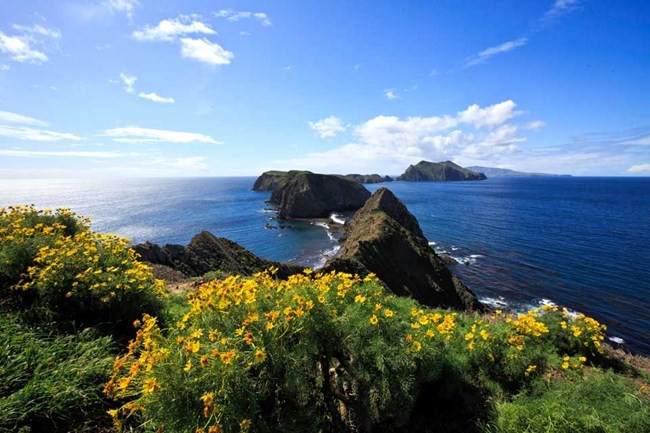 The beauty of these five islands cannot be overstated. Hikes into the hills of Santa Cruz Island reveal vast panoramas of the Pacific Ocean as a backdrop for lush green fields of wildflowers. The waters around Santa Rosa island are alive with whales, dolphins and sea lions. One of the world's largest sea caves, the Painted Cave on Santa Cruz, can be explored by kayak. Visitors can see what California was, before civilization took over.
Where to Stay: There are no hotels at all on the Channel Islands, but there are several campgrounds. There are no stores or restaurants, either. You must bring in your own food and pack out all trash. In other words, leave no evidence of your visit here.
By Kay D. Harrison
Signup for Vacation Deals
Exclusive access to private sales, customized specials & more