Best Family Vacations For Kids
If your memories of summer vacations with the family involve squabbles in the back seat of the station wagon ("Stop poking me!") or constant complaints of boredom while visiting a sunny beach ("I hate it here! I wanna go home."), then we have good news.
We have some super summer vacation ideas that your kids won't call lame. These destinations are a hit with kids of all ages, but especially the six- to twelve-year-olds. (As for the teens, they think everything you do is lame. Bring them along anyway.)
Treesort in Oregon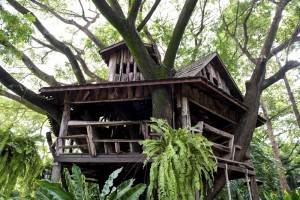 Do you remember the Swiss Family Robinson? They lived in a giant tree house. Out'n'About Treesort near Cave Junction, Oregon is a unique resort where you can stay in a tree, in accommodations named Majestree, Serendipitree, and Treezebo among others. It's more than a bed and breakfast perched in the trees with rope bridges and cozy lofts. There are "activitrees" to interest all age groups. You can ride the ziplines through the forest, go horseback riding on the park-like grounds, or take a rushing raft ride down the Klamath River.
As the hosts state on their website, "We have a Morgan Horse breeding ranch along with our riding horse stable, two rocking horses, four dogs, and one cat usually running around the property. Very family-oriented and friendly. You can find everything from a calm peaceful solitude, to a screaming ride on the ziplines or giant Tarzan swing."
Disney's Animal Kingdom Lodge
When you tell the kids you're going to Disney World, stand back and watch the wild enthusiasm. You're a hero. Even better, tell them you are staying at a resort where you can look out the window and see giraffes and zebras munching on the greenery right outside. (Now you're a superhero.) Disney's Animal Kingdom Lodge is an Africa-inspired lodge set in the middle of four lush savannahs that are home to over 200 free-ranging animals and birds, which your kids can identify using a field guide found in your room.
In addition to views of wild animals, the resort also has some traditional family fun. There's an 11,000 square foot swimming pool with a wild water slide. Another nearby swimming hole has water cannons and giant venus flytrap statues that squirt water. There are wild animal encounters, evening campfires with marshmallows, and safari-themed dinners. Best of all is Simba's Clubhouse, a supervised activity center where kids can play, watch Disney flicks, make crafts and eat dinner with new friends while mom and dad spend a night out alone. Now that's an idea.
Of all the cruise lines, our experts think Royal Caribbean has the best child-friendly programs for the price. Okay, Disney Cruise Line does pretty well, too. A cruise can be cost-effective, considering food, activities and transportation are all included. Royal Caribbean ships appeal to the 3 to 11 crowd with characters from DreamWorks movies such as Madagascar, Shrek and How to Train Your Dragon. Character parades, meals with Shrek, Fiona or the Penguins, and DreamWorks movies will entertain the kids on many of the RCI ships.
Another feature is the expedited dining for youth, allowing kids to eat quickly and then go off to a special function such as the Madagascar Aqua show or How to Train Your Dragon ice skating show (on Allure of the Seas), while mom and dad eat a leisurely meal without them.
The character shows and parades are hilariously funny, and children do seem to get a thrill from being photographed with Shrek or Puss in Boots. Teens will like having their own nightclubs, free of little kids, and they love the rock wall. The Adventure Ocean program offers science programs, arts, storytime, dancing, karaoke for teens, pool parties and dozens of other activities.

Atlantis Resort, Paradise Island, Bahamas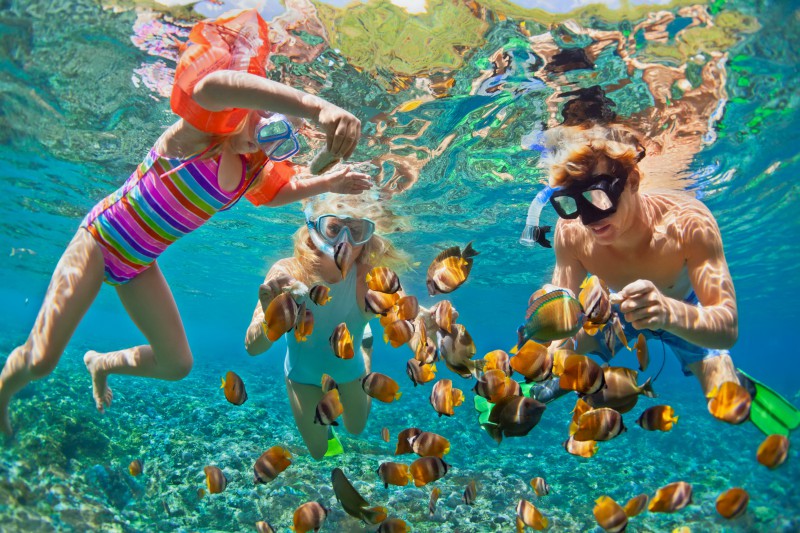 If you've never experienced Atlantis in Paradise Island, Bahamas, you probably can't imagine how much fun this place is. If you were there in 1998 when it opened, you really should go again. It keeps growing and getting better. There are spring and summer sales going on now, and kids under 12 can eat breakfast and dinner for free. If a Bahamas vacation is on your short list, consider this incredible resort for equal doses of luxury and fun.
For the kids, you can't beat the water parks. Imagine a nearly vertical waterslide that speeds you right through the shark aquarium into a pool. Or a lazy river that winds around and through the various marine animal exhibits and takes you slowly through the shark exhibit. Add rapids, waves, tidal surges and waterfalls and you get the idea. For younger kids, the Splashers is a Mayan-themed water playground with tube slides, water cannons, fountains, cargo nets to climb, and rope bridges.
San Diego Zoo Safari Park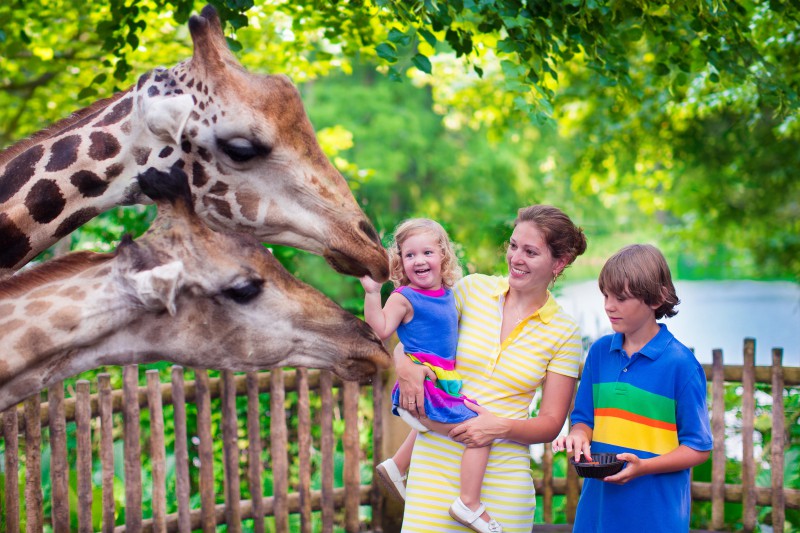 Let's face it: kids love animals. With its strong emphasis on education and its mission of conservation, the San Diego Zoo Safari Park is not simply displaying animals; it is saving them. The natural habitats are carefully designed to mimic the animals' native surroundings, so the exhibits are large and spread out. You'll wander through African plains, tiger territory and a gorilla forest. From the African Outpost, you can take a safari tour by caravan, tram, cart, Segway or zipline. You'll see lions lounging in the grass, rhinos playing in mud puddles, and giraffes munching on tree branches.
Some of the must-see attractions are the Cheetah Run, where you can see the fastest land animals sprinting at full speed across the grasslands, and the Frequent Flyers, where California Condors and the great raptors can be seen up close. The condors were brought back from the brink of extinction partly due to efforts by the San Diego Zoo. Take the Great Rift Lift down into a canyon where you will come face to face with lions, or gaze at the majestic tigers from a viewing platform high above the tiger jungle. It is, in a word, awesome.
And if none of these ideas suit your little darlings, you can always send them to summer camp in Montana. Now, that's a vacation for YOU.
Signup for Vacation Deals
Exclusive access to private sales, customized specials & more