Packing Tips For Cruises To Alaska
This is one of the most common questions travel agents get on the topic of cruising. Travelers know what to pack for the Caribbean and European cruises, but Alaska is a different story. There is a good reason for that: Alaska's weather in the summer months is unpredictable. Some weeks are rainy, some warm and sunny, some crisp and cool. Evenings on the cruise ship can be chilly, even though it may stay light until 10 pm or later during June and July.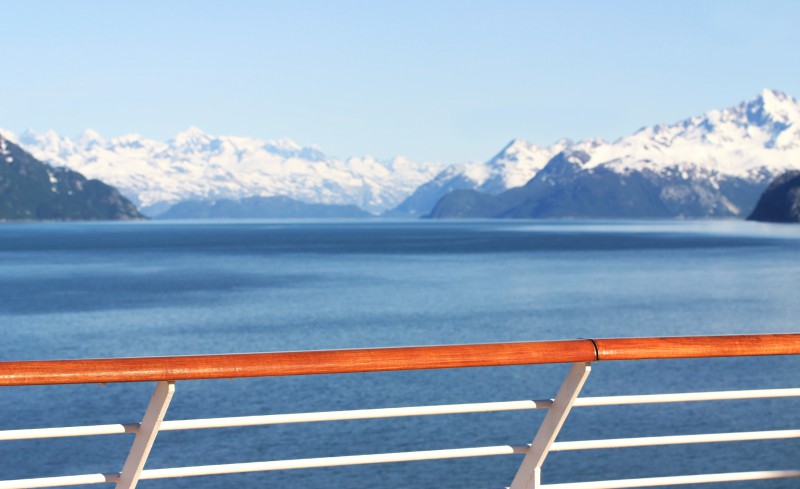 So how do you pack for a cruise without having the burden and cost of moving multiple heavy suitcases? The one-word answer is: layers. Here is a list of essential layers to fit into your baggage, but keep in mind that there are laundry services onboard, and no one will care if you repeat an outfit or three. This will be sufficient for a 7-night Alaska cruise:
Consider silky, lightweight long underwear such as ski wear. They don't take up a lot of space and will keep you comfortable even during the cruise up Tracey Arm Fjord to the glacier. You'll want to be outside for this scenic stretch.
Bring a windbreaker, preferably waterproof. A light rain jacket with a zip-out liner is ideal, but anything that will keep you from feeling wind and rain is fine. In the ports along the southeast Alaska coast, there are many shops that sell inexpensive jackets with Alaska branding. They make good souvenirs.
1 long-sleeve fleece shirt. This layer, worn alone or under a windbreaker, will be welcome on chilly evenings when you want to enjoy the clean, crisp ocean breezes. This is a bulkier garment, but you'll need only one.
1 Cardigan sweater. It may be cold in the dining areas or air-conditioned spaces on the ship. A sweater is useful, and you'll be glad you brought one.
3 pairs of slacks (not jeans), matched with long and short sleeve tops. This goes for men and women. Women might also bring a pair of capris, a nice compromise for cool, sunny days. You can wear slacks more than once with different shirts. Really, no one will notice. You may want to pack a pair of jeans, but they are bulkier than cotton slacks so I usually leave them at home or wear them on the plane.
3 pairs of shorts and/or skirts. If summer does bring on warm days, you'll want the comfort of short pants or skirts. Alaskan temperatures in June and July vary between 60 and 80 degrees, so pack some summer options. You'll already have long and short sleeve tops to match with the shorts and skirts.
1 formal dress, 1 casual dress, 1 dark suit. There may be two formal nights, so if you can bring a basic dress and change it up with accessories like a colorful scarf, that's ideal. If not, a second slinky formal of wrinkle-free material doesn't take much space. Men can wear a different shirt and tie to avoid packing two suits. (Don't pack so lightly that you have to skip the formal nights in the main dining room. They are a lot of fun.) A casual dress, or "smart casual," is nice if you want to change for an evening of entertainment or a dinner at one of the specialty restaurants. If you have room, pack a dressy blouse that goes with a pair of slacks, for the same reason.
1 pair of sneakers or walking shoes, 1 pair of sandals, 1 pair of dress shoes (for the formal nights). Naturally, if you are taking excursions that involve hiking or glaciers, you will need a pair of waterproof hikers, and extra socks.
I'll leave the underclothes up to you, but remember a bathing suit, even for Alaska, because there are heated pools and hot tubs on many ships. If you plan to use fitness facilities, a sweat suit or sweat pants will come in handy. Bring socks. They are required for using trampolines and some other activities. Pajamas don't take up a lot of space, especially women's nighties, so put those in as well.
All of this will fit into a medium-sized suitcase or a regulation-sized carry-on suitcase. It's really helpful to add a small backpack for shore excursions. (You can pack it full of souvenirs for the way home.) Bring a book to read if you're ready for relaxation. I travel with my Kindle. It takes very little space and I can load it up with 3-4 books before I leave.
One last piece of packing advice is not to pack too much. If you check the weather in Anchorage or Ketchikan a day before departure, you may be able to eliminate some of the items above, knowing it will be colder or hotter than you expected.
Don't bring: A hairdryer. There will be one in your cabin. Body wash and shampoo are provided in dispensers in the shower, but bring hair conditioner and lotion if you need those.
Do bring: A pair of compact binoculars, chargers, and extra memory chips and batteries for your camera. It is unimaginably picturesque in this wild part of the world, so do take lots of pictures.
By Kay D. Harrison
Signup for Cruise Deals
Exclusive access to private sales, customized specials & more