Summer Vacation From a Kid's Point Of View
Look ahead, if you live in the Northern Hemisphere: summer is coming. And with it is the annual opportunity to bond with your children on a summer vacation. How do you plan a family summer vacation the kids won't hate?
It's easy to know what kids don't like to do on vacation. I wouldn't bring young ones to tour the ruins of Rome, for instance, or take a luxury river cruise. Aside from a month-long sojourn to Disney World, what would they plan if they planned their own summer vacation?
All-Inclusive and Family-Friendly
Family-friendly all-inclusive resorts sometimes offer free food and lodging for the under-12 crowd, and many Caribbean resorts have kids' clubs or dedicated kiddie pools complete with pirate ships and water cannons. What little brother wouldn't love blasting his siblings with water bombs?
It's hard to beat the look on a child's face when she's swimming with a dolphin, or petting a stingray. Encounters with animals are part of the program at Atlantis Resort in Nassau, Bahamas. At Club Med all-inclusive resort in Cancun, kids can learn to swing on a flying trapeze. At Franklin D. Resort and Spa in Jamaica, kids get a personal nanny. Okay, that's mostly for the adults.
Look Up! Kids Love Treehouses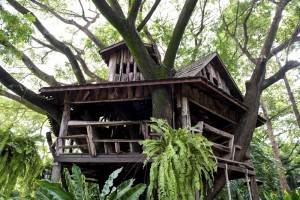 Out'n'About Treesort in Takilma, Oregon is a kid-friendly "treesort" where you can live in a tree, in accommodations named Majestree, Serendipitree, or Treezebo. It's more than a bed and breakfast inn up in the trees with rope bridges and cozy lofts. There are "activitrees" to keep even the hyperactive kids happy. You can ride the ziplines through the forest, swing on a Tarzan vine, go horseback riding on the park-like grounds, or take a white water raft down the Klamath River.
World's Most Interesting Summer Camps
Summer camp is a rite of passage for the luckiest kids. And they are truly a summer vacation for Mom and Dad. But today's summer camps aren't quite like the tents, fires and hikes of yesteryear. Would your child like to learn to drive race cars? There's a camp for that: Motorsports Camp. How about start a small business? There's a camp for that, too: CampBizSmart. If you have a child with a special interest, consider one of these options:
Robotics Camp: Build robots, program their movements and generally cause mayhem with machines.
Dinosaur Camp: Little archeologists can dig up real dinosaur bones. What's more fun than digging in the dirt?
Bricks4Kidz Camp: Learn engineering skills at a camp full of Legos.
Space Camp: Got a space cadet? Send them to Alabama for out-of-this-world astronaut training.
Road Trip, Anyone?
Here's an idea: Get out a map and let the little darlings choose a destination or a series of them. It's a great way to teach a little geography, and kids love road trips. Let them shop for car snacks and games and pick out hotels or campgrounds. If they're involved in the planning, they are less likely to complain or spend their summer vacation in the backseat poking each other.
Vacation Advice: Plan a little vacation time for yourselves, preferably after the kids go back to school. Maybe you could bring home one of those nannies from Jamaica to watch them while you're gone.
By Kay D. Harrison
Signup for Vacation Deals
Exclusive access to private sales, customized specials & more