An A-Z Guide To MSC Seaside
MSC Seaside is destined to revolutionize the way people look at both cruise ships and the cruise experience. Billed as "the ship that follows the sun" MSC designers crafted an innovative new design allowing more of the inside out, offering guests a more intimate experience with the sea and the sun. See for yourself how different it is!
Countdown to the Revolutionary MSC Seaside from MSC CRUISES on Vimeo.
Now that you've seen the preview, let's take a closer A-Z look at a few of the industry firsts and unique features that make MSC Seaside one of the hottest new ships of 2017.

A is for Aqua Park What happens when you combine a 367-foot water slide with an interactive video game, besides a rip-roaring great time? The result is Slideboarding technology and MSC Seaside is the first ship to introduce this fun new attraction. A double-deck Aqua Park will also showcase an adventure trail, a play area for the little ones, plus four other water slides including a pair of high-speed water tubes that extend off the sides of the ship. Race you to the bottom!
B is for Balconies Enjoy the sun and the open air from the privacy of your own room. A whopping 73% of staterooms include a private, expansive balcony. Nearly 100 staterooms feature a terraced balcony, meaning a portion of the balcony is uncovered allowing you to choose to lounge outside in the sun or in the shade.
C is for Condos-Inspired The luxury high-rise condos of Miami Beach were the inspiration for the unique rounded deck design located on the aft end of the ship. Each tower holds seven staterooms that promise to deliver the best room views on the ship because of their prime corner location.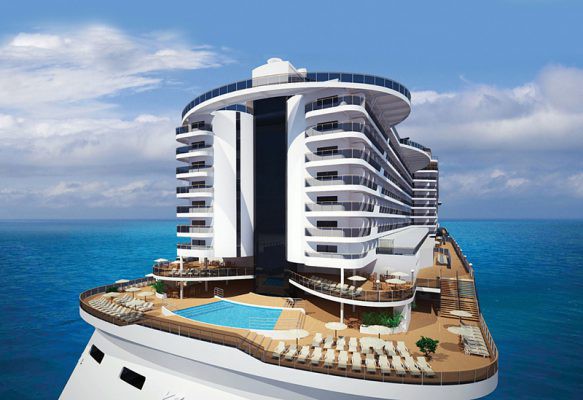 Condo Towers on MSC Seaside
D is for December Launching on her sold-out maiden voyage from Miami on December 23, 2017, MSC Seaside will take guests to The Bahamas and Eastern Caribbean. Future cruise itineraries include Western and Eastern Caribbean routes with ports in Jamaica, Cayman Islands, Mexico, Bahamas, US. Virgin Islands, and Puerto Rico.
E is for Entertainment MSC Seaside raises the bar for exciting onboard entertainment and activities, such as the heart-racing F1 simulator. Among the new fun attractions are a 5D cinema. 3D vision and surround sound combine with moving seats, immersing you in every part of the movie. The 5D tech also allows you to interact with the movie, providing a virtual reality feel. Challenge your friends to a game at the full-size 2-lane bowling alley. No way kids will get bored with a supervised Baby Club for ages 1-3, Mini and Juniors Clubs featuring a Lego play area for ages 3-11, and two Teen Clubs offering movies, games and other activities.
F is for Fitness A huge state-of-the-art gym overlooking the Caribbean waters is a dream for any fitness buff. MSC Seaside takes it one step further with an on-deck dedicated yoga/meditation area allowing you to connect with your inner well-being while being outside. Other ways to stay active onboard include basketball and tennis courts, sports center, and power walking track.
G is for Glass-Walled Atrium An incredible double-deck glass-walled atrium is one more element of MSC Seaside that brings you closer to the sea and blurs the line between inside and out. This hub of entertainment, dining and drinks offers panoramic full-length views of the horizon and blue sea.
H is for Home Port PortMiami, the "Cruise Capital of the World" will be home base for MSC Seaside, enabling year-round access to destinations in the Bahamas, Caribbean and Mexico. A renovated dedicated berth and terminal enable guests to enjoy all aspects of the cruise experience.
I is for Infinity Bridges Not one, not two, but three incredible glass infinity bridges are incorporated into the ship's design. Located on either side of the waterfront promenade on Deck 8 (more about that later in the list), two 130-foot catwalks extend over the side, giving you the feeling you're walking on water. The third one dubbed the Bridge of Sighs is 100-feet and offers spectacular views from the top aft deck.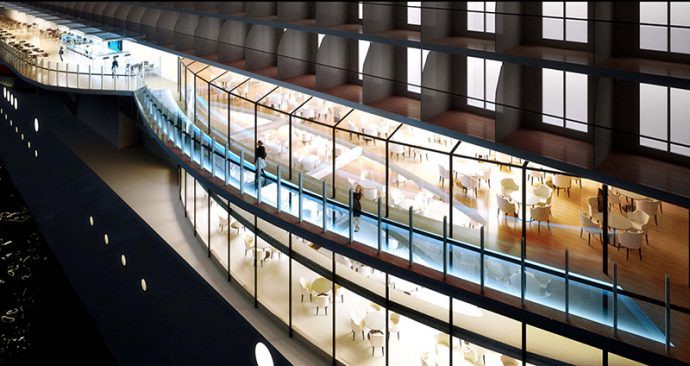 Infinity Bridge on MSC Seaside
J is for Jacuzzi Twenty-eight luxury suites aboard MSC Seaside provide over 300 square feet of living space plus an additional 75 square foot private balcony complete with a 2-person Jacuzzi tub. Imagine sitting in your private whirlpool, feeling the ocean breeze on your face and taking in the most amazing view as your cruise towards St. Maarten. Ah, the suite life.
K is for Kids MSC Cruises prides itself on being a family-owned company and ensuring every member of the family, no matter what age, enjoys themselves and is not left out of any fun. As such, MSC Cruises developed their "Kids Cruise Free" program, allowing kids 11 years old and under to sail free year around. And if you're traveling with an infant, MSC Cruises offers free use of Chicco® products, such as strollers and bottle warmers, during your vacation.
L is for Lifts You'll want to ride the aft outdoor lifts on MSC Seaside all day long. This pair of glass panoramic elevators treat your eyes to fantastic ocean views as you move up or down. The higher you go, the better the view. Although, the best views may be from the attraction that starts with the letter Z – no jumping ahead!
M is for MSC Yacht Club MSC Cruises is known for its private "ship within a ship" VIP experience, offering guests the ultimate in refinement, luxury and service. A total of 86 forward suites plus two royal suites (each with a large living room and private balcony with whirlpool tub) make up the MSC Yacht Club on MSC Seaside. Guests will enjoy a private expansive lounge at the front of the ship, exclusive restaurant, private solarium with pool and bar, benefits such as an all-inclusive beverage plan, 24-hour butler and concierge service, plus many other VIP perks.
N is for News & Comedy Club Laugh, drink, and laugh some more at the brand-new News & Comedy Club. Live entertainment served up nightly, along with MSC Cruises signature cocktails, make this lounge one of the hottest places on the ship.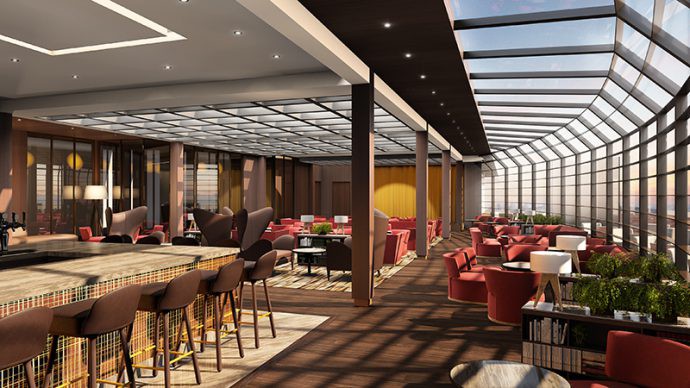 MSC Seaside's News & Comedy Club
O is for Open Air Space One of the primary features that sets MSC Seaside in a class by itself is the high amount of public and personal outdoor space. In fact, MSC Seaside offers one of the highest ratios of outdoor space among cruise ships. Ocean air will envelope you in surprising new spaces such as at the state-of-the art fitness center, spa, shopping areas, and several restaurants offering outdoor dining options. Even the Baby Club has a dedicated outdoor area!
P is for Panorama Pool Connecting with the sun and the sea doesn't get much better than this. This innovative design evokes a 360-degree panoramic view of the sea plus sun loungers allowing you to get closer to the pool than ever before. Guests who want to bask in the sun, splash or soak can choose from a total of 6 pools, the Aqua Park, and 13 spa whirlpools.
Q is for Quiet Time If you truly want to relax and enjoy some peaceful alone time, the MSC Aurea Spa is the place for you. Offering classic spa treatments such as facials and wraps, 20 types of massages from sports to hot stone, as well as salon, nail and beauty treatments to pamper you and leave you refreshed and revitalized. Thalassotherapy and thermal areas offer more body wellness options. For an even more relaxing experience, request an outdoor cabana, so you can listen to the ocean waves during your massage.
R is for Restaurants One of the best parts of cruising, besides pure relaxation and enjoyment, is the food. Satisfy your taste buds with a total of 11 dining venues, from gourmet to casual. Options include a fine-dining seafood restaurant with chef's table, a traditional steak house, the exclusive Asian Market Kitchen by celebrity chef Roy Yamaguchi, , a kids-only restaurant, and two buffets that are open 20 hours a day. Additionally, twenty bars and lounges are scattered throughout the ship to quench your thirst. Rather stay in your stateroom, perhaps enjoy a pizza while sitting in your Jacuzzi tub? No problem, in-room dining is available 24 hours a day.
S is for Staterooms Accommodations onboard MSC ships are far from cramped. Each stateroom is spacious, well-thought-out, and includes all the necessary amenities and extras such as seating area, mini-bar and safe. Unique to the MSC Seaside is a concept utilized in hotels but seldom, or never, seen on ships. Large families or groups traveling together now have the option of connecting two or three staterooms, accommodating up to ten in a party. Just another way MSC Cruises demonstrates their love for families.
T is for Theaters Showcasing spectacular live Broadway-style shows and performances to delight audiences every night, the state-of-art Metropolitan Theater utilizes the latest technology, allowing incredible special effects, lighting, and sound for every type of production. An outdoor screen on the top deck will entertain you poolside day and night with movies, music, and more. Two other theaters onboard include the 5D cinema and one exclusively for kids.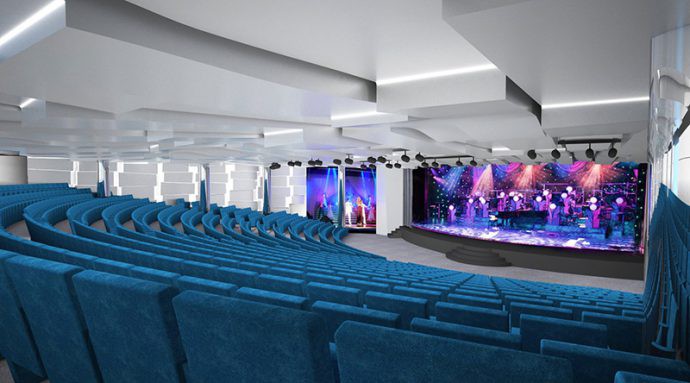 MSC Seaside Theater
U is for Ultramodern Introducing: Smart Ship Technology. A network of interactive screens, access points, mobile app and wearable tech in the form of an MSC bracelet, will allow guests a cruise experience, the likes of which have never been seen before! You'll be able to check-in, schedule dinner reservations, book a spa treatment or plan an excursion with ease, locate your children (or parents) wherever they are on the ship, and enjoy a personalized experience with suggestions based on your preferences. It's almost like having your own personal concierge (or Gopher) with you at all times.
V is for Venchi As in Venchi Chocolate Factory, Ice Cream and Coffee Bar. Three of the yummiest delicacies unite in one shop to satisfy your cravings. Since 1878 Venchi has been delighting chocolate lovers in Italy and around the world and now, guests of MSC Seaside. Watch masterful chocolatiers craft magnificent confections for your consumption via the open kitchen, enjoy freshly made ice cream or gelatos, or sip a specialty cappuccino as you gaze out the glass-walled atrium.
W is for Waterfront Promenade We're near the end of the alphabet, but this is worth the wait! The completely innovative Waterfront Promenade (Deck 8) is the widest ever built and one of the features that set MSC Seaside apart from any other cruise ship. The outside and inside blend seamlessly as you feel the ocean air follow you in and out of shops, restaurants and bars. This 360-degree open-air deck wraps around the entire ship and is perfect for your morning walk or run before a dip in the cool South Beach pool, located aft on this deck.
MSC Seaside's Open Air Promenade circles the ship.
X is for Excursions Ok, we took some liberty with this letter but the excursion options offered by MSC Cruises are truly exciting experiences (see what we did there). Each trip has been carefully planned and offers a unique perspective of your destination port depending on what you want to do. Whether it's a historical tour, an active outing or taking a culinary journey, it's your vacation your way. It's easy to review and book options with the onboard concierge or via an onboard interactive screen. Customized excursions can be arranged onboard as well. Starting in November 2018, itineraries will offer a stop at Ocean Cay MSC Marine Reserve, a beautiful private island in the Bahamas owned by the cruise line and exclusive to guests of MSC Cruises.
Y is for Yamaguchi MSC Cruises is proud to partner with Celebrity Chef and international icon, Roy Yamaguchi, to bring you an ultimate fine dining experience. Asian Market Kitchen, a specialty restaurant featuring Yamaguchi's Pan-Asian cuisine, will be comprised of three areas including teppanyaki grills and a sushi bar. From what's on the menu to the perfect selection of music, Yamaguchi will be involved in every aspect of the restaurant, immersing you in the unique style of this epicurean master.
Z is for Zip Line Calling all thrill-seekers! MSC Seaside will house two of the longest zip lines ever seen at sea. Each of the runs start mid-ship, high above the deck at the funnel, and fly you 425-feet to the aft, making it the fastest way to get across the ship! Excited? We sure are! The countdown to launch has begun!
By Kristi Williams
Signup for Cruise Deals
Exclusive access to private sales, customized specials & more