Norwegian Pearl
Overview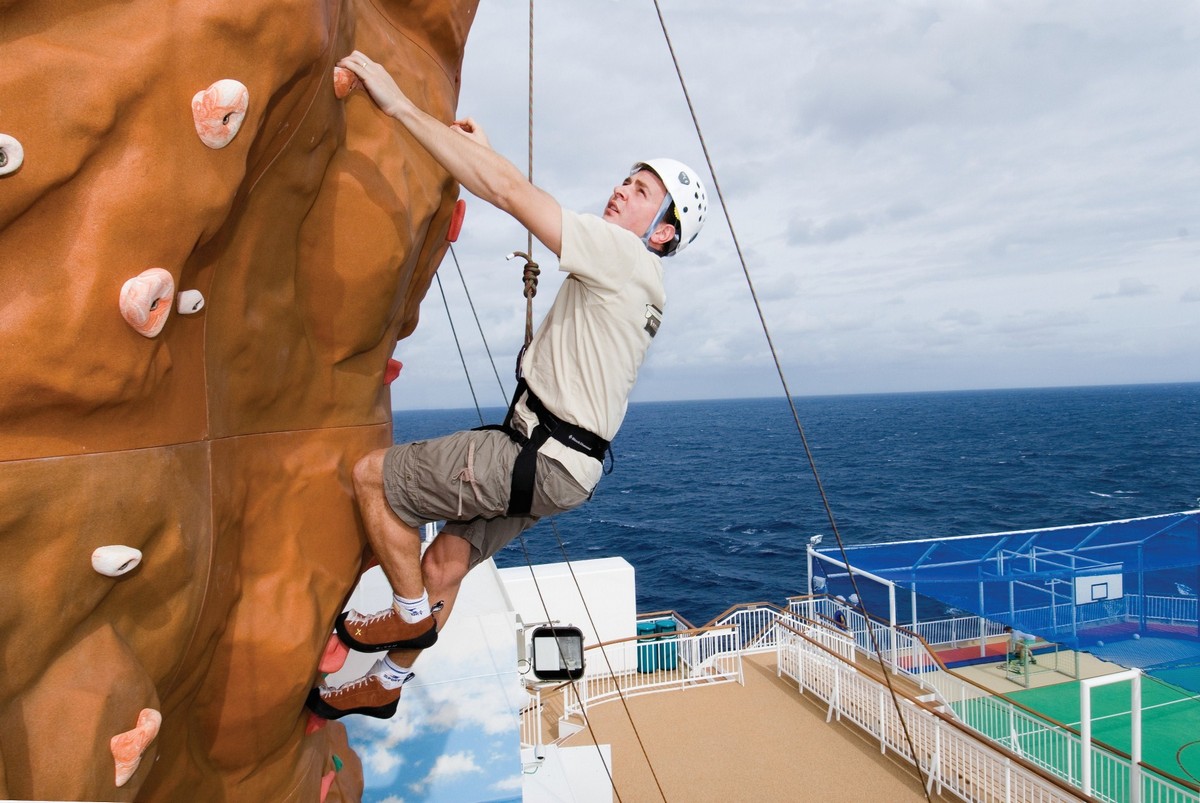 The Norwegian Pearl can hold over 2,300 passengers and features 13 bars and lounges, 16 amazing dining options and a choice of six types of comfortable staterooms. The Pearl is a Jewel Class of cruise ship, along with sister ships Gem, Jade and Jewel. Take advantage of Norwegian Pearl's endless entertainment options day and night when you find the best Norwegian Cruise Line deals, promotions and discounts from Dunhill Travel Deals.
Awards for Breakaway by Norwegian Cruise Line
2015 Best Alaska Cruises – Cruise Critic Cruisers' Choice
2012 Best Cruise Ship for Families - Travel Age West
2008 One of the Top Cruise Ships - Conde Nast Traveler
Cabin Options
No matter your travel budget, there are a variety of affordable cabins, comfortable staterooms and swanky suites to select when booking your trip on the Norwegian Pearl.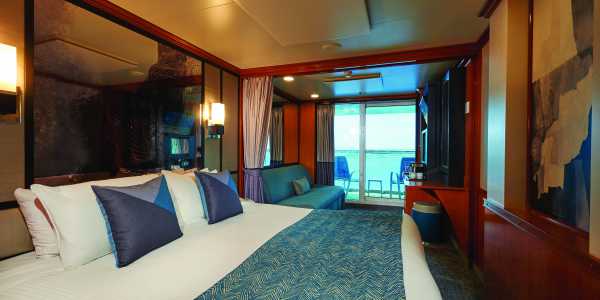 Mini Suite
Size: 272 to 285 sf
Occupancy: 2 to 4
Features a private balcony, inside sitting area and luxury baths with showers and plenty of living space. Mini Suites have two beds which convert to a queen-size bed, and additional bedding options with room for up to four passengers.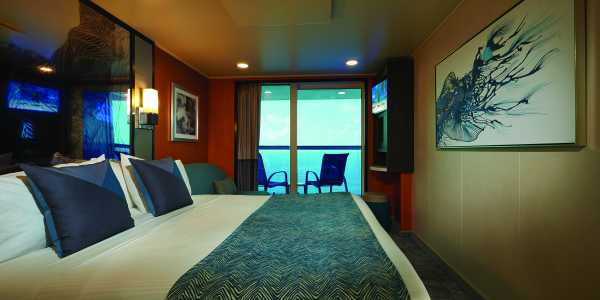 Balcony Stateroom
Size: 200 sf
Occupancy: 2 to 4
Expansive floor-to-ceiling glass doors leading to your own private balcony. These cabins have two lower beds that can be changed to a queen-size bed, and many rooms also have a convertible sofa to accommodate up to two to four guests. Balcony staterooms also feature an indoor sitting area.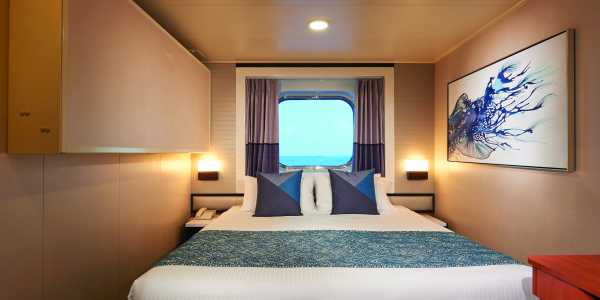 Oceanview Stateroom
Size: 155 to 161 sf
Occupancy: 2 to 4
Ranges in size and has either an oceanview porthole or picture window. Oceanview cabins have two lower beds that convert to a queen-size bed and extra pull-down beds to accommodate two to four guests.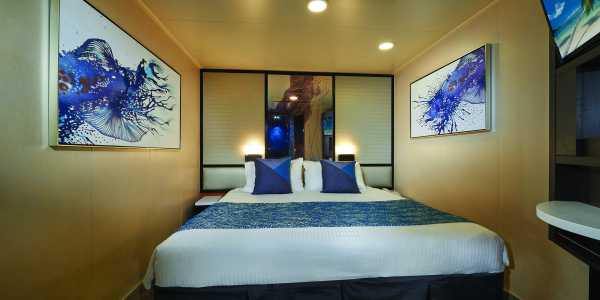 Inside Stateroom
Size: 140 sf
Occupancy: 3 to 4
Perfect option for anyone traveling on a budget. These staterooms sleep three to four people and are equipped with two lower beds which convert to a queen-size bed.
Itineraries, Sailing Dates & Pricing
Entertainment & Activities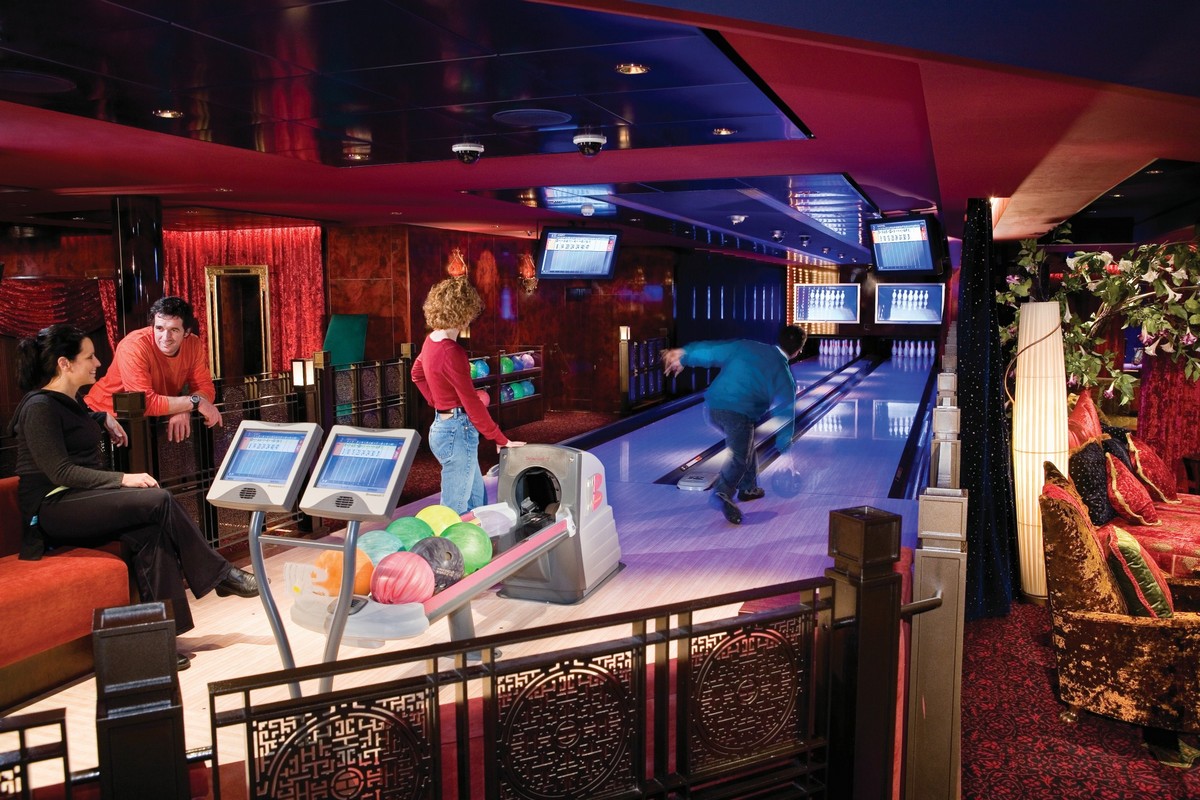 Looking for a good laugh? The Norwegian Pearl features everything from stand-up comedy shows to unicycle-riding jugglers at the Stardust Theater. Join the Norwegian Production Cast as they showcase the most recent Broadway hits with the "Encore" performance, catch a magic show, or participate in The Second City's hilarious who-done-it, "Presumed Murdered." Seeking more active entertainment? Kids can play at the Kids' Aqua Park while you visit the Corona Cigar Club, featuring hand-rolled premium cigars, cognacs and spirits.
Maintain your active lifestyle at the basketball/volleyball/tennis court, break a sweat at the Body Waves Fitness Center, or enjoy a morning stroll with an ocean view on the jogging/walking track. Destress with a professional massage at the Mandara Spa, or relax in one of six outdoor hot tubs. Choose from both brand name and specialty items at the Trade Routes Boutiques, or browse the Art Gallery for a unique piece of work. Indulge in your favorite adult beverage at a variety of exciting nightclubs and lounges, from Magnum's Champagne & Wine Bar to the Sake Bar. And don't miss a night of bowling at Bliss Ultra Lounge & Night Club.
Dining Options
Enjoy your favorite cut in Cagney's Steakhouse while sailing away on your Alaskan cruise, or choose from 15 other delicious dining options. Enjoy a variety of cuisine on your next Norwegian Cruise Line discount cruise.
Deck 6

Indigo is one of the complimentary, main dining rooms on the Norwegian Pearl.
Le Bistro is an art nouveau style French restaurant serving gourmet food like Roast Rack of Lamb with artichokes, blistered tomatoes, zucchini and a green olive sauce. Le Bistro is one of the specialty dining options, with a cover charge of $10 for children and $20 for adults.
Summer Palace is the other main dining room on the Pearl offering a free, 5-course dinner to all passengers.
Deck 7

Java Cafe serves tea, coffee and pastries.
Lotus Garden serves Japanese, Thai and Chinese cuisine including orange peel beef, hot & sour soup and General Tso's chicken lettuce wraps. Dining at Lotus Garden incurs a $15 cover charge for adults, or $7.50 for kids.
Sushi Bar at the Lotus Garden offers a la carte pricing on fresh sushi and sashimi.
Teppanyaki is an intimate, 32 seat, Japanese hibachi grill restaurant. Eating at this entertaining establishment will set you back $12.50 for children and $25 for adults.
Deck 8

O'Sheehan's is a 24-hour dining venue serving Irish pub classics like prime rib, all-you-can-eat ribs, and a selection of draft beers. All food selections are included with your cruise fare.
Deck 12

Garden Cafe is a free buffet serving a variety of cuisine such as omelets, pasta, soups, and salads.
Kid's Cafe is in the Garden Cafe area and offers kid-sized portions of yummy food in a buffet setting.
Great Outdoors is an outdoor buffet serving the same items as the Garden Cafe. The buffet is complimentary for all guests.
La Cucina Italian restaurant offers fun and friendly, family style dining serving delicious salad, pizza, pasta and desserts. The fixed menu pricing is $7.50 for children and $15 for adults.
Topsiders Bar & Grill is by the Tahitian pool. Open from around noon to 3 pm, choices include grilled chicken, hamburgers, hot dogs, salads and desserts.
Deck 13

Cagney's Steakhouse serves a fixed price menu of $15 for children and $30 for adults. Try the delectable Grilled Garlic Shrimp served with orzo pilaf, garlic & black pepper butter and lemon zest.
Moderno is a Brazilian steakhouse offering skewers of grilled meat along with an extensive salad and tapas bar including imported cheeses, olives and cured meats. Moderno offers fixed menu pricing of $10 for children and $20 for adults.
Sky High Bar & Grill is a great place to have a bite poolside and just watch the ocean go by. Food is included in your cruise fare.
Find Your Norwegian Cruise
Discover the World on These Cruise Lines
Search for Cruises & Compare Deals!
Signup for Cruise Deals
Exclusive access to private sales, customized specials & more