Pamper Your Pet While on Vacation
Getting away and staying in a hotel for a few days can be an exciting experience. We tend to look for hotels with amenities and perks for us to enjoy, such as on-site dining, spa, pools, free breakfast, complimentary happy hour or free Wi-Fi. But what if you're traveling with your pet? While there are plenty of pet-friendly hotels across the country, not all of them offer extras exclusively for your pet.
We've found a few hotels that are not only pet-friendly but go above & beyond to make your stay, as well as your pet's stay, simply unforgettable.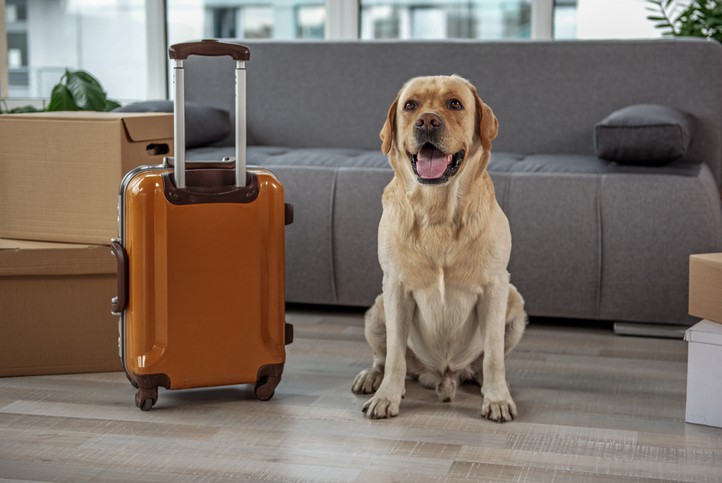 The Hollywood Hotel | Los Angeles
If you're planning to get away with your furry friend to Los Angeles, you should consider the Hollywood Hotel. All the glamour and sophistication of vintage Hollywood - at an affordable price. Classic rooms start at about $99 a night and many bundled packages are available. Our favorite is the Universal Studios Stay, Tour & Ride which includes admission to the park with your hotel.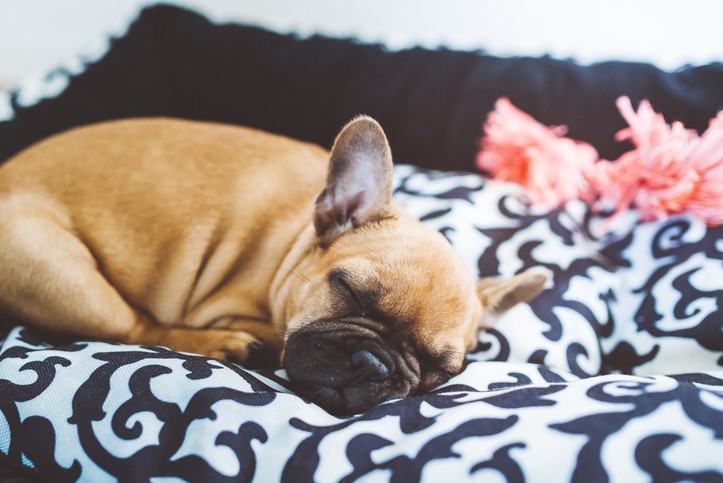 Why You'll Love It
With a metro station conveniently located across the street, you will never be far from many attractions including Universal Studios, the Hollywood Sign, and the Los Angeles Zoo. Daily hot breakfast buffet with made-to-order omelets, Wi-Fi, fitness center access and concierge services are just a few of the amenities included for free with most rooms during your stay. The on-site Route 66 Bar & Lounge features live comedy shows every night and the sparkling outdoor pool will cool you off during the day.
Why Your Pet Will Love It
This stylish boutique hotel welcomes dogs and cats and rolls out the red carpet by offering amenities for your pup to enjoy during your stay. When you book the Pet Pampering package, your best friend will get a soft pet bed, a plush toy, water & food bowls, treats, plus a supply of pet waste bags. Get all that pampering for an additional $69 per pet/per night.
The Inn & Tavern at Meander| Locust Dale, VA
This historic B&B in Virginia wine country is situated between Washington DC, Fredericksburg and Charlottesville, VA. The idyllic red Adirondack chairs facing the Blue Ridge Mountains and wide-open fields make for a relaxing time for you and a really fun time for your pup! Accommodations on this sprawling 80-acre property consist of 4 rooms in the main Manor House and 7 stand-alone cottages. While pets are not permitted in the Manor House, each of the cottages allows pets and offer free pet waste bags in each room with disposal stations located throughout the property.
Since this popular B&B welcomes pets, chances are pretty good your pup will meet and play with a few new friends. The resident innkeeper and owner's pets can often be seen around the property as well. There is not a pet weight restriction, but there is a limit of 2 dogs per room plus a $25 pet fee.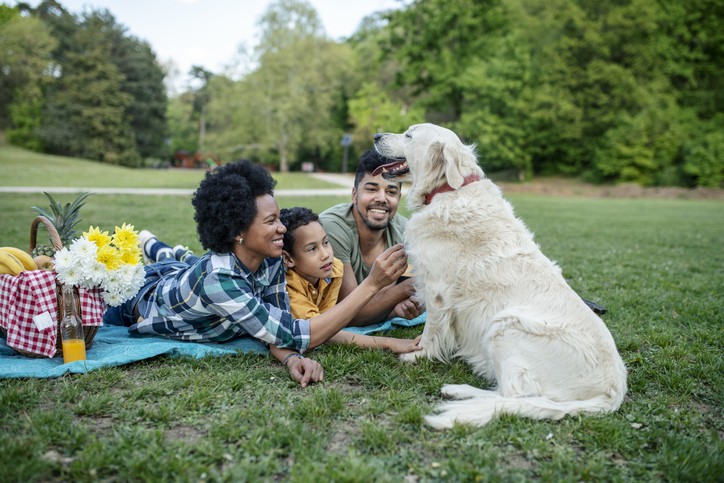 Why You'll Love It
Nestled in the Blue Ridge Mountain foothills, the Inn at Meander offers the opportunity to slow down, relax, and take in the incredible scenery while being relatively close to many attractions. From touring Civil War battlefields to horseback riding or more adventurous activities such as a hot air balloon ride or a 3-hour kayak tour, you will not run out of things to do during your visit. Did you know the central Virginia region is one of the Top Ten wine producers in the world? The Inn at Meander is close to many award-winning local vineyards and wineries, each offering daily tours - some even let you bring your doggo along. This gorgeous property is also an ideal backdrop to hold weddings & event celebrations.
Why Your Pet Will Love It
The large open spaces and nature trails to explore, on-leash of course! Special towels to clean dirty paws and a "dog rinse" station near the barn in case more than paws are dirty. If your pup enjoys sleeping on the bed, each room provides a special dog sheet for the dog to sleep on (and to protect the linens). If you stay between Sunday through Wednesday, be sure to book the Pets Welcome Midweek Package. For an additional $129 the normal pet fee is waived, you get a Pet Goody Tote Bag filled with a travel water bowl, squeaky toy, treats & wipes to use during your stay and then take home, a picnic lunch (including something for your pup), free tasting coupons to local pet-friendly wineries, a dinner basket for 2 in your room or located where your dog can join you, plus a freshly prepared gourmet breakfast every morning. The Pets Welcome Weekend Package offers the same perks and is available Thursdays through Saturday for an additional $249.
Inn by the Sea | Cape Elizabeth, ME
Over the top pampering is to be expected at a luxury resort and Inn by the Sea ensures all guests – even the furry kind - receive exceptional service and special amenities. Just minutes from Portland, this luxurious oceanfront resort offers oh so many ways to spoil you and your four-legged travel companions and has been doing do so for over 30 years. It was one of the first luxury beach resorts to allow pets to stay in designated rooms and suites and enjoy the beach with their families at no additional charge. This Inn has a huge community heart too, providing temporary shelter to foster dogs searching for a home. The shelter pups then have the opportunity to turn on the charm, greet and play with hotel guests, and maybe even get adopted. To date, 154 dogs have been placed in forever homes thanks to this program.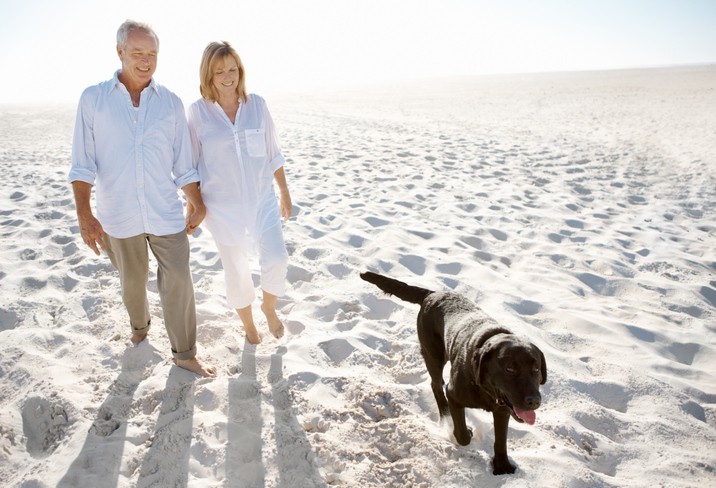 Why You'll Love It
Aside from easy beach access and a fabulous pool with plenty of loungers, complimentary bicycles are available, enabling you to visit the nearby lighthouses and explore the Cape during your stay. Take part in seasonal activities like adult and family yoga, garden tours, and our favorite – s'mores by the fire pit! The on-site Sea Glass restaurant serves breakfast, lunch and dinner and includes menu staples such as New England clam chowder and roasted chicken plus vegan-friendly dishes like tempura cauliflower steak. The spa offers a variety of treatments and therapies designed to relax and refresh, from traditional Swedish massage to customized massages, body wraps and scrubs, and a full wax menu.
Why Your Pet Will Love It
Nearby walking trails, pet-friendly beaches and free-range parks to explore. Always-included perks pups can enjoy are use of their own water bowls, beach towels, blanket, and a turndown service with signature treats. Additionally, a gourmet pet menu is available with advanced reservations. For some serious indulgence, book the INNcredible Pets Package. This 2-night getaway includes an Inn by the Sea dog bowl, personalized L.L. Bean dog bed, an L.L. Bean dog toy, a nightly selection from the gourmet pet menu, and a seasonally flavored dog treat with nightly pet turndown service.

Kimpton Hotels | Various Locations
The Kimpton brand of boutique hotels has welcomed pets of all sizes and types for free since they were founded in 1981. Their love for pets is strong, even retaining "Directors of Pet Relations" at certain properties. These pups act as hotel ambassadors and are there to greet guests (and their pets) to the hotel with a tail wag and open paw. To date there are 77 Kimpton boutique hotels located in 52 major cities across the U.S. including Boston, Seattle, San Francisco, and Key West, and International destinations such as Barcelona, Amsterdam, and Bangkok. And if you forgot to pack something, whether it be a curling iron, toothpaste, or even a cell phone charger, they've got you covered with a quick call to the front desk.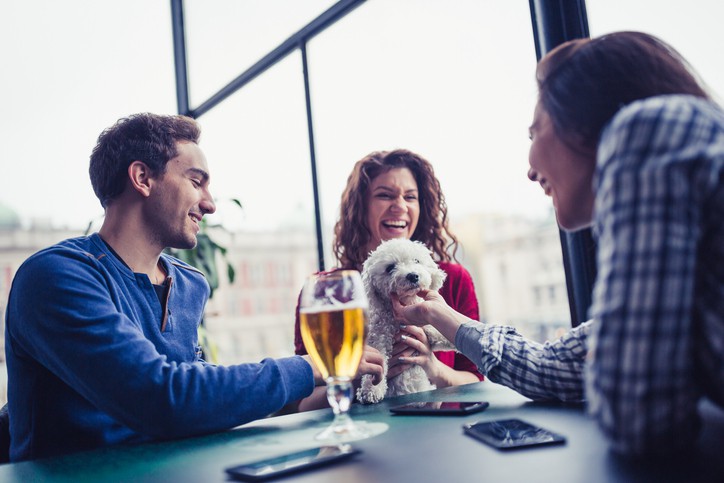 Why You'll Love It
Aside from their "if your pet fits through the door, we'll welcome them in" policy, plus no pet fee or deposit, there are many reasons to stay at a Kimpton hotel. Stop by the concierge desk for a list of nearby pet-friendly restaurants, parks, groomers & other pet service providers. You'll also receive a special hanger for your hotel room door informing staff & guests your pet is in the room, complimentary waste bags for walking your dog, and no weight restrictions or number of pets per room. Select hotels offer a nightly wine reception that pets are welcome to attend.
Why Your Pet Will Love It
Pets that stay at the Kimpton are treated like royalty! They are addressed by name at check-in, get to borrow a plush pet bed, enjoy the use of food & water bowls, and are welcomed to attend select hotel events with their human during their stay – all for free. Some hotels may even offer a yummy treat or two!
Staypineapple Hotels | New York City, Chicago, San Francisco, Boston, Seattle, Portland, San Diego
This affordable boutique hotel chain currently has locations in a handful of major metro cities and is growing. Unrivaled hospitality, unique amenities & perks and a pet-friendly atmosphere are all reasons to book your stay here. In fact, the hotel features a stuffed-animal husky pup throughout their website, showing the chain's fun personality. Their trademark yellow color can be spotted everywhere, from the pens used at check-in to the bicycles available to guests. Oversized towels, in-room robes, unlimited bottled water & coffee, free cookies or cupcakes & many other special touches help make your stay as comfortable as possible.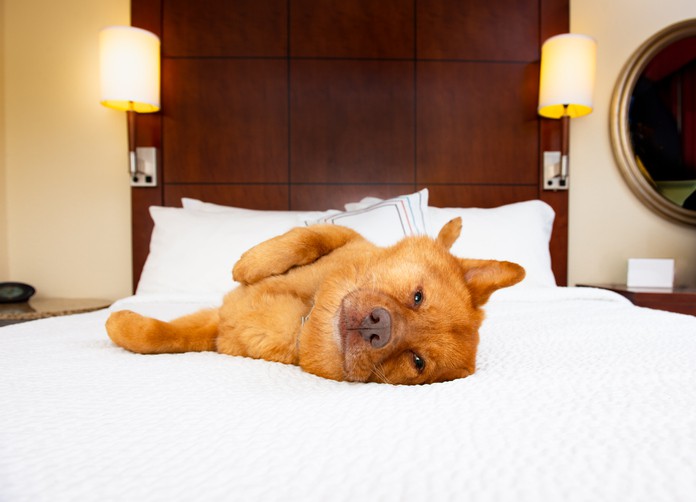 Why You'll Love it
While many pet-friendly hotels do not permit you to leave your dog unattended in the room, you can at Staypineapple (as long as pets do not disturb guests by barking or howling when left alone). You will even get a special door hanger alerting hotel staff not to clean the room since your 4-legged companion is lounging in there while you are out. Also, if your pup happens to have an accident in the hotel, there is no additional fee. Just let the hotel know about it. And when you book the Pineapple Pup Package, you will save 50% on your daily pet fee.
Why Your Pet Will Love it
First and foremost, free treats in a special Staypineapple treat tin! Doggies will also get complimentary use of a dog bed, free waste bag dispenser and bags for their humans, and a take-home colorful water bowl to remind you of your fantastic vacation.
***
So go ahead and take Fido or Fifi with you on your next road trip or staycation. As long as it's not a car ride to the vet, they will welcome a change of scenery with their best friend and enjoy some extra special Very Important Pet treatment!

By: Kristi Williams

Signup for Hotel Deals
Exclusive access to private sales, customized specials & more