Top 5 Pet-Friendly U.S. Cities
Over time, pets have been seamlessly integrated into our families. We call them our brothers and sisters, children and grandchildren, and certainly our best friends. Some of us can't bear to imagine a day, let alone a whole week without our furry counterparts, and if you're like me, then taking a vacation and leaving your pet behind makes you feel guilty.
Well, guilt-be-gone! Here are some of the most pet-friendly destinations in the U.S. with attractions that will satisfy both you and your furry loved one. Please note: this post is geared toward those who are specifically traveling with dogs.
Portland, Oregon
Arguably most famous for its rainy weather and a plethora of outdoor activities, Portland should also add extraordinarily pet-friendly to that list. As the largest city (population-wise), Portland boasts more than 20 off-leash & shared parks where you and your furry loved ones can run free or share on-leash trail hikes with picture-perfect views. While in Portland, be sure to bring your pup to the Lucky Lab Brewing Company. This casual craft brewery/pub's outdoor patio is perfect for sipping on a Dog Day IPA or Black Lab Stout while relaxing with your real-life animal version. If you're in town, you'll want to take part in the company's annual Dogtoberfest dog wash event (bet you've never done that before). To date, Lucky Lab Brewing Company has washed more than 8,000 dogs and raised around $130,000 for a local 24-hour animal hospital. Another fun event to attend on a Portland visit with your pooch is the Canines Uncorked experience, which pairs wine tasting with dog-centric activities at a collection of wineries just minutes from Portland. All proceeds from this event go to the Oregon Humane Society. Looking for a place to stay? Check out Hotel Monaco Portland, which made Trip Advisor's Top 10 Pet-Friendly Hotels due to its dedication to pets, with a dedicated "Director of Pet Relations" who ensures top-notch service for your doggie.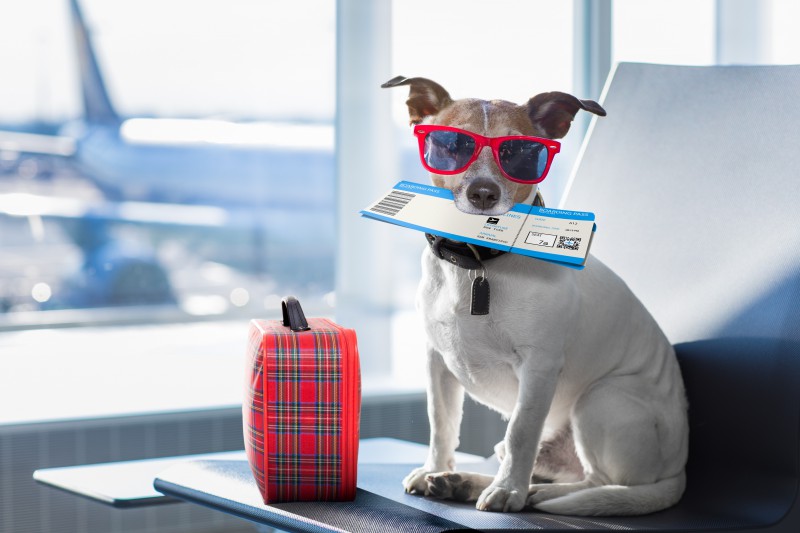 San Francisco, California
Ranked as one of the top five best places to visit in the USA by U.S. News and World Report, San Francisco is another pet-friendly must-visit that made our list. One of the best parts about this destination is the ultra-convenient (and tourist-filled) city transportation system of cable cars, which lo and behold, allow pets. Rover can now participate in a joy ride around the windy San Francisco streets without ever leaving your side – how awesome is that! Dogs are also allowed to accompany you (on-leash) aboard a Blue and Gold Fleet Bay Cruise. These hour-long journeys take you via water past some of the Bay Area's most iconic attractions like Pier 39, Golden Gate Bridge & more. In August, the San Francisco Giants baseball team hosts a Dog Days of Summer event where America's favorite pets can be a part of America's favorite pastime. In addition to pet-friendly parks, San Francisco also features pet-friendly beaches, shops and hotels. Hotel Adagio, for example, contains pet-specific floors (so as not to bother other guests) for up to two pets per room, and Argonaut Hotel has no size restrictions or pet deposits (so Fido can stay for free).
Boston, Massachusetts
Dogs of all sizes are allowed on Boston's subway during non-peak hours, making traveling with your pet in Boston pretty stress-free and extremely convenient. (Most out-of-towners try and avoid driving in Boston since it's somewhat notorious for confusing one-way streets and drivers diagnosed with serious road rage.) As the capital of Massachusetts, and one of the oldest cities in the country, Boston attracts more than 12 million visitors per year. Many of Boston's top attractions are perfect for your dog to tag along to like Boston's Public Garden, the Boston Common, Arnold Arboretum, Faneuil Hall Marketplace and the famed 2.5-mile Freedom Trail with its 16 historic spots. Interested in a brief escape from the city while you're visiting? Just take a dog-friendly ferry ride to Cape Cod or Martha's Vineyard.
Myrtle Beach, South Carolina
Busy season in Myrtle Beach spans from March to September, as the weather warms up and the entire coastal town buzzes with excitement. Myrtle Beach is an ideal destination for your family's summer bucket list, with a number of fun and pet-friendly attractions. In addition to being allowed on the beaches before 10 a.m. and after 5 p.m. during high season, your dog will love the area's beautiful off-leash parks, including the 14-acre South Barc Parc with its dog-friendly lake, perfect for pet picnics. Barefoot Landing is another great place to visit, known best for its water views, boutique stores, dining and nightlife activities. Bring along your pup for a walk on the pier and lunch with a view you won't pay extra for. On your drive toward the beach, stop at Bruster's Real Ice Cream shop, which serves up delicious people ice cream and a famous Doggy Sundae for all furry friends that stop in. Many hotels & villa-style vacation rentals are pet-friendly, offering a comfortable bed for human and pet alike to rest their heads after an adventure-filled day.
Chicago, Illinois
Though there are many other cities throughout the U.S. with pet-friendly attractions, Chicago is the fifth and final city that made our list. One of the best parts about this city is its unique accessibility to two contrasting atmospheres only a few miles apart – metropolitan excitement and beach relaxation. In addition to walking the city streets, you and your pup will love spending time on the quaint Lake Michigan beaches. Head out for a leisurely stroll along Chicago's Lakefront Trail, an 18-mile-long paved pathway with sweeping views of Lake Michigan on one side and the striking city skyline on the other side. While in Chicago, don't miss out on taking a Mercury Skyline Cruise. These 90-minute, small-boat cruises along the Chicago River and Lakefront Harbor run from May through October. For those traveling with their favorite furry friends, the company has special Canine Cruises, which even have an onboard restroom just for your pet. Both you and your dog will remember this experience for a long time to come. With more than 50 acres of entertainment, from restaurants, to shops, museums and even a 150-foot Ferris Wheel, Navy Pier is another awesome activity for your dog to join in. It's a hotspot for tourists and locals alike to explore, plus your dog can join you at some of the restaurants with outdoor patios or even on the Pier's Seadog Cruises at no additional charge.
Don't feel guilty next time you take a family vacation. No need to leave Spot behind when you can bring him along to any of these exciting, pet-friendly U.S. cities!
Signup for Hotel Deals
Exclusive access to private sales, customized specials & more