A Guide to San Diego's Gaslamp District
With your hotel in San Diego booked, it's time to explore the city's most exciting neighborhoods. Let us take you on a tour of the historic Gaslamp District.
There are many things to see and do during your stay in San Diego, but you'll definitely want to set aside some time during your trip to visit the city's historic Gaslamp Quarter. A hop, skip and jump from most luxury hotels in San Diego, this district dates back to the 19th century, though it's revitalization in the 1980's is what put it on the map for most tourists.

Now it is home to some of San Diego's most popular entertainment attractions, as well as many of the city's holiday-related outdoor events and festivals. There's ample gourmet dining, artisanal bars, and a vibrant nightlife scene sure to inspire a late night out or two. With Dunhill Travel Deals, find great deals on San Diego hotels near this exciting quarter.

Here are some things to keep in mind during your stay.
Go Shopping
The many upscale boutiques that line the streets of the Gaslamp Quarter are a boon to anyone looking for the next trend or the perfect gift to bring back from their trip. Savvy shoppers will head to the multi-level Horton Plaza Shopping Center for a relaxing, open-air outdoor mall experience.
Grab a Drink in the California Sun
When the weather is just right and you're ready to wind down after hitting the shops, head to any of the Gaslamp's pubs or cocktail bars that offer rooftop or patio seating. The garden at the famous Stone Brewery's Taproom is an excellent choice, especially for fans of craft beer looking to try some locally- exclusive brews.
Catch a Ballgame
Located on the edge of the Gaslamp Quarter is Petco Park, home to the San Diego Padres and a great place to visit if you're in San Diego. You'll get to mingle with fans, root for the home team, take in incredible skyline views and sample many of San Diego's most popular food and drink options, all within the stadium. Just check to see if the lengthy baseball season overlaps with your stay and plan accordingly.
Take in the View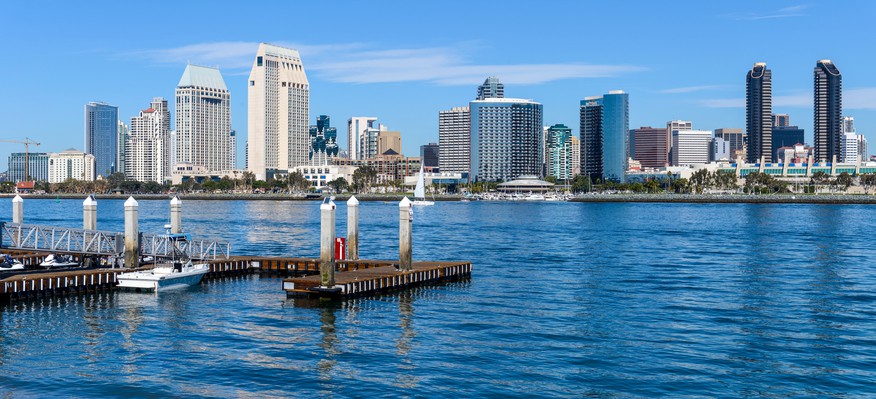 After a long day's excursion, and before you retreat to your San Diego hotel, be sure to take in a view of the San Diego Bay. Gourmet Gaslamp restaurants like Rustic Root have rooftop seating so that you can enjoy the San Diego panorama with your locally-sourced, perfectly prepared meal.
Signup for Hotel Deals
Exclusive access to private sales, customized specials & more