Top 5 Beach Hotels in San Diego
For a fun city getaway that lets you bask in the sun-soaked beauty of California's gorgeous beaches, these hotels in San Diego put you right on the water.
You're vacationing in San Diego, so of course, you want to spend time on the beach. All you need is to find a place that puts you right there. It only makes sense that, when choosing from hotels in San Diego, you'd want for your accommodations to be as close to the surf and sand of the California coast as possible, close enough that you can hear the waves crashing in the distance from your room.

With Dunhill Travel Deals, all this is right at your fingertips. By singling out the best deals on rooms at some of the top beach hotels and resorts the city has to offer, Dunhill makes it easy to plan your dream beach getaway without going over your budget.
Here are some of the best San Diego hotels you'll come across in your search. Oceanfront views and easy beach access are just the icing on the cake when it comes to what these luxurious hotels have to offer. Don't forget to pack your bathing suit!
The rich and famous have, since its opening in 1888, made the historic Hotel Del Coronado a prime destination when visiting San Diego. One of the oldest and most elegant San Diego hotels, visitors get the 5-star treatment with exclusive access to a full-service beach area, Del Beach.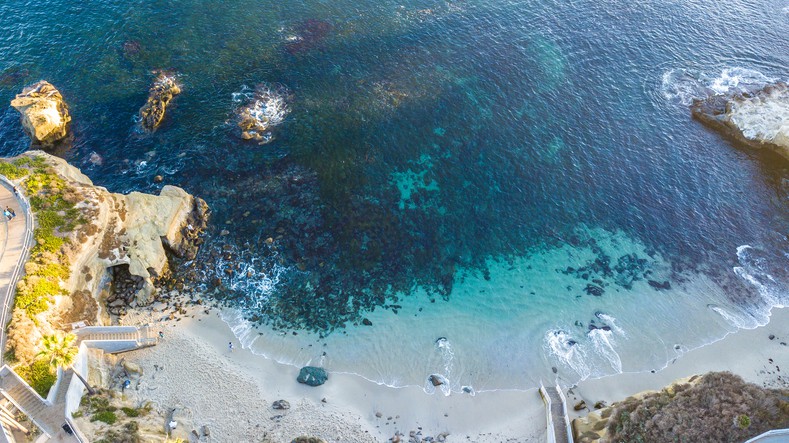 With oceanfront spa facilities, the Catamaran is the only San Diego hotel where you can get a massage and take a yoga class right on the Mission Bay Beach. You can also try out surfing, pick up a kayak or relax on a cocktail cruise during your stay—the options are endless.
Crystal Pier Hotel
For a hotel that is literally "on" the water, the historic Crystal Pier sits right on the pier at Pacific Beach. The charming cottages, more stylistically reminiscent of New England cape-houses than any of the other San Diego hotels listed here, come with private patios and kitchenettes—great for a family beach getaway.
Get a room with a view of Imperial beach at this modern luxury resort. For the traveler looking to kick back while minimizing the size of their ecological footprint, up-to-date amenities are matched with eco-conscious design choices like solar power, electric car charging stations and state-of-the-art water conservation technology.
Paradise Point Resort and Spa
The Paradise Point offers an all-inclusive, secluded resort experience—with five different pools, prime beach access, and even a mini golf course all located on the same expansive grounds, you'll be surprised to find you're also near many of San Diego's most popular attractions.
Signup for Hotel Deals
Exclusive access to private sales, customized specials & more