For Family Fun, Consider Orlando Or Las Vegas
Plan a family vacation package complete with flight, hotel, rental car and theme park tickets and save money traveling to Orlando or Las Vegas this year. Search here for flight and hotel specials. In some cases, you'll get a free night just for booking your flight and hotel together. Don't forget a rental car, especially in Las Vegas, where walking distances can be overwhelming for little ones with short legs.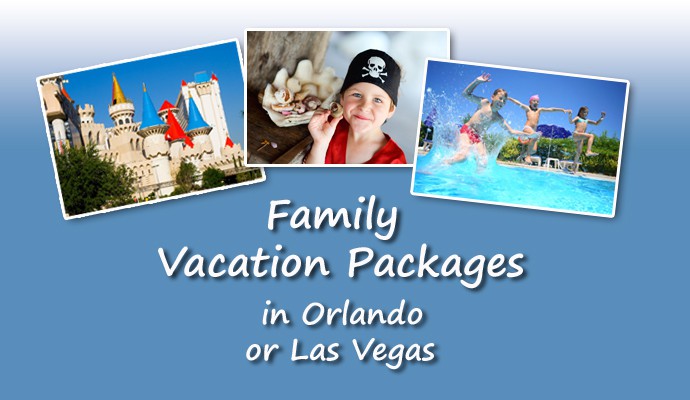 Orlando Vacation Packages
You'll love seeing the excitement on the kids' faces when you mention Disney World, SeaWorld or Universal Studios (or, in their minds, Mickey, Shamu and Harry Potter). The Orlando area is full of family fun in the form of theme parks, water parks and animal parks. Here is a partial list of the attractions in the area, and the year they were opened:
When you are putting together your family vacation package, look for hotels and resorts that offer discount tickets. The multi-day passes are usually the most economical, but the hotel desk may have special deals to tell you about. Also remember to pick up a free FastPass+ for Disney's Magic Kingdom. It allows you to select reservation times for three attractions, and it really saves time, allowing you to go to the front of the line at your appointed time. If you are staying in a Disney resort, do take advantage of the early entrance time, and get there an hour before general admission. See 48 Hours in Orlando for more tips on Orlando travel.

Las Vegas Vacation Packages
You may not think of Las Vegas as a place to bring the family, but there is so much to do in this city, you can spend a week there without going into a casino. Add to that the warm winters and hot dry summers, and you have a great destination for a family vacation package. The resorts offer free buffets, giant pools, a variety of shows and low, low prices on rooms. (That's because they make good profits in the casino.) Many hotels allow kids to stay in parents' rooms for free. Some highlights for your family trip to Vegas:
Circus Circus has an Adventuredome, the nation's largest indoor theme park, with a heart-pounding double loop roller coaster
Voodoo Zipline: Ride the zipline between the Rio hotel towers at 450 feet in the air.
Town Square Park and Playground: This is a good way to keep cool! The playground has play houses, a maze, and nearby, a giant state-of-the-art arcade called Gameworks.
Hershey's Chocolate World is located inside the New York New York Hotel. Go for the smells, a few treats for the kids, and a look at a replica Statue of Liberty made of Twizzlers.
Enjoy the Tournament of Kings at Excalibur Hotel, where the kids can eat with their hands while watching knights jousting on horses. What could be better than that!
See Famous Las Vegas Hotel Attractions for more family-friendly things to do in Las Vegas.
Signup for Vacation Deals
Exclusive access to private sales, customized specials & more