Oceania Riviera
Overview
Oceania Riviera was built in 2012 and refurbished in 2015; it's the newest addition to the Oceania Cruises line of luxurious, mid-sized cruise ships. The Riviera is an Oceania Class ocean liner and sister ship to the Oceania Marina. The Riviera has room for 1,250 guests in 625 cabins and caters to guests searching for a relaxing, adult-oriented vacation.
As soon as you step aboard this stunning ship, you'll be awed by the elegant Lalique grand staircase and the artfully designed staterooms featuring Ralph Lauren Home designs. The experience onboard the Riviera includes many dining options with open seating and no surcharge, as well as a gourmet cooking school at sea, the only hands-on cooking classes featuring master chefs. If your talents run to other arts, spend some time in the Artists' Loft, where you can learn painting and collage techniques from artists-in-residence.

The personalized service and comfortable surroundings make this Oceania cruise ship a favorite for Caribbean cruises out of Miami, the Riviera's home port.
Awards for Riviera by Oceania Cruises
"Best Cabins" March 2014 - 2014 Cruise Critic Cruisers' Choice Awards
"Best Dining" March 2014 - 2014 Cruise Critic Cruisers' Choice Awards
"Best Public Rooms" March 2014 - 2014 Cruise Critic Cruisers' Choice Awards
"Best Overall" March 2014 - 2014 Cruise Critic Cruisers' Choice Awards
"Best for Embarkation" March 2014 - 2014 Cruise Critic Cruisers' Choice Awards
"Best for Service" March 2014 - 2014 Cruise Critic Cruisers' Choice Awards
"Best Restaurants at Sea" - Red Ginger - 2014 USA Today
"Ship of the Year" - 2014 Ocean and Cruise News
"Best Food" - 2014 Ocean and Cruise News
"Best Alternate Dining (Breakfast & Lunch)" - 2014 Ocean and Cruise News
Cabin Options
Cabins on the Oceania Riviera come with a variety of features such as mini-bar with unlimited soft drinks and water, Bulgari toiletries, twice-daily maid service, phones, security safe, hairdryers, 24-hour room service, and Belgian chocolates with nightly turndown service.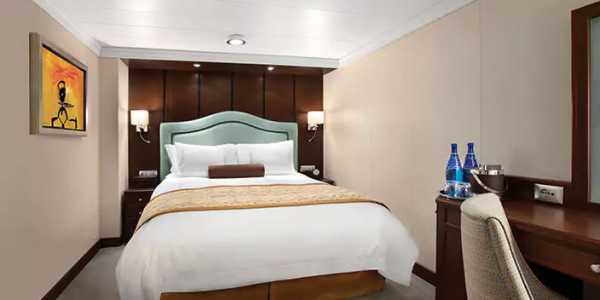 Inside Staterooms
Size: 174 sq. ft.
Occupancy: Up to 2 guests
Inside Staterooms include either a shower or bathtub in the marble and granite clad bathrooms. With 174 sf of living space, these rooms offer comfortable cruising for 2 guests with a tranquility queen-size bed which converts to 2 twin beds.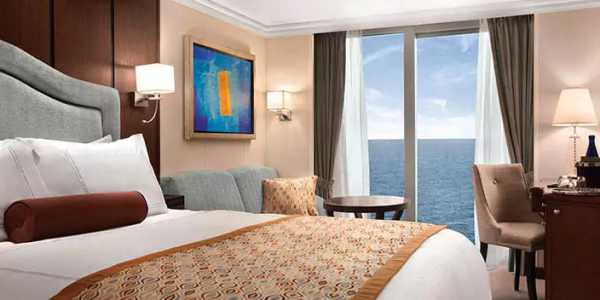 Oceanview Staterooms
Size: 242 sq. ft.
Occupancy: Up to 3 guests
Oceanview Staterooms have either a queen-size or 2 twin beds to sleep 2 guests. Some rooms have extra bedding to accommodate up to 3 passengers.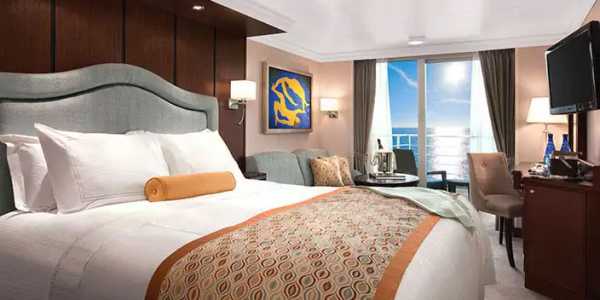 Veranda Staterooms
Size: 282 sq. ft.
Occupancy: Up to 3 guests
Veranda Staterooms offer room for up to 3 guests with queen-size beds. Veranda cabins include a couch, breakfast table, private teak veranda, large closets and marble bathrooms with separate tub.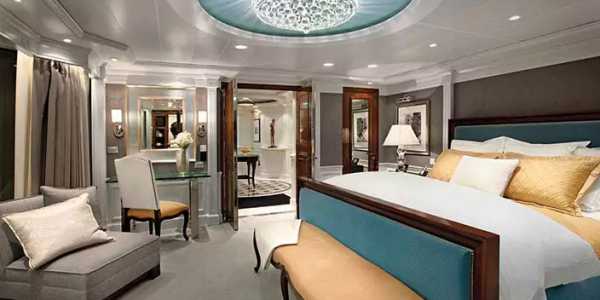 Suites
Size: 420 to 2,000 sq. ft.
Occupancy: Up to 4 guests
Suites range from 420 to an astonishing 2,000 sq. ft. and have a queen-size or king-size bed. Suites include a dining table, living area, TV, walk-in closet, a private terrace and luxurious bathrooms with separate shower.
Entertainment & Activities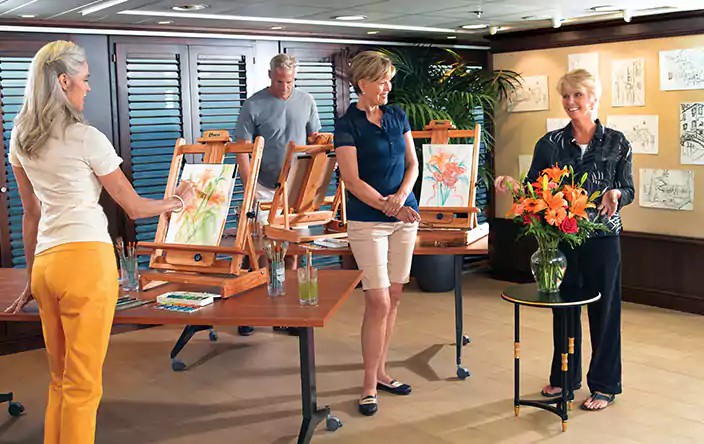 Book an Oceania cruise onboard the Riviera cruise ship and enjoy many fun activities and entertainment options. Stop by the Canyon Ranch SpaClub, offering a variety of self-improvement services including massage, body wraps, and even acupuncture treatments. Health and fitness fans will enjoy the Exercise for Weight Loss class and private workout session with one of Oceania's personal trainers.
Find your muse at the Artist Loft enrichment center, where artists-in-residence offer instructions in painting, sketching, and collages. The classes change often and are designed for any level, so everyone from beginners to experienced artists will find the classes engaging.
If you are looking for your daily coffee fix, check out the Baristas coffee bar near the cruise ship's library. Baristas, in the Grand Dining Room, serves espresso, cappuccino, frappuccino, and other specialty drinks along with a selection of delicious pastries.
Dining Options
With 800 crew members onboard, you are sure to feel like a special guest while enjoying your cruise. There are 9 formal and informal dining options on Riviera, and guests can enjoy a variety of late-night entertaining options while visiting one of her 8 bars and lounges.
The Grand Dining Room - Breakfast, lunch, and dinner throughout the day. The dining room's menus change daily and include healthy fare from Canyon Ranch, a gourmet tasting menu, along with vegetarian and vegan menus.
Jacques - Elegant restaurant is stylized after famous chef Jacques Pepin. French inspired cuisine will give you the option to choose hot or cold appetizers, soups, and entrées including: lamb loin with pistachio stuffing and Cabernet Sauvignon sauce. Dessert selections include chocolate mousse, apple tart, and lavender infused crème brûlée.
Red Ginger - Fine dining with Asian-style cuisine. The tea menu has a selection of black, herbal, green, and white tea for your enjoyment; there's even a wine and sake list. Start your meal with a spicy tom kha gai soup, followed with sesame seaweed salad, then enjoy a taste of tuna tataki before the main course of Miso Glazed Seabass.
Polo Grill - Steakhouse meals in a formal dining setting. A special highlight at this restaurant includes traditional Caesar Salad prepared tableside by your server. For the foodie, try the 32-ounce prime rib accompanied with Bearnaise sauce and a side of crispy onion rings or au gratin potatoes.
Toscana - Classic Italian dishes including Osso Bucco, an oven-braised beef shank in a mushroom-infused stock served with saffron risotto. A unique feature of Toscana is the olive oil cart where you can select from 6 olive oils, 4 infused oils and 4 flavored balsamic vinegars to go with your bread basket.
Privee - The ultimate, luxurious fine dining experience. Reserve this exclusive dining up to 10 guests for an additional $250 and enjoy your meal in your own private dining room. You can order anything you want from both the Toscana or the Polo Grill menus while dining at Privee.
La Reserve - Intimate restaurant featuring gourmet food and wine tasting suggestions from the experts at Wine Spectator magazine. Seven-course menus change daily and you can choose between different cuisines for an intimate, romantic dinner.
Terrace Cafe - Open-air dining for breakfast, lunch, or dinner. You can partake in alfresco dining at a table with an ocean view, or select an umbrella-shaded outdoor table on the terrace. Don't let the informal atmosphere fool you-there are many delicious foods to choose from including shrimp cocktail and marinated duck breast.
Waves Grill - Conveniently located next to the swimming pool. Dine when you want on fare like the surf & turf sandwich, Black Angus burgers, or grilled veggie burger served with mango salsa.
Baristas - Coffee the way you want it when you want it. You can also find delicious milkshakes and smoothies.
Discover the World on these Cruise Lines
Search for Cruises & Compare Deals!
Signup for Cruise Deals
Exclusive access to private sales, customized specials & more