Oceania Marina
Overview
Marina is one of the newest ships in Oceania Cruises line of mid-sized ships. This ocean liner is an Oceania class ship built in 2011 and completely refurbished in 2016. She's capable of accommodating 1,250 guests in 626 luxuriant staterooms. Many of the cabins have their own private balcony allowing guests to enjoy the ocean breeze while taking in the view of the sunrise or sunset.
Book your next cruise deal with Oceania Cruises, on either Marina or its sister ship Riviera, and enjoy world-class dining, some of the best cabin options at sea, and intimate small-ship experience for which Oceania is world-renown.
Awards for Marina by Oceania Cruises
"Best Overall" - 2018 Cruise Critic Cruisers' Choice Awards
"Best Restaurants at Sea;" - Red Ginger - 2014 USA Today
"Best Alternate Dining (Dinner)" - 2014 Ocean and Cruise News
"Best Dining" - March 2013 - 2013 Condé Nast Travelers Readers Choice Awards
"Best Dining" - March 2013 - 2013 Cruise Critic Cruisers' Choice Awards
"Best Public Rooms" - March 2013 - 2013 Cruise Critic Cruisers' Choice Awards
"Best Cabins" - March 2013 - 2013 Cruise Critic Cruisers' Choice Awards
"Top 20 Medium Cruise Ships" (#4) - February 2013 - 2013 Condé Nast Traveler's 100 Best Cruise Ships in the World
Cabin Options
Guests can choose from 4 stateroom options on the Marina including suites, verandas, ocean view, or inside staterooms. All cabins on the Oceania Marina feature twice-daily maid service, Bulgari toiletries, luxurious 1,000 thread count linens, soft cotton robes and slippers, 110/220 volt outlets, refrigerated mini-bar stocked with water and soft drinks, 24-hour room service, and Belgian chocolates with nightly turndown service.
Inside Staterooms
Category: F, G
Size: 174 sq. ft.
Occupancy: Sleeps up to 2 guests
Sleeps 2 guests w/ 2 twin beds that can be converted to a queen-size bed. Marble & granite bathrooms w/either a shower or tub. Table and chairs, vanity desk, safe, TV, DVD & hairdryer.
Deluxe Oceanview Staterooms
Category: C
Size: 242 sq. ft.
Occupancy: Sleeps up to 2 guests
Floor-to-ceiling panoramic windows, queen or 2 twin beds. Granite-clad bathrooms have shower stall and separate bathtub. Seating area, vanity desk, breakfast table, refrigerated mini-bar.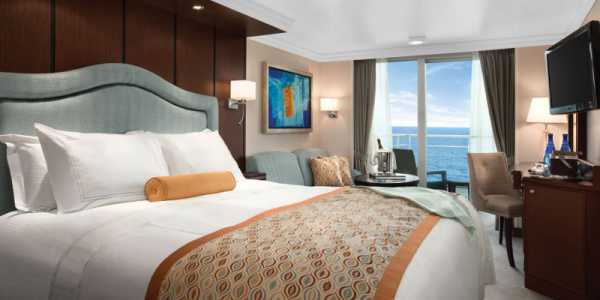 Veranda Staterooms
Category: A1, A2, A3, A4, B1, B2, B3, B4
Size: 282 sq. ft.
Occupancy: Up to 3 guests
Veranda Staterooms have room for 2 guests with 2 twin beds that may be set up as a queen size. Some rooms can accommodate up to 3 guests, and all cabins have floor-to-ceiling glass doors leading to a private balcony.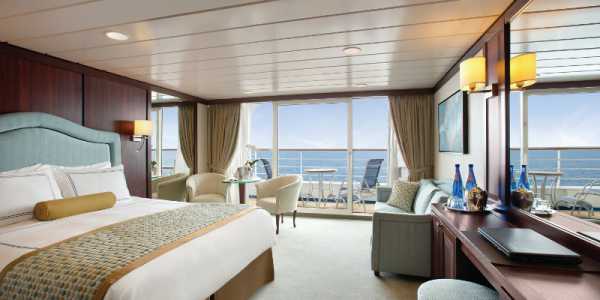 Suites
Category: OS, VS, OC, PH1, PH2, PH3
Size: 420 to 2,000 sq. ft.
Occupancy: Up to 3 guests
Suites offer the ultimate cruise experience and range from 420 to 2,000 sq. ft. Equipped with a queen- or king-size bed, suites accommodate 2 to 3 guests. All suites include security safe, mini-bar, satellite phone and flat-screen TV.
Entertainment & Activities
Plan a trip to the Artist Loft if you want to enjoy painting, photography, drawing, or other arts and crafts projects. The specialized artist retreat area offers hands-on instruction from one of Oceania's talented artists-in-residence.
The Culinary Center on board Marina, the first hands-on cooking school at sea, teaches you to prepare exquisite dishes at your own fully equipped kitchen station. Professional chefs from around the world offer instruction and suggestions, but each dish is prepared by you.
Evening entertainment options aboard the Marina include River Rhapsody, one of the many musical shows by Gary Musick Productions.
Dining Options
Guests can enjoy one of 9 dining options while onboard Marina, from casual pool-side service, to the impressive Red Ginger. Cooking enthusiasts will get a kick out of the Bon Appétit Culinary Center where they can book a gourmet cooking class covering topics like French Classics, Healthy Greek, or Magical Morocco.
Privee - Ultra exclusive dining experience. Enjoy any items off the Polo Grill or Toscana menus in a bold red and white setting overlooking the ocean.
La Reserve - A choice of gourmet foods from 3 different 7-course menus ranging from $95 to $165 per guest. The editors at Wine Spectator magazine recommend a variety of wines to savor with your meal.
The Grand Dining Room - Features a giant crystal chandelier overlooking the dark woods and sumptuous fabrics in tones of cream, gold and cocoa. Guests can enjoy breakfast, lunch, and dinner in this grand, formal dining room. You can choose menu items à la carte or select the Menu Degustation, a gourmet tasting menu from the Oceania's executive chefs.
Jacques - Inspired after Master French Chef Jacques Pepin, the executive culinary director for Oceania Cruises. Classic dishes include salmon tartare, escargot with garlic butter sauce, and herb-crusted chicken. The dessert menu has selections from the cheese trolley and decadent choices such as chocolate pot de crème and baba au rhum.
Red Ginger - Traditional Asian cuisine including edamame, spring rolls, vegetable tempura, lobster pad thai, and sushi. Diners can start their meal with a selection from the tea menu such as orchid vanilla black or ginger lemongrass herbal.
Polo Grill - USDA Prime steaks served with classic accompaniments such as the Idaho baked potato, crispy onion rings, or sautéed mushrooms. The grill offers formal dining in an elegant setting.
Toscana - Italian cuisine from classic ravioli to Marsala served with rosemary roasted potatoes. A variety of sides can be ordered with your meal including assorted grilled vegetables and garlic mashed potatoes. An extensive wine list and dessert menu are also available.
Terrace Cafe - Extensive breakfast, lunch, and dinner buffet. The Mediterranean inspired selections including roasted tomatoes stuffed with orzo pasta, vegetables, and parmesan cheese. A variety of sparkling, red, and white wines can be ordered off the wine list to accompany your meal.
Waves Grill - Casual selections near the pool. Menu selections include hamburgers, fries, and milkshakes along with salads, sandwiches, and ice cream novelties.
Baristas - A wide selection of coffee throughout the day with sweet treats like ice cream and milkshakes
Afternoon Tea - Formal tea service with a selection of premium teas and snacks
Discover the World on These Cruise Lines
Search for Cruises & Compare Deals!
Signup for Cruise Deals
Exclusive access to private sales, customized specials & more