Oceania Insignia
Overview
The Oceania Insignia went into service for Oceania Cruises in 2003. The cruise ship underwent a complete, multi-million-dollar refurbishment along with sister ships Oceania Nautica and Oceania Riviera in 2014, with another refurbishment in 2018. New services, amenities, and dining options were included, and rooms were overhauled to create posh and comfortable spaces.
Find great Oceania deals on Insignia in one of the guest suites, ocean view cabins, or economically priced inside staterooms. The ship has room for up to 684 guests with a crew of 400 staff to cater to you.
Awards for Insignia by Oceania Cruises
"Best Ship Refurbishment" - Cruise Critic Editor's Picks Awards 2020
"Top 20 Medium Cruise Ships" (#10) - February 2012 - Condé Nast Traveler "Top 100 Cruise Ships in the World" Reader's Poll
"Best Cabins, Small Ship" (#5) - February 2012 - Cruise Critic Choice Awards (Top 10 listed in each category):
"Best Small Ship" (#9) - Cruise Critic Choice Awards
"Best Dining, Small Ship" (#10) - Cruise Critic Choice Awards
"Best Public Rooms, Small Ship" (#7) - Cruise Critic Choice Awards
"Best Service, Small Ship" (#10) - Cruise Critic Choice Awards
"Best Value, Small Ship" (#8) - Cruise Critic Choice Awards
Cabin Options
All rooms on the Oceania Insignia feature exclusive Ultra Tranquility Bed, 1,000-thread count sheets & luxurious plush down comforter, plush cotton robes and slippers, hairdryer, 110/220-volt outlets, security safe, 24-hour room service, and Belgian chocolates with nightly turndown service.
Inside Staterooms
Category: F, G
Size: 160 sq. ft.
Occupancy: Sleeps 2 guest, some up to 4
Inside Staterooms sleep 2 to 4 guests with 2 twin beds or a queen size bed. These rooms come standard with a stocked mini-bar, bathroom with shower and seating area.
Oceanview Staterooms
Category: C1, C2, D, E
Size: 143 - 165 sq. ft.
Occupancy: Sleeps 2 guests, some up to 3
Feature 2 twins or queen-size bed. Some w/sofa bed for extra guests. Porthole or picture window & standard features include bathroom w/shower, sitting area, stocked mini-bar, TV, and vanity.
Suites
Category: OS, VS, PH1, PH2, PH3
Size: 322 - 1,000 sq. ft.
Occupancy: Sleeps 2 guests, some up to 4
Queen or 2 twin beds, some have pull-out sofa. Vista and owner's suites boast a 2nd guest bathroom. All suites include private teak veranda, dining area, mini-bar, 24-hour butler service.
Veranda Staterooms
Category: A1, A2, A3, B1, B2
Size: 216 sq. ft.
Occupancy: Sleeps 2 guests, some sleep 3
Queen-size Prestige Tranquility bed to sleep 2, some rooms have a sleeper sofa for a 3rd guest. Furnished teak veranda, vanity desk, bathroom w/ shower, stocked mini-bar, and flat-screen TV.
Entertainment & Activities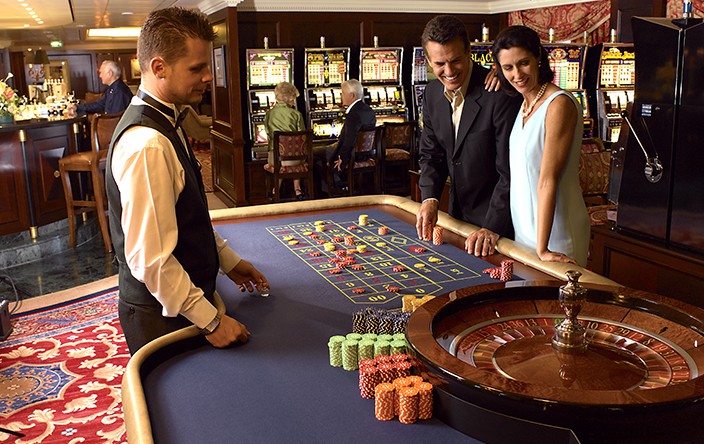 Book your appointment for a facial at Canyon Ranch SpaClub, boasting updated decor and all-new luxuriant steam rooms. If you're looking for the greatest Oceania experience, reserve your own private cabana by the Oceania Insignia's sun deck. Amenities include a Balinese day bed and your own personal attendant to serve you snacks and drinks throughout the day. This even includes ice cream and Afternoon Tea service.
Oceania Cruises focus on cultural enrichment and offers lectures by historians, naturalists, or ambassadors eager to share their personal knowledge. Musical performances break out all over the ship, so you can enjoy singing with a live pianist or hearing a classical string quartet while you sip fine wine or dance to an entertaining DJ show at Horizons lounge. Later, why not head to the elegant Monte Carlo-style casino to try your luck at the gaming tables?
Dining Options
Dining options onboard the Oceania Insignia include three formal and two informal restaurants, all with open seating so you may eat whenever you want. Guests can grab a private in-room breakfast from room service, or enjoy a pot of tea with assorted petit fours during the four o'clock Afternoon Tea service.
The Grand Dining Room - Fine crystal, elegant silverware, bone china, and cotton linens deck this restaurant open for breakfast, lunch, and dinner. The Grand Dining Room has an extensive wine list and the main menu features Healthy Living Choices by Canyon Ranch, a gourmet tasting menu created by the executive chefs along with celebrity chef Jacques Pepin, and vegan and vegetarian options.
Toscana - The place for formal Italian-style cuisine offering specialty menus including the wine list; dessert menu; and an olive oil menu with extra virgin olive oils, infused oils, and balsamic vinegars. The main menu at Toscana offers a variety of antipasti, pastas, salads, and side dishes with a great selection of beef, chicken, and seafood main courses.
Polo Grill - A classic steakhouse; You can start your feast with oysters rockefeller, followed by crisp caesar salad and main course of porterhouse steak with roasted garlic mashed potatoes and a side of creamy horseradish sauce. If you have room for dessert, try the Polo Quintet - a choice of decadent desserts recommended by the executive chef.
Terrace Cafe - Casual breakfast, lunch, and dinner buffet by the pool deck. You can choose to eat a table indoors or enjoy the ocean breeze and dine by the pool deck or outdoor terrace. The cuisine and beverage selection at the Terrace Cafe includes a wine list, salad bar, cold buffet, hot buffet, and desserts.
Waves Grill - The perfect place to enjoy a quick meal or between meal snack while lounging outdoors by the swimming pool. Food choices include burgers, hot dogs, fries, sandwiches, salads, gelato, ice cream, and milkshakes.
Baristas - The perfect spot for coffee lovers. Open all day, this spot offers coffees and espresso just the way you like it along with milkshakes and ice cream.
Afternoon Tea - Formal tea service with a selection of premium teas and snacks.
Discover the World on These Cruise Lines
Search for Cruises & Compare Deals!
Signup for Cruise Deals
Exclusive access to private sales, customized specials & more