The Best Attractions in Salt Lake City
Once you book your hotel in Salt Lake City, it's time to plan your trip. Here are some of the top sites you'll want to check out during your city getaway.
For a family trip or a weekend city getaway, Salt Lake City makes for a great anytime destination. Come during the winter to hit the slopes at one of the many ski resorts that sit just outside the city itself, or during the warmer months to explore the city's celebrated public parks and attractions, and you're certain to leave with long-lasting memories.

And whether you desire a romantic weekend getaway or some quality time with friends or family, you're sure to find hotels in Salt Lake City that fulfill all of your travel needs. Of course, if you want to scout the best deals, Dunhill Travel Deals is for you. Just look for a place that puts you where you want to be, close to all popular sites and attractions the city has to offer—like the ones listed below—and get ready for big savings.
Temple Square
Located near some of the most highly regarded Salt Lake City hotels, Temple Square collects many of the city's popular sites in one convenient location. A holy place for the large local Mormon population, but welcoming to people of all different backgrounds, the square houses both the Mormon Temple and Mormon Tabernacle buildings within its exquisite architecture.

Both are worth touring, and lucky travelers might even be able to catch a performance from the world-famous Mormon Tabernacle Choir during their stay.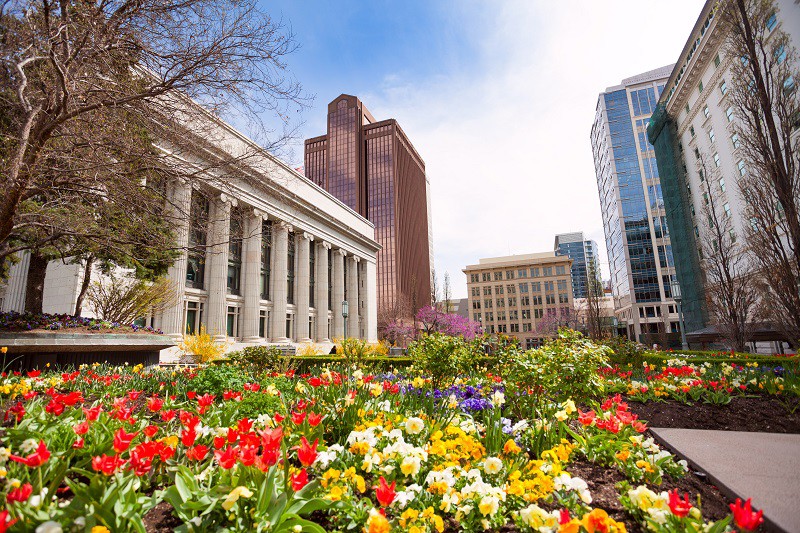 Tracy Aviary
This one is for the birds—literally. One of the largest and oldest free-flight aviaries in the world, the Tracy Aviary is a must for those looking to learn a thing or two during their stay. See magnificent birds of all shapes, colors, and sizes from all over the globe, as they roam about their natural habitats. Bring the whole family!
Gilgal Sculpture Garden
Salt Lake City has its share of strange and otherworldly attractions. Take the unique, wondrous Gilgal Sculpture Garden, the work of one Thomas Battersby Child, Jr. Every carving is the work of Child's, from detailed disembodied feet to a sphinx bearing the face of Joseph Smith, founder of the Mormon faith.

And if quirky sights like this appeal to you, you'll want to stay at the nearby Anniversary Inn, a luxury bed and breakfast with themed rooms like "Phantom of the Opera" and "Wild Wild West."
Liberty Park
If you're looking to unwind somewhere outside the confines of your Salt Lake City hotel, you can't beat a day exploring the grounds of Liberty Park. This expansive park is great for picnicking, frolicking and mingling.

There are several sports facilities, including bocce and tennis courts, so that you can make the most of the nice weather for Spring and Summer visits.
Hogle Zoo
If visiting the Tracy Aviary doesn't fully satisfy the animal lover in you, a trip to the city's Hogle Zoo should more than suffice. Several exotic species like white rhinos, African elephants, and Siberian tigers are sure to offer thrills the whole family can enjoy.
Signup for Hotel Deals
Exclusive access to private sales, customized specials & more