Grab Your Skis For the Best Slopes Around the Globe
Skiing is great fun for the whole family. With lessons for beginners and children and more challenging slopes for experts, everyone can take part in this fun winter sport.
If you're thinking about hitting the slopes this season, start preparing now to take advantage of great deals & offers. These 3 pointers will make your ski trip more fun with less hassle.
Plan Early
The day after ski season ends is the day you should start planning for the next year. Many resorts offer early bird tickets with reduced season passes for the year that could save you hundreds of dollars. Likewise, resorts offer 1-day to up to 1-week passes, so decide which is right for you.
Another benefit to planning early is having plentiful options for hotels and other trips. Within a few months of ski season, most hotels will be fully booked and you'll be scrambling to find anything or you may be far from the ski resort of your choice. The sooner you can reserve your stay, the better.
Research Equipment Costs: Own vs. Rent
Ski gear is an investment and depending on how often you go, it may be more cost-effective to rent your gear. Most ski resorts throughout the world offer rental gear and prices differ greatly depending on the quality and popularity of the resort.
Search for all-inclusive packages that have everything you need from lift passes to boots and skis. You can find great deals in and around Denver, Salt Lake City, and other ski getaways in the United States.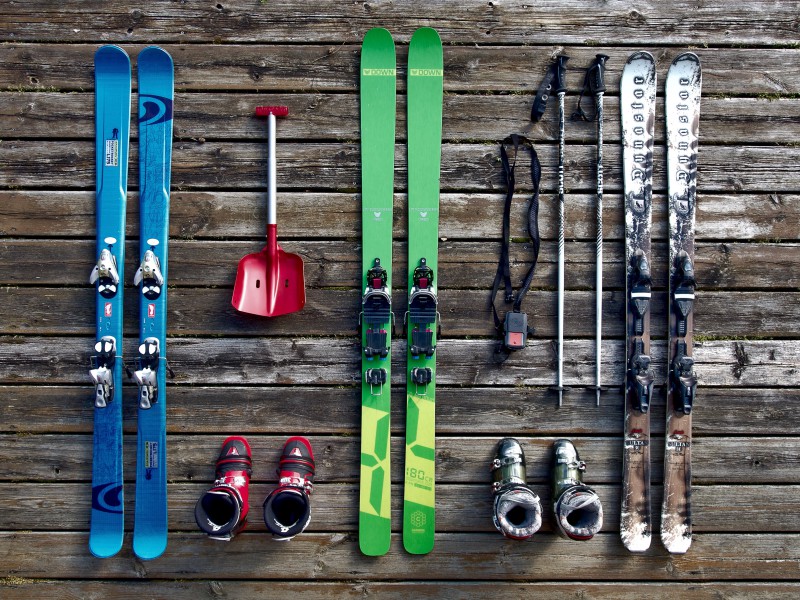 Consider Alternative Modes of Travel
Booking a flight and hotel is a safe bet, but there are plenty of ways you can ski on any type of vacation. Popular cruises stop in several ski destinations like Alaska, France, Japan, and Canada during the best time of year to hit the slopes. Another plus of taking a cruise is the ability to take on as much equipment as you can fit without any extra fees.
If you want to let everyone else do the planning while enjoying all the sites, consider an escorted tour. The possibilities are endless and travel guides will know the best slopes and snow around. You can tour countries with great skiing year-round such as Australia, China, Africa, and even Hawaii.
Great places to Ski
Park City, Utah
Park City is home to the U.S ski team, so you know you're going to find some great slopes. You'll find skiing options for every level along with other adventurous outdoor activities like ice-skating and snowboarding. Visit in January for the chance to see some celebrities at Sundance Film Festival.
Other than the miles of pristinely kept powdered slopes, you'll find great bars, restaurants, and entertainment all night for every craving.
Chamonix, France
Not for beginners, these slopes will challenge even the most seasoned veterans. Some of the most challenging and steep slopes in Europe, you can access 11 different ski zones throughout the valley and vertical drops of 9,000 feet.
The nightlife in Chamonix is renowned for great drinks and parties throughout the night. Walk the cobblestone streets in the pedestrian-only zone and try authentic French cuisine on every corner.
Stowe, Vermont
This is the perfect getaway for those planning their whole vacation around skiing. The quaint town of Stowe offers boutique and luxury accommodations and the most gourmet restaurants of any ski town in the north.
The highest peak in Vermont, Mount Mansfield is only 15 minutes from town and offers skiers challenging double-black diamond runs throughout the mountains. Beginners can take advantage of the ski school and mild slopes.
Taos Ski Valley, New Mexico
$300 million dollars in renovations later, Taos Ski Valley has become a premier and modern ski mecca throughout the world. With a children's and beginners center and 12,450-foot summit for the most advanced, this area is great for amateurs and pros alike.
The only ski resort in the world to receive B-corp certification (an environmental achievement), you can ski guilt-free, knowing the planet is their top concern. After a long day on the slopes, enjoy gourmet dining and excellent wines.
Telluride, Colorado
Some argue Telluride has the best skiing in the country, and they've got the facts to prove it. After the first ski lift was introduced in 1972, the city's links with winter sports catapulted Telluride into fame and drew the likes of Tom Cruise and Oprah Winfrey.

The highest lift on the mountains peaks at 12,570 feet and is great for advanced skiers. With the highest concentration of peaks in the country, you can see why. Great throughout the winter season, Telluride has shops, restaurants, and all the ski equipment you could dream of, so start planning today before the deals are gone!
Signup for Vacation Deals
Exclusive access to private sales, customized specials & more