Royal Caribbean's Mega Cruise Ships
Perhaps best known for its captivating and adventure-filled onboard activities, Royal Caribbean is a cruise line geared toward those seeking an innovative family experience on stylish, trendy ships. In the pretty saturated cruise market, Royal Caribbean takes the competition to the next level by consistently introducing groundbreaking amenities with each new mega-ship that hits the waters. The brand prides itself on its "WOW" factor that impresses everyone from the smallest children to seasoned cruisers. Where else can you rock climb, surf, ice skate, indoor skydive, play bumper cars and hangout 300 plus feet above sea level (among loads of other activities) all in one place?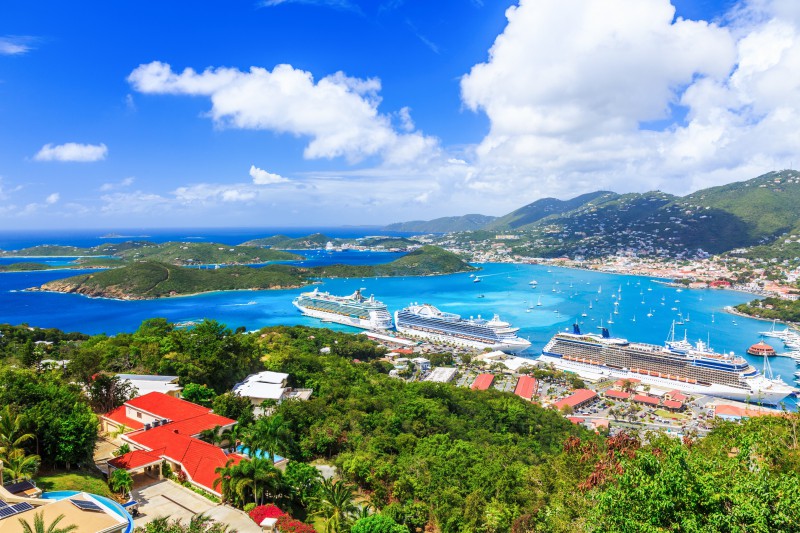 There is no doubt that Royal Caribbean International is one of the most popular cruise lines dominating North America and increasingly throughout the world, with sailings to the Caribbean, Alaska, Europe and Asia year-round. With incredible cruise deals on itineraries ranging from quick three-day Bahamas cruises to 24-day Transpacific sailings, Royal Caribbean has a getaway to offer every cruiser.
Winner of U.S. News and World Report's Gold Award for "Best Cruise Line for the Money," Royal Caribbean offers a one-of-a-kind cruising experience for surprisingly affordable prices. After disembarking from their cruise experience, most guests do feel like the money was well spent. Recognized for great promotions like buy one get one half off, free upgrades or third and fourth guests sail free, finding a discounted cruise deal on Royal Caribbean is easier than you may think. Be mindful however, as some changes are currently being made to the brand's pricing practices. Deeply discounted-last minute fares may no longer be an option, so we do recommend you book while the hot deals are available. The line is eliminating a long-standing pricing strategy of greatly slashed last-minute cruise fares.
A leading, unbeatable force in the Caribbean, this cruise line has consistently taken home the prize for Best Cruise Line in the Caribbean and Best Cruise Line Overall by Travel Weekly's Reader's Choice Awards for the last 12 years. In the Caribbean, arguably its most popular destination, Royal Caribbean owns two private islands for its guests to enjoy in Labadee (Haiti) and CoCo Cay (Bahamas). Many of their Caribbean itineraries feature stops in these two ports that won't be overrun with hordes of cruise passengers from the many cruise lines that sail throughout the area.
Boasting seven classes with 22 ships in the fleet (and growing), Royal Caribbean has solidified its standing as one of the world's largest cruise lines. Though Royal Caribbean does have some older ships in its portfolio like Majesty of the Seas, it continuously updates them through feature facelifts with some of the latest and greatest aspects of its newer ships. Some of the most talked about components of Royal Caribbean's hefty line up are its Oasis Class and Quantum Class ships, which hold the largest ships currently sailing in the world. First launched with Oasis of the Seas in 2009 and then Allure of the Seas in 2010, this class of monstrous ships makes the rest of the ships in port look like tug boats. When introduced, the Oasis cruises were approximately 50 percent larger than any other ship at sea. These two classes will continue to see expansion with the newest launches of Quantum and Anthem of the Seas and future launch of Harmony of the Seas. You can read all about Royal Caribbean's massive new ship, which will be introduced next year, in our Gargantuan of the Seas post.
Other innovations to the new classes beside the unique onboard activities can be seen in its stateroom categories like Family-Connected, multi-room staterooms and Interior Staterooms equipped with virtual balconies. These high-definition "balconies" consist of screens that display real-time ocean and destination views right in your cabin, making the time spent in your room feel less claustrophobic. Restaurants, nightly entertainment and upscale shops throughout the ships are also cutting-edge with new features like a Bionic Bar where your drinks are served by robots. (Futuristically classy is how I like to describe it.)
This world-class, award-winning cruise line may be perfect for your next family adventure on the high seas. With an endless array of onboard activities and accommodations for every price range, a Royal Caribbean cruise will leave you filled with wonder and WOW from the moment of arrival to the last moments upon disembarkation. Learn more about each of the Royal Caribbean ships here to help you pick the best one for your next cruise vacation.
Signup for Cruise Deals
Exclusive access to private sales, customized specials & more