Winter Park: Orlando's Neighbor and Hidden Gem
By Carolyn J. Richard
Quaint and cozy, Winter Park, Florida, borders America's favorite Florida vacation destination, Orlando. Little do people know the wonders Winter Park has to offer. Great for all ages, there are activities for the whole family. Home to Rollins University, the Alfond Inn is a lovely spot to stay in the heart of Winter Park. It is within walking distance of almost every event you will wish to attend making it quite convenient. It is modern and quiet and includes a great restaurant and lovely outdoor pool.
Spend the day exploring the city with a boat tour through the lakes of Winter Park followed by a stroll through the Rose Garden at Central Park. You can also enjoy the passing trains and catch up on some shopping in the boutiques along Park Avenue. For a more intensive botanical experience walk through Mead Gardens. The wide variety of plant life will captivate you and leave you with a sense of calm and connectedness. Photo courtesy of City of Winter Park Communications Department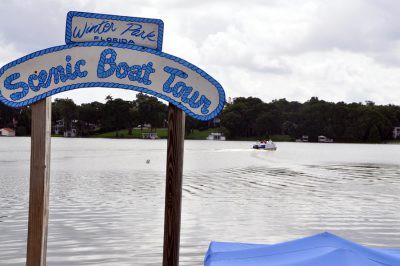 Stop by the Albin Polasek House and Studios to take in the amazing sculptures and artwork of Polasek. See his home and experience the life of this local treasured artist. This is a great excursion for families as they encourage children to view the art and play in the gardens while learning about the interesting and eventful life Albin Polasek led. It is a truly inspiring place to visit.
Enjoy a night out on Park Avenue where there is a wonderful variety of restaurants. A personal favorite is 310 Park South. Enjoy a classy meal or a few drinks at Luma, an upscale experience that is sure to tickle your taste buds. Pop into The Wine Room for an original wine tasting experience in a unique environment. Sit on the avenue enjoying your favorite blend while taking in the sweet scent of roses from across the way. Treat yourself to Kilwins just down the avenue for great old-fashioned ice cream and enticing treats with a welcoming staff.
Winter Park is a natural home to peacocks and if you're lucky you just may see one. If not, take the family to Winter Park's Historical Museum on Monday mornings to visit with Penelope, Princess of the Peacocks. Be sure to get up early enough Saturday to fully enjoy the Winter Park Farmer's Market. Make sure to sample the local honey and find the carefully cultivated flavor that is just right for you.
Winter Park boasts many vegetarian and vegan options, so for those who are health conscious and on a strict diet you won't have to search long to find a delicious spot to eat. I highly recommend Ethos Vegan Kitchen to all. Even if you are not vegan, you will not be disappointed.
Winter Park will enchant and entertain you while giving you the rest and comfort you deserve while on your Florida vacation. Experience culture, nature, and fun with the old town feel of cobblestones beneath your feet. You will be eager to return to Winter Park whenever you need a bit of rejuvenation and relaxation.
Signup for Vacation Deals
Exclusive access to private sales, customized specials & more