Hikes around Denver: Pack Your Boots and Plenty Of Water
There are lots of great day hikes near Denver hotels, featuring everything from alpine lakes and red-rock formations to panoramic vistas, canyons, and wildlife.
No visit to Denver is complete without a hike. You'll find thousands of miles of trails suitable for hikers of all levels within about 1 hours' drive of your favorite hotel in Denver. You can easily spend the day in nature and make it back to the city for dinner. You will need a car to access most of these hikes, but the scenery is well worth it!
1. Trading Post Trail, Red Rocks Park
If you're looking for a family adventure that's close to town (just 16 miles out), hit the Trading Post Trail in Red Rocks Park. This park is probably the most popular hiking destination in the area, and with good reason. The park boasts striking red rock formations and lush meadows that you can see from the Trading Post Trail.
The loop is just 1.4 miles and rated as easy, so it's appropriate for the whole family. The trail is rather narrow, so keep a close eye on the kids. You can bring your dog along, but be mindful that the trail gets super crowded on weekends. Still, with little elevation gain and great vistas, this is the perfect trail for a leisurely hike that the whole family can enjoy.
2. Bear Creek Trail, Lair 'o the Bear Park
Bear Creek Trail at Lair o' the Bear Park near Morrison is another great family hike, since it's easy and beautiful. The park is located within a 30-minute drive of Denver. The 1.6-mile hike is rated as easy, and should take just a little over an hour to complete.

The drive into the canyon on Bear Creek Road is just beautiful. There's a lot of shade and flat terrain. Enjoy the cool, bubbling waters of Bear Creek and lots of wildflowers growing alongside the creek as well. Pack a lunch and take advantage of the picnic tables and charcoal grills within the park to make your day just perfect.
3. Waterton Canyon Trail
If you want the chance to see wildlife while you're hiking, hit the winding dirt road trail of Waterton Canyon, located about an hour outside of Denver, near Littleton, CO. This out-and-back hike, which gives you lots of length options, takes you along the South Platte River and into a canyon where you might well spot Bighorn sheep or eagles soaring on the warm air currents.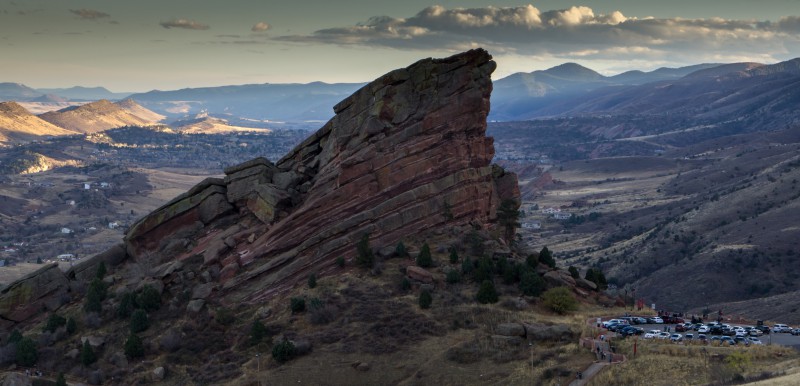 You can hike just a mile or two (and this is where you're mostly likely to spot that wildlife) or continue on for a 12.4-mile round trip trek to the Strontia Springs Dam. Bring your bike and your fishing pole — you can pursue both activities here. Just keep in mind that while the canyon starts low and shallow, it gets steeper and more rugged the further in you venture.
Head out from your Denver hotel for the hike of a lifetime.
Signup for Hotel Deals
Exclusive access to private sales, customized specials & more