Where to Stay in Indianapolis for Nightlife
For those who want their vacation to extend into the nighttime hours, choose Indianapolis hotels in these areas for access to the best bars and clubs.
Wholesale District
The absolute best place in the city for nightlife is the bustling area of town known as the Wholesale District. During the day, its world-class shopping earns the area's name. However, come night, the shops fade into the background as the numerous concert and theater halls spring to life.
If you don't feel like seeing a play or a musical act, you can spend your time at one of the numerous bars, including Hard Rock Café, Howl at the Moon, the Slippery Noodle Inn, Ike and Jonesy's, or Taps and Dolls. While the first two of those selections are your standard chain bar, the last three have a uniquely Indianapolis vibe that will make your night one you'll never forget. Grab a drink, hit the dance floor, and start having fun.
Lockerbie Square
By staying at hotels in Indianapolis near Lockerbie Square, you'll be within walking distance of one of the city's premier nightlife destinations – Rathskeller. This German-themed Indianapolis institution has a full menu of German bites as well as the city's largest beer garden. Every weekend, you'll be treated to live music, which you can sway to with your pint of beer in hand.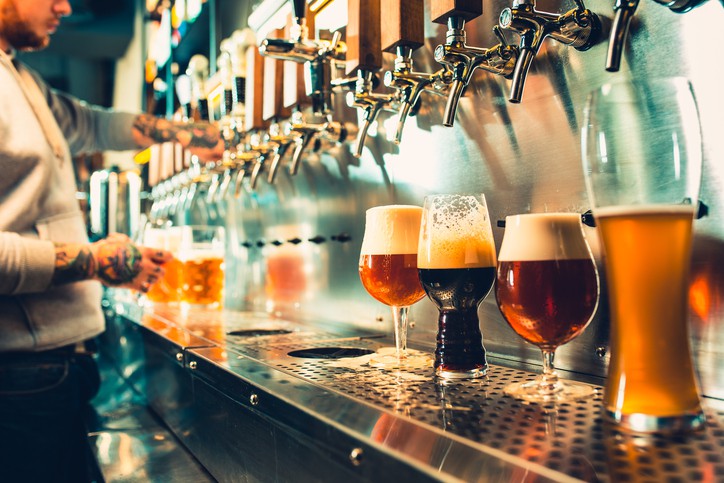 Also near Rathskeller is the Chatterbox Jazz Club, a unique venue that has over 30 years of jazz history. Listen to locals perform their jazzy acts while sipping on a craft cocktail in the quaint space. Further down the street is Ball & Biscuit, which is known for its artful cocktails and small plates, boasting a speakeasy vibe.
Fountain Square
To get away from the sometimes-touristy atmosphere of the downtown area, try heading just southeast of the city to Fountain Square. There are numerous places here to catch a drink, including the Rooftop Garden, Imbibe, and Pioneer. All of these venues specialize in cocktails or beer and offer a relaxed and casual atmosphere for enjoying your drink of choice.
For a little more action-packed night, head over to HI-FI Indy, a live music venue features shows from local and touring artists nearly every night of the week. When the show is over, head to the Brass Ring Lounge to grab a drink at the cozy outdoor patio or head inside to dive into the speakeasy aura.
No matter where you stay in Indianapolis, chances are you'll have no problem enjoying your nights, whether you're into dancing or drinking.
Signup for Hotel Deals
Exclusive access to private sales, customized specials & more