Wind Surf
Overview
As the flagship sailing yacht of the Windstar Cruises six-ship fleet, the Wind Surf has a lot to brag about. With a 310-guest capacity, this yacht features all new finishes and furnishings in every guest room to make your stay as pleasant as possible. Six decks give you ample opportunity to roam, while five masts and six engines help you get to your destination as efficiently as possible.
The Wind Surf travels to numerous ports along the Caribbean and Adriatic Seas. You'll be able to explore cities like Rome, Lisbon, Venice, and Barcelona in Europe, as well as St. Maartens and Bridgetown in the Caribbean. With 201 international staff to attend to your every need, the Wind Surf certainly has all its bases covered. Book your passage on this fine ship today by using Dunhill Travel Deals to find the best prices available on the web.
Awards
Best Cabins in Small Ship Category in the 2017 Cruise Critic Cruisers' Choice Awards
Best Tall Ship in the Porthole Magazine Reader's Choice Awards 2017
One of the 25 Most Beautiful Cruise Vessels as ranked by USA Today in 2017
Cabin Options
There are three cabin options to choose from aboard the Wind Surf.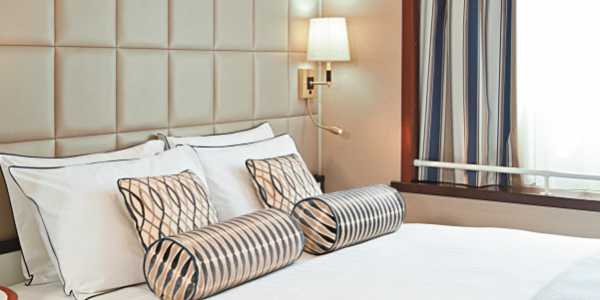 Staterooms
Size: 188 sq. ft.
Occupancy: Up to 2 guests
Staterooms on the Wind Surf offer deluxe ocean views. With 122 separate rooms to choose from, you're certain to find one that's right for you. Each room is 188 square feet and comes standard with a queen bed that can be separated into two twins. Relax in the massage shower or sink into the Egyptian cotton linens.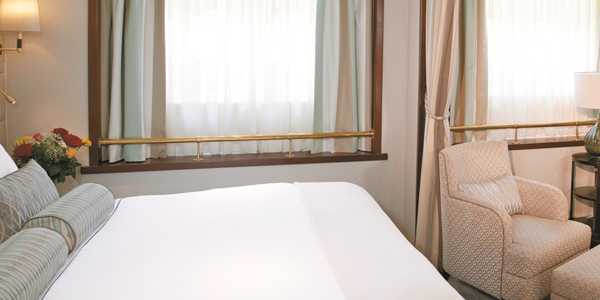 Suites
Size: 376 sq. ft.
Occupancy: Up to 4 guests
Suites are 376 square feet in size and all have an ocean view. The 31 suites each come with two separate bathrooms, which is great for families. You'll also enjoy a nice sitting area for lounging after a day in the sun, as well as two televisions so you can catch up on your favorite shows.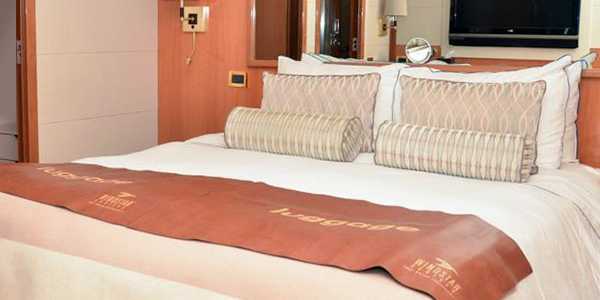 Bridge Suites
Size: 495 sq. ft.
Occupancy: Up to 4 guests
Bridge Suites are the best accommodations that the Wind Surf has to offer. With two deluxe ocean view options, each suite is a true oasis. Bask in 495 square feet of space that includes separate bedroom and living areas, as well as a whirlpool spa tub and massage shower in the opulent bathroom.
Entertainment & Activities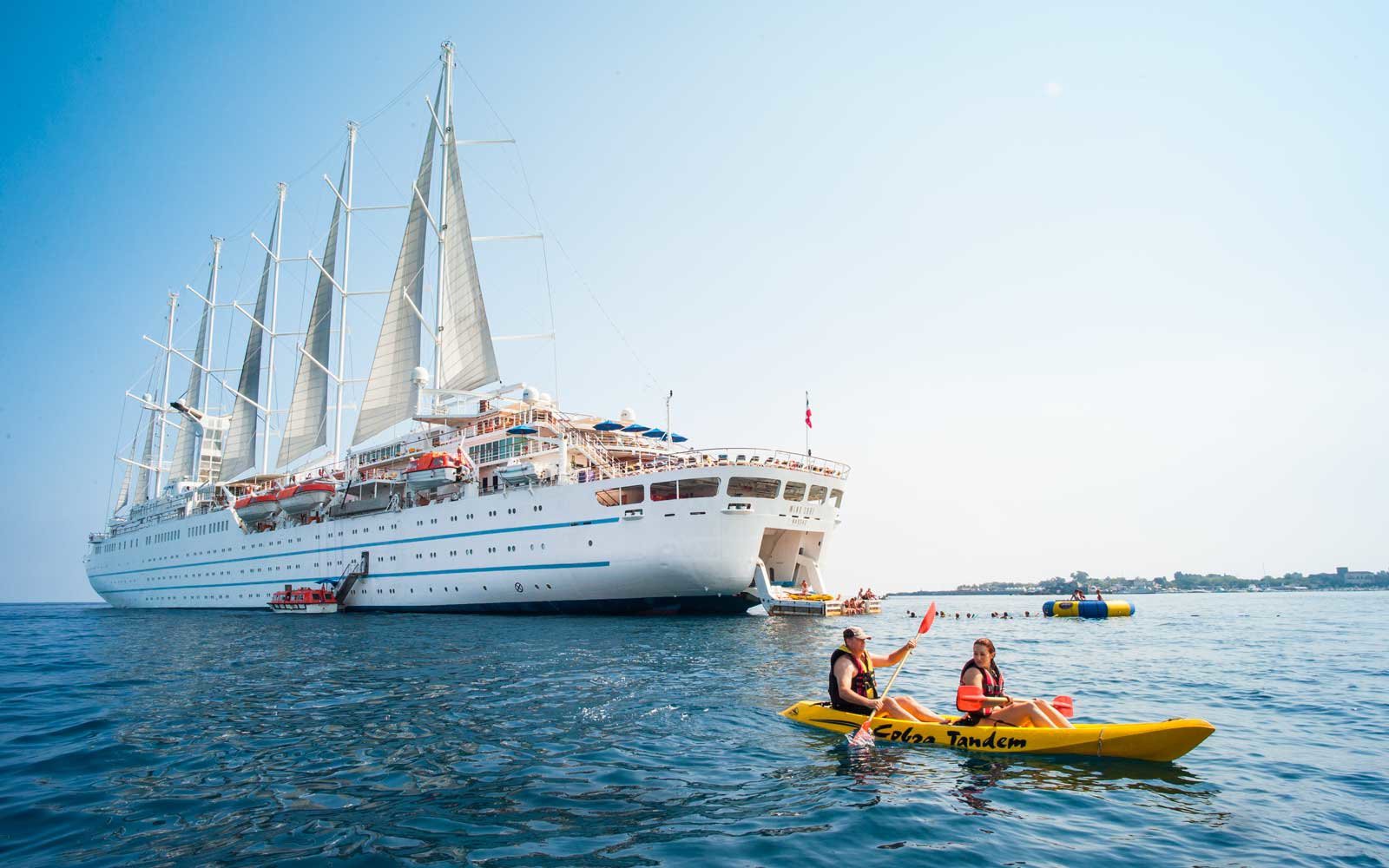 Onboard entertainment will never be an issue thanks to the many amenities of the Wind Surf. For those who enjoy swimming and lounging in the sun, the pool and whirlpool will be your main hotspot. There are also a wide variety of water sports that are included with the price of your ticket, including kayaking, water skiing, and sail-boarding. If the water isn't your thing but you still want to be active, head to the fitness center.
Passengers who enjoy slots and table games will love spending the evening in the casino. There's also a lounge and Terrace Bar where you can grab a drink while gazing out at the blue ocean waters. Finally, head over to the WindSpa for a relaxing massage to soothe any lingering tension that followed you from land.
Dining Options
With five separate dining options all included in the price of your ticket, you'll have no shortage of tasty, world-class meals during your stay on the Wind Surf.
Amphora - Main dining option for daily dinner and occasionally breakfast or lunch
Veranda - Casual buffet dining for both breakfast and lunch offering a carving station, salad bar, and other made to order items
Candles Grill - Steak and seafood specialties during dinner
Deck Barbecue - An extravaganza once per cruise, when the chefs take their skills to the grill serving up a number of barbecued meats, seafoods, and savory sides
Yacht Club - Small eatery that serves pastries and coffee in the morning, and snacks like cookies and sandwiches in the afternoon
Stella Bistro - Freshly prepared appetizers, entrees, and desserts, all paired with matching wines
Find Your Windstar Cruise
Discover the World on These Cruise Lines
Search for Cruises & Compare Deals!
Signup for Cruise Deals
Exclusive access to private sales, customized specials & more