Windstar Cruises - Not Your Ordinary Vacation
Sailing into the Extraordinary on a Windstar Yacht
Have you ever dreamed of going on the trip of a lifetime? Not a mass-market type outing, more of an intimate experience that you'll want to tell everyone about? That was what my wife and I set out to do for our 29th Anniversary. We had been on countless cruises in the Caribbean, Bermuda, South America and even the Nile River. We had gone to Mexico, Jamaica, Dominican Republic, St. Lucia, Brazil, Europe, Rome, Egypt, Greece, Vegas, Colorado, etc. We wanted to do something special and decided to try a cruise on Windstar. The msy Wind Surf did exactly that for us; it's the opposite of a large cruise ship and gives you a whole new experience to enjoy. With just 310 passengers and a crew of 201 the service level was top notch. As soon as you get on the ship you enter a relaxed atmosphere that stays with you the entire cruise. You start with the "Sail Away" party with the hoisting of the sails as you pull out of port with champagne and Classical music under the stars, a wonderful change from the ordinary.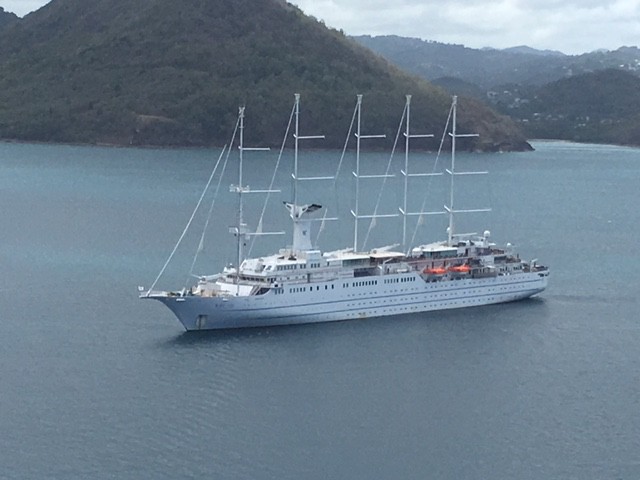 You can always get a good feel of the ship when you speak with other passengers on-board. About half of them had cruised on Windstar previously; that's very impressive. I even met a gentleman who was on his 98th cruise with Windstar. I never heard a single complaint the entire week from anyone. The crew was always right on the spot, you never waited for service, they were always right there for you. The entertainment was extremely good, probably the best "Crew Talent Night" I had ever seen. You had multiple options from quiet lounges to live bands each night. If you did not want to go ashore during the day you could go down to the Sports deck and jump on a jet ski or a kayak, snorkel or swim out to a float and just soak up the sun.
The service and food in the dining rooms made you feel like you were eating in a 5-star restaurant. Every night you had multiple options to choose from and everything was cooked to order. Even better, no set times that you "Must" eat at - choose your restaurant and time you wish to eat. We loved the "Candles" restaurant under the stars on deck. Also, the "Deck BBQ" was a highlight of the trip; be sure not to miss that. Another advantage the itinerary gives in the dining room was that they bring on fresh fruit and vegetables daily.
We were on the ship in March 2017 and cruised from St. Maarten and had six ports of call. The ship's size allows it to get into the smaller more intimate destinations, so you get the benefit of no huge crowds to deal with. We saw Barbuda, Dominica, Guadeloupe, St. Kitts, St. Lucia and St. Bart's (St. Barthélemy). We even got to see the annual Les Voiles de Saint Barth yacht race while we were in port. Over 60 huge privately owned mega yachts were in the harbor, we felt like we were a part of it. A big advantage for this itinerary is it gives you almost a full day in every port. No hustle to get off the ship early, always a nice easy pace. We did a whale watching excursion in Dominica in the morning, followed by whale watching that afternoon. We followed a mother and daughter whale for an hour. That afternoon we went to a place in Dominica where Pirates of the Caribbean was filmed. While in St. Lucia we had our own private beach party on Pigeon Island. You could see Martinique from the top of the island, over 20 miles away. In Guadeloupe we saw all seven islands that make up the country, went snorkeling and even had time for some great shopping before heading back to the ship. Barbuda was the first time in my life where I was walking on a beach and realized there were no other foot prints in the sand ahead of me, it put a smile on my face. In St. Kitts it was your choice of going to a beach in the Caribbean or the Atlantic, they meet right at the island.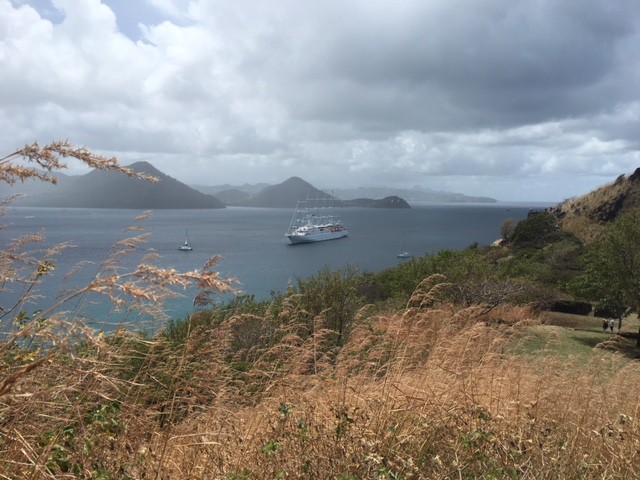 I would recommend you look at upgrading your cabin to a suite; yes it costs more but with a suite you have a Queen bed, two bathrooms, a living room and ample closet space. If cost is a factor the standard cabins would work just fine. We opted for the pre-paid tips and an all-inclusive drinks package. We are looking to go next year, planning on Northern Europe this time. Wind Star has many options to choose from, with three "Sailing" Vessels as well as three Intimate Yachts. Destinations range from Europe to Alaska, Asia to South America, Pacific to the Caribbean, the Med to Trans-Ocean.
We brought home enough memories to put a smile on your face when you just think about it. One tee shirt from the ship sums it up perfectly. On the back of the shirt it said, "180 Degrees from Ordinary." It's the perfect summary of our cruise vacation, the best one ever for us.
By John Mucklow, Senior Vice President of Sales, Dunhill Travel Deals

Signup for Cruise Deals
Exclusive access to private sales, customized specials & more