Sunset Plaza Beach Resort & Spa
Overview
The Sunset Plaza Beach Resort & Spa offers a vacation experience tailored to the individual traveler. Whether you prefer a relaxing swim in the infinity pool overlooking the Pacific Ocean, a romantic stroll on the beach after dropping the kids off at the Kid's Club, or want to test your strength and agility at the high-end Technogym, the Sunset Plaza has the perfect activity for you. Book your stay at Sunset Plaza Beach Resort today and take the first steps towards your dream Puerto Vallarta vacation.
The Sunset Plaza Beach Resort is one of the newest in the Puerto Vallarta Hotel Zone, with each room boasting a view of the breathtaking Pacific Ocean.
Check in time 3:00 PM
Check out time 12:00 PM
All rooms are nonsmoking
Room Options
The Sunset Plaza Beach Resort & Spa features 106 rooms, each with gorgeous private balconies and views of the Pacific Ocean. All rooms at Sunset Plaza come standard with a 32-inch LCD television, 24-hour room service, beautiful marble bathrooms and more.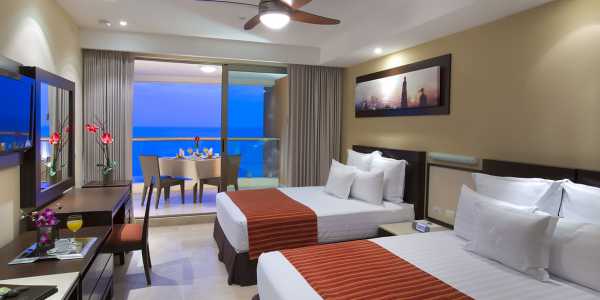 Deluxe Room
These rooms come standard with a private balcony that offers calming ocean views. Enjoy relaxing comforts like watching the latest movie release on one of two queen beds after a long day of Puerto Vallarta sightseeing. You can also take advantage of upgrades like 24-hour butler service, an aromatherapy menu and room service on your private terrace.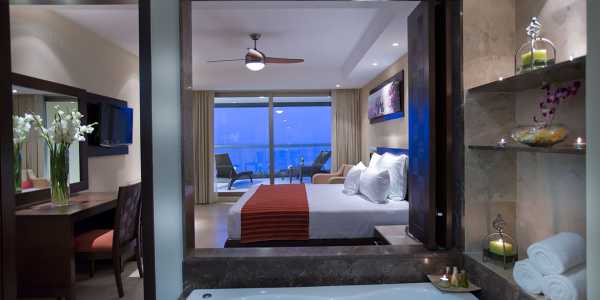 One Bedroom Suite
This is the perfect choice for the couple that likes to entertain friends and family. Take a relaxing soak in your in-room Jacuzzi or sip cocktails with guests in your private lounge. Kick back and relax on the plush furniture and choose a movie from the complimentary DVD menu while you prepare a nighttime snack in your kitchenette.
Dates & Rates
* All rates are base rates for hotel only: per person, per room, per night based on double occupancy. Base rates do not include any taxes or fees associated with booking your room, or costs for adding flights to your travel package.
Map, Location & Directions
José Clemente Orozco 121 Zona Hotelera Las Glorias
Puerto Vallarta, Jalisco 48330

located on the beach overlooking the Pacific Ocean in the Puerto Vallarta Hotel Zone
located close to beach activities, wildlife experiences and historic sightseeing
located just 9 minutes from Puerto Vallarta International Airport (PVR)
Amenities
Things to Do

Workout with the aid of hi-tech, state-of-the-art equipment in the Technogym.
Kids can enjoy Sunset Plaza's Kid's Club with planned activities, or an afternoon on the playground.
Engage in friendly competition on the onsite tennis court before taking a dip in the adults-only pool.
Setup in-room childcare with Sunset Plaza, then grab a bottle of champagne and head to the beach for a romantic hand-in-hand stroll.
Spa Amenities

Let your senses be reawakened with a spa treatment at Zen Set Spa.
Get a relaxing facial in Zen Set's modern environment and relax in the steam room to prepare you for a long day of fun.
Put yourself in the skilled hands of Zen Set's expert staff with an on-beach massage.
Get a reflexology treatment after a long day of swimming in the Pacific Ocean or couples tennis and feel your entire body enter a complete state of relaxation.
Dining Options

Dine for lunch or dinner on the romantic beachfront terrace of Mirador Bistro Grill. Enjoy Mexican twists on dishes from all over the world.
Come for the expertly prepared Italian cuisine and stay for the long list of international wines at Luciano Restaurant. Lucciano has a cozy environment with an ocean view and a food and wine experience that will ensure you come back again before departing Puerto Vallarta.
Host friends for a relaxing conversation over dessert and coffee or sit down to a full lunch of paninis and organic salad at La Canela Deli.
If you are looking to grab a drink and relax after dinner, visit the Sunset Lobby Bar for international cocktails in a lounge environment or visit the Aqua Bar for an ice cold glass of champagne while you watch the sunset poolside.
Explore All-Inclusive Mexico Resorts
All-Inclusive Vacation Destinations
Signup for Vacation Deals
Exclusive access to private sales, customized specials & more