Star Pride
Overview
With capacity for 212 passengers, Star Pride is a luxury yacht that has the atmosphere of a much smaller and intimate craft. All the suites were recently refurbished to provide modern and upscale updates. Six guest decks give you plenty of spaces to peruse, while four Bergen marine diesel engines help you get to your destination faster.
Travel around the Caribbean with stops at San Juan, Little Bay, St. Lucia, Bridgetown, and more. Perhaps Europe is more your style; if so, you'll be delighted to travel to Lisbon, Barcelona, Rome, Dublin, Edinburgh, or Reykjavik. North America is an option for those who wish to stay close to home; you can trek from New York City to Boston or Montreal.
With so many options, it's time to start planning. Browse Dunhill Travel Deals today to find the best itineraries across the web on Star Pride cruises.
Awards
Best Cruise Ship for Dining nominee in the USA Today 10Best Readers' Choice 2017 Awards
One of the 2017 Top Cruises for Foodies according to Food Fun Travel
One of the 2017 Top 5 Small Ship Cruises in the Caribbean according to the Caribbean Journal
Cabin Options
You'll be comfortable no matter which of the 106 cabins you pick- all come with queen beds that can be separated into two twins.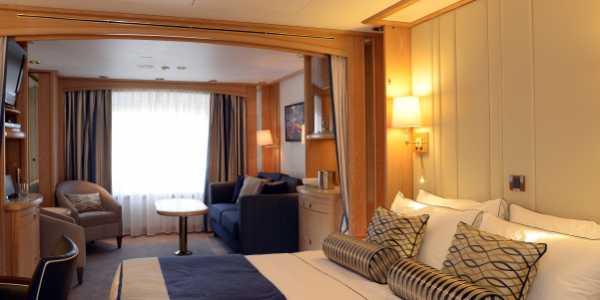 Ocean View Suites
Size: 277 sq. ft.
Occupancy: Up to 2 guests
Ocean View Suites offer a spacious 277 square feet, giving you plenty of room. There are a total of 64 rooms with large picture windows in the living area and a bedroom area with a curtain. Soak in your full-size tub, relax in your complimentary robe and slippers, and enjoy a snack from the fresh fruit bowl.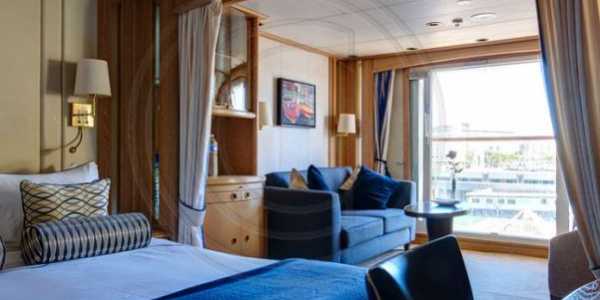 Balcony Suites
Size: 277 sq. ft.
Occupancy: Up to 2 guests
There are 36 balcony suites on the Star Pride with step-out verandas where you can enjoy the ocean breezes. Balcony suites include a queen bed that converts to twin beds, a comfy robe and slippers, elegant marble bathrooms and a living room with a seating area. You'll also have fresh fruit and flowers, and a large walk-in closet.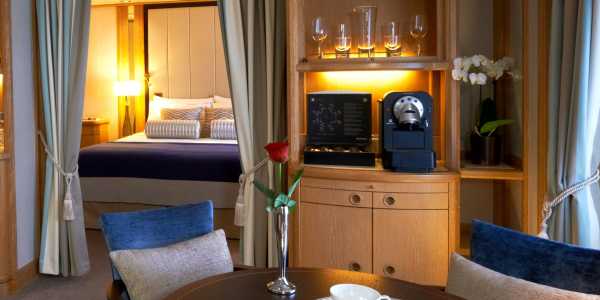 Classic Suites
Size: 400 to 530 sq. ft.
Occupancy: Up to 2 guests
Classic Suites come with their own private verandas. However, with 400 to 530 square feet in the room itself, you might not even need this luxury. Open the forward-facing windows to get a sea breeze while you spending time unpacking your suitcase into the two large closets. There are only four of these rooms.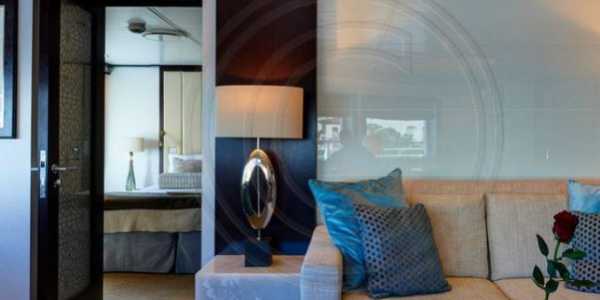 Owner's Suites
Size: 575 sq. ft.
Occupancy: Up to 2 guests
Owner's Suites are even more luxurious than the Classic Suites. With only two rooms available, these go quick. They come with a private veranda, as well as separate dining and living room areas so you don't feel cramped. The 575 square feet of space gives this the feel of an apartment rather than a cabin on a space.
Itineraries, Sailing Dates & Pricing
Entertainment & Activities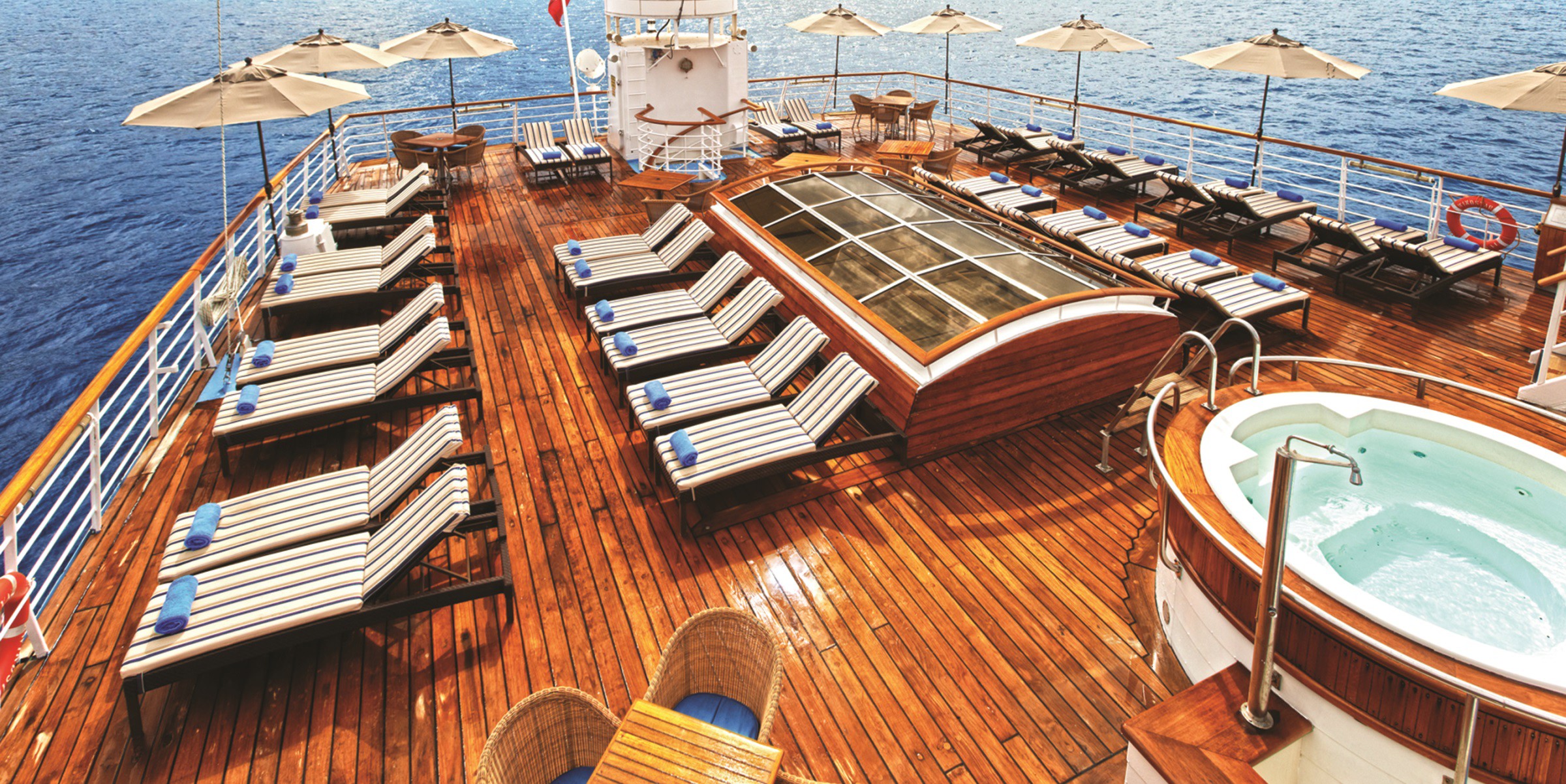 Start your day off right with a few laps around the swimming pool on the deck. Afterwards, go for a soak in the whirlpool or head over to the casino to see if you can win big; the fitness center is nearby. If you're someone who prefers to skip exercise in lieu of a massage, head to WindSpa, Windstar's exclusive pampering center.
The more adventurous guests can try their hand at the watersports platform, which includes all of the equipment you need to sail-board, water ski, or kayak. Wind down in the evening with nightly port talks, which are a thorough discussion about your sailing progress and the destinations you'll reach on your trip.
Dining Options
Eating on the Star Pride is a true culinary experience. All meals are included in your cruise ticket.
Amphora is where you'll head for dinner most nights starting at 6:30 p.m. It's an upscale restaurant with world-class dining prepared with locally sourced ingredients. No reservations required.
Veranda offers a breakfast and lunch buffet. Don't be fooled by the casual atmosphere; the food is just as high quality as you'd find in a five-star restaurant. Choose from both hot and cold options.
Candles is the perfect way to enjoy your favorite meals under the night sky. Staff transform Deck 7 into a pop-up restaurant every night that serves steak, seafood, and other grilled specialties.
The Yacht Club is ideal for a quick light breakfast before heading off the ship. It offers pastries and coffee you can grab and take with you before you leave.
Deck Barbecue is a one-time event on Deck 8 by the pool. It's a big barbecue that offers dinner, with tons of barbecued meats, savory sides, and delicately grilled fish fresh from the sea.
Find Your Windstar Cruise
Discover the World on These Cruise Lines
Search for Cruises & Compare Deals!
Signup for Cruise Deals
Exclusive access to private sales, customized specials & more