Star Breeze
Overview
Looking to take a vacation on the waters of the Caribbean or the Mediterranean? If so, the Star Breeze yacht is perfect for you. As a part of Windstar Cruises six-ship fleet, the Star Breeze holds 212 passengers and has the look and feel of your very own private yacht. Windstar underwent a $8.5 million renovation in 2015 to completely remodel the entire ship, creating a beautiful and modern space to meet your needs. The 150 international staff are also on hand to meet your needs.
With six different guest decks, you'll have plenty of space to roam, whether you're taking a dip in the pool or working off the calories at the fitness center. What are you waiting for? Use Dunhill Travel Deals to find the best prices on Star Breeze cruises today.
Awards
Second in the Best Small Ship Cabins ranking by the 2017 Cruise Critic Cruisers' Choice Awards
One of the 2017 25 Most Beautiful Cruise Vessels as noted by USA Today
Among the World's Best 2017 in Travel+Leisure Magazine
Cabin Options
With a variety of cabin options available, the Star Breeze has a room that will fit your needs and your budget.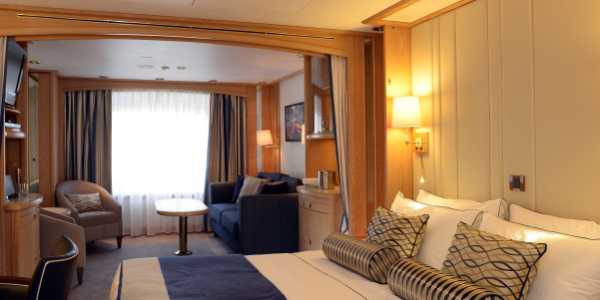 Ocean View Suites
Size: 277 sq. ft.
Occupancy: Up to 2 guests
Ocean View Suites come with picture windows to give you great views of the ocean and the ports of call. There are 64 ocean view suites. Each room is 277 square feet and comes with a queen bed that can be separated into two twins, plus a full-size tub and fresh fruit and flowers.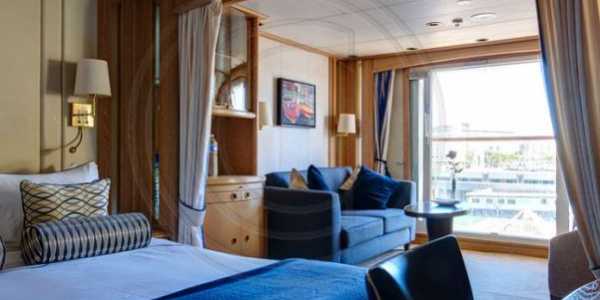 Balcony Suites
Size: 277 sq. ft.
Occupancy: Up to 2 guests
The 36 balcony suites onboard the Star Breeze allow you to open up your doors to a step-out veranda where you can enjoy the ocean breezes. Balcony suites include a queen bed that converts to twin beds, a comfy robe and slippers, elegant marble bathrooms and a living room with a seating area.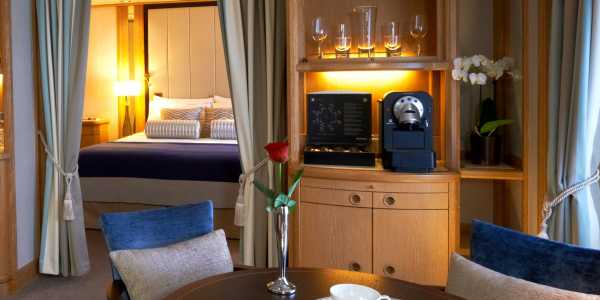 Classic Suites
Size: 400 to 530 sq. ft.
Occupancy: Up to 2 guests
Classic Suites are 400 to 530 square feet in size, depending on the option you choose. There are 106 suites that provide stunning ocean views. However, there are also four classic suites that include a private veranda for relaxing. Regardless, you'll love the two spacious closets in which to store your clothing.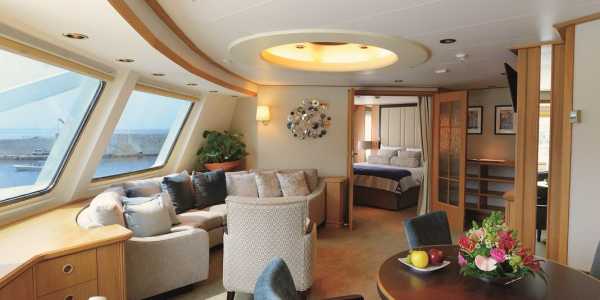 Owner's Suite
Size: 575 sq. ft.
Occupancy: Up to 2 guests
Owner's Suites are the cream of the crop on the Star Breeze. These two rooms include private verandas and are a massive 575 square feet in size. Each feels like a mini-apartment, with separate dining and living areas, two televisions, a full master bath, and a powder room to freshen up.
Itineraries, Sailing Dates & Pricing
Entertainment & Activities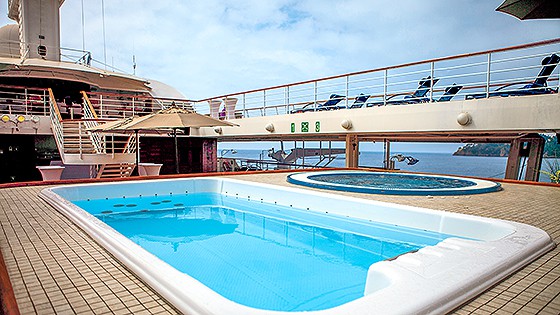 You'll never get bored on the Star Breeze. Many people enjoy taking advantage of the free water-sports equipment, which allows you to kayak on the ocean, water-ski alongside the yacht, or even try your hand at sail-boarding. If that sounds a bit too adventurous, simply relax poolside or take a soak in the inviting whirlpool. It's easy to grab a drink at the nearby pool bar.
Maybe you don't feel like moving at all. If so, head to the WindSpa for a relaxing massage to ease your tension. On the other side of the spectrum, burn off some calories after your world-class meal at the fitness center.
Dining Options
Luckily, all meals and non-alcoholic beverages are included in the price of your ticket, meaning you can enjoy everything the Star Breeze has to offer at these five restaurants.
Amphora is the main, sit-down restaurant on board. You don't need reservations here, and all of the chef's specials feature locally sourced items. Dinner is served between 6:30 p.m. and 9:00 p.m.
Veranda is a more laid-back atmosphere for catching a bite. Grab a seat, then head to the buffet, which serves both hot and cold dishes. Breakfast is until 9:30 a.m., and lunch is until 2:30 p.m.
Candles is a picturesque outdoor eating experience. Part of Deck 8 is completely transformed into a pop-up restaurant lit with candles. Be sure to make reservations, as space is limited.
Deck Barbecue is a dining option that's only available once per cruise. The staff transforms Deck 7 into a fun outdoor party area serving a variety of grilled meats and local ingredients.
Yacht Club is another place to grab a quick snack in the morning or afternoon. It's great if you don't feel like sitting down and eating a full meal. Just head up to Deck 8 to enjoy this option.
Find Your Windstar Cruise
Discover the World on These Cruise Lines
Search for Cruises & Compare Deals!
Signup for Cruise Deals
Exclusive access to private sales, customized specials & more