Harmony of the Seas
Overview
Harmony of the Seas is the newest of Royal Caribbean's Oasis Class fleet, joining sister ships Oasis of the Seas and Allure of the Seas in spring of 2016 as the largest cruise ship in the world. This vessel boasts Oasis Class' trademark of seven distinct neighborhoods onboard, and offers an exciting array of attractions, amenities, and fun at sea.
This family-friendly cruise ship features a number of exciting things to see and do, from floor-to-ceiling real-time virtual balconies in all interior staterooms, to three multi-story waterslides twisting and turning over Central Park and into sparkling swimming pools. Also on board is The Youth Zone, offering the largest kids' area at sea. There are many firsts on board Harmony of the Seas, including the oceanside AquaTheater, Starbucks, Broadway productions including CATS and Mamma Mia!, and more!
Like her Oasis Class sisters, Harmony features the fastest internet connection at sea, and guests have never had it easier thanks to RFID technology on their Royal WOWBands, wearable bands providing access to staterooms and allowing seamless purchases and reservations. Whether you're on a cruise to Europe, a honeymoon retreat, or family vacation, you'll find something just for you on board Harmony of the Seas. Read more about the Harmony of the Seas, the world's largest cruise ship, on our blog
Cabin Options
All rooms come standard with a TV, telephone, private bath and shower, hairdryer, and either Virtual Balcony, or full, partially obscured or unobscured balcony.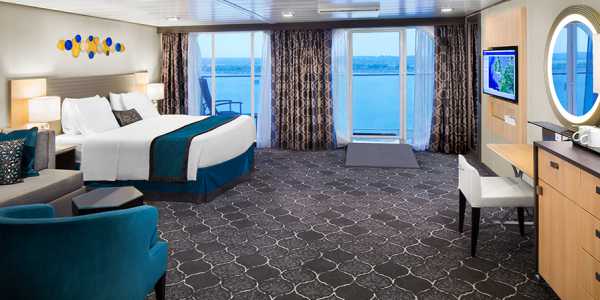 Junior Suite
Size: 287 sq. ft.
Occupancy: Sleeps up to 2 guests
Junior Suites are 287 square feet, with private 80-square-foot balcony and bed that converts to Royal King. Enjoy private bathroom with tub and shower, and sitting area with table and sofa.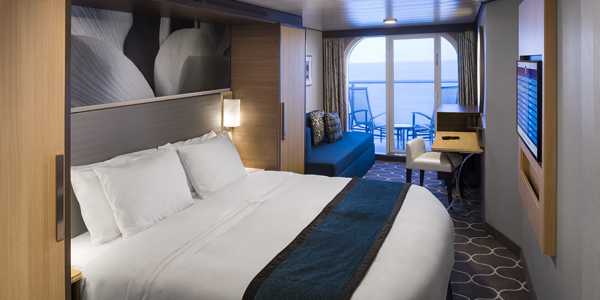 Superior Ocean View Stateroom with Balcony
Size: 182 sq. ft.
Occupancy: Sleeps up to 2 guests
Superior Ocean View Staterooms are 182 square feet and include two twin beds that convert to Royal King and sitting area, full private bathroom and private ocean view balcony that is 50 to 80 square feet.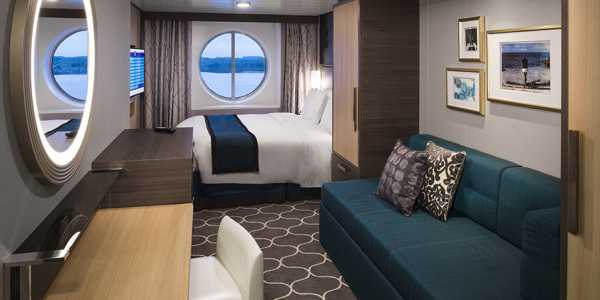 Ocean View Stateroom
Size: 179 sq. ft.
Occupancy: Sleeps up to 2 guests
Ocean View Staterooms are 179 square feet and feature two twin beds that convert to Royal King, plus private full bathroom and sitting area.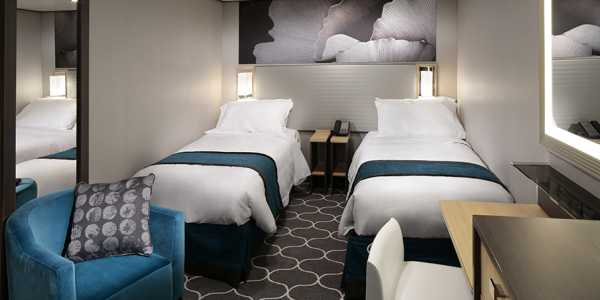 Interior Stateroom
Size: 103 to 172 sq. ft.
Occupancy: Sleeps up to 2 guests
All interior staterooms feature a high-definition floor-to-ceiling Virtual Balcony that broadcasts real-time ocean views right to your room, via an artificial "window". Unless otherwise stated, interior staterooms have two twin beds that convert to a Royal King, and sleep up to two guests.
Itineraries, Sailing Dates & Pricing
Entertainment & Activities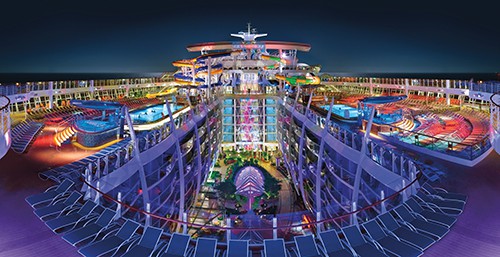 If you're looking for a relaxing vacation at sea, kick off your cruise by scheduling a massage at the full-service, Vitality Spa. Then pop in for a yoga class at Harmony's state-of-the-art fitness center, or enjoy an adults-only swim in the Solarium. Seeking a little more action? Check out the menu of exciting activities including zip lining, surf simulators, rock-climbing walls, ice skating, mini-golfing and more. Musicals, ice shows, the Casino Royale and plenty of unique shopping options are sure to please -- the journey itself is a destination on its own! For family-friendly fun, there's a number of activities -- from the Adventure Ocean Youth Program to hand-carved carousel to ice skating and live entertainment.
Dining Options
Harmony of the Seas offers a wide range of exciting dining experiences via 18 different restaurants and venues plus three celebrity chefs: Jamie Oliver, Michael Schwartz and Devin Alexander.
Deck 3

American Icon Grill is a large-capacity complimentary restaurant with a la carte options and open-seating breakfasts and lunches, as well as "My Time Dining" options at dinner.

Deck 4

Diamond Club is an exclusive venue for Diamond, Diamond+ and Pinnacle Club Crown and Anchor Society members, where these members are welcome to complimentary continental breakfast, evening drinks and concierge access.
Izumi Hibachi & Sushi serves up delightful sushi, sashimi, dinner platters with rice, and plenty more classic Japanese dishes.
The Grande Restaurant is a throwback to "formal night" of past cruises. This specialty restaurant has a formal dress code, and features classic fine dining at sea including lobster, savory lamb, and bacon-roasted scallops.

Deck 5

Sorrento's Pizzeria serves up delicious pizza slices and pies, as well as pasta dishes, antipasto platters and delicious Italian desserts.
Chic offers an expansive menu of dinner options in two seatings, as well as the "My Time Dining" program.

Deck 6

Boardwalk Dog House serves complimentary meals and specializes in hot dogs, bratwursts, sausages, toppings and more. Perfect for grabbing to-go on your boardwalk stroll.
Johnny Rockets is a 50s-themed diner. Here, you can enjoy a juicy burger and fries, milkshakes, and classic throwback tunes from the jukebox.
Sabor Taqueria & Tequila Bar serves traditional Mexican cuisine: tacos, burritos, quesadillas and more!

Deck 8

Vintages is a cozy wine bar with an a la carte tapas menu.
Park Cafe is a walk-up style gourmet market with a wide variety of food options available.
Giovanni's Table features casual Italian dining and scrumptious food to satisfy any palate. Great for the entire family!
Chops Grille is Harmony's signature steakhouse, where you'll enjoy premium cuts of steak and more in a fine-dining setting.
150 Central Park features the most prestigious fine-dining aboard!

Deck 11

Wonderland Imaginative Cuisine is a unique dining journey where guests enjoy magical and artful dish presentations in an edgy, surreal dining venue. You're sure to be surprised and delighted!

Deck 15

Solarium Bistro has a bit of something for everyone -- enjoy classic, healthy bistro dining for the whole family.
Mini Bites casual eatery is an excellent choice for grabbing a quick bite to eat.
Windjammer Marketplace serves buffet-style breakfast and lunch, and restaurant-style dinner service fit for the entire family.
Coastal Kitchen is an exclusive dining option for Suite guests, serving a delicious fusion of Californian and Mediterranean cuisine.
Find Your Royal Caribbean Cruise
Meet the Royal Caribbean Fleet
Discover the World on These Cruise Lines
Search for Cruises & Compare Deals!
Signup for Cruise Deals
Exclusive access to private sales, customized specials & more