Grand Sunset Princess Resort
Overview
Set on a gorgeous green plot on beautiful Riviera Maya, the Grand Sunset Princess has something for everyone. Enjoy the airy, tropical atmosphere while you relax by one of 12 pools, tantalize your taste buds at one of 12 restaurants, exercise some healthy competition at one of 6 tennis courts or drop off the kids at the Mini-Club for swimming and games while you and your spouse take a sunset stroll on the beach. Discounted rates and vacation promotions are available now so there has never been a better time to plan a vacation getaway to Mexico for you and your loved ones.
Check in 3:00 PM
Check out 12:00 PM
All rooms are non-smoking
Pets are not allowed
Free self-parking
On-site business center
Wheelchair accessible
Room Options
The Grand Sunset Princess has 674 suites that come with an in-room minibar, safe, private balcony and upgradable features like free spa services at Metamorphosis Spa. Whether you choose a Junior Suite or a Platinum Suite with Jacuzzi on Balcony, you will stay in the lap of luxury. The standard suites at Grand Sunset Princess boast breathtaking views, plush beds with down comforters and flat panel TVs.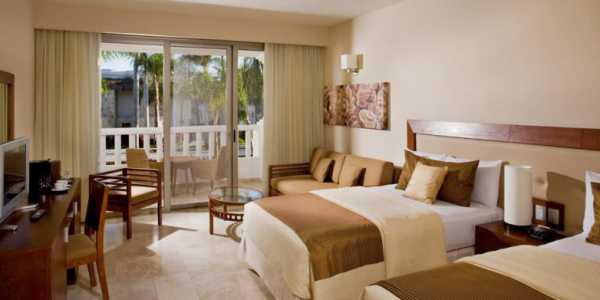 Junior Suite Deluxe With Jacuzzi
Junior Suite Deluxe with Jacuzzi features a studio-style suite that sleeps up to four guests. Select one king bed or two double beds. Enjoy a private balcony or terrace. Bathroom includes Jacuzzi, hairdryer, beach towels and more. En-suite mini-bar is restocked daily.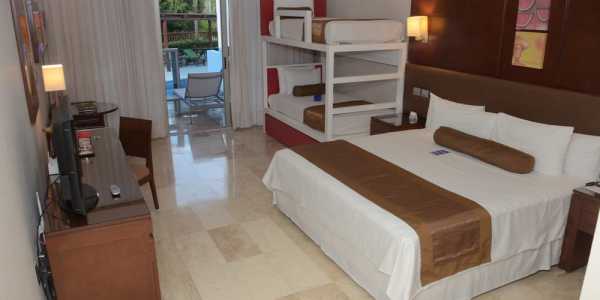 Junior Suite Deluxe Swimout With Jacuzzi
Junior Suite Deluxe Swimout with Jacuzzi features direct pool access from the terrace. Full bathroom has jacuzzi and hair dryer. Room offers 1 King bed or 2 double beds, sofa, minibar restocked daily, coffee maker and satellite TV. Minimum age to stay in this room is 13.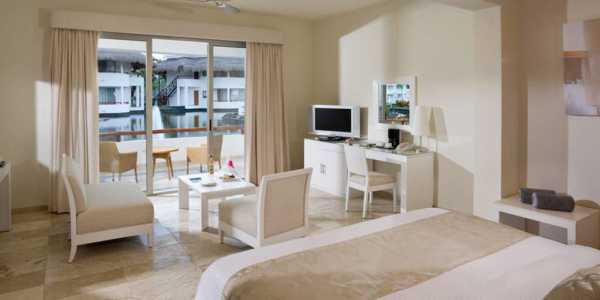 Laguna Villa Suite
Laguna Villa Suites with Jacuzzi sleep up to two guests in a 700-square foot studio-style suite with private balcony or terrace. Suites include Jacuzzi, bathrobes and two beach towels, plus a complimentary mini bar that is restocked daily. This all-inclusive suite comes with a free spa package with 30-minute massage for guests staying four or more days.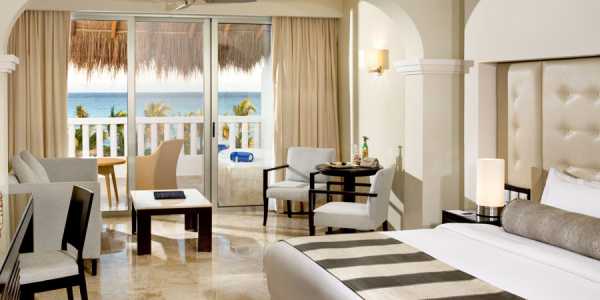 Platinum Suite
Platinum Suites with Jacuzzi on Balcony sleep up to four guests, with choice of one king bed or two double beds. Suites boast bathroom with Jacuzzi; hairdryer and towels, coffee maker, and minibar that is restocked daily with water, soft drinks and beer. Guests enjoy complimentary use of bathrobe and slippers during their stay.
Dates & Rates
* All rates are base rates for hotel only: per person, per room, per night based on double occupancy. Base rates do not include any taxes or fees associated with booking your room, or costs for adding flights to your travel package.
Map, Location & Directions
Prolongación 5ta Avenida Mza 20 Lote 006
Playa del Carmen, Riviera Maya 77710

15 minutes from Playa Del Carmen's city center
1 hour from the airport
Sits on the shores of the Caribbean Sea
Amenities
Things to Do

Sun on the sands of the Caribbean Sea or relax poolside. Grand Sunset has eight pools where adults can kick back, have some cocktails and take a cool dip. If you want to treat the kids to an afternoon of swimming and family fun, Grand Sunset also has four swimming pools for kids.
Kids' swimming pools are not all Grand Sunset has to offer its youngest guests. Drop the kids off at the Mini Club for daytime activities,outdoor games and playground fun. Nighttime activities include a mini disco and theater.
Work on your cardio in the fully-equipped fitness center in Metamorphosis Spa. Try your hand at several of Grand Sunset's outdoor activities like tennis on one of six courts or archery.
Take a Salsa class on the beach during the day then come to the Princess Theatre in the evening for an exciting live performance.
Spa Amenities Available

Experience spa treatments from all over the globe with Metamorphosis Spa's "Five Continents Circuit." Get a bevy of treatments like hot air baths and a multi-sensory room from America, Africa, Asia, Europe and Latin America.
Metamorphosis Spa offers a fully equipped gym complete with exercise bikes, weights and a rowing machine.
Let beauticians at Metamorphosis Spa's beauty salon make you over with beauty treatments and hairdressing using the best products and the latest techniques.
Feel every part of your body relax when you try Metamorphosis Spa's underwater massage pool, Oceania. Oceania has special warm water treatments to loosen and relax every part of your body.
Dining Options

Riviera Restaurant is open for breakfast, lunch and dinner by the Riviera lobby
Negresco Restaurant is open for breakfast and lunch by the Riviera Pool
Sunset Restaurant is open for breakfast, lunch and dinner by the Sunset lobby
La Tortuga Restaurant is open for breakfast and lunch by the Sunset Pool
Order a large, succulent steak and a crisp, refreshing glass of wine at La Vaqueria Grill.
Sample the traditional Italian favorites you know and love or new, modern Italian dishes at Mama Mia Italian Restaurant.
La Hacienda Restaurant offers bold Latin flavors with a view of Grand Sunset's gorgeous Central Court.
Feast on fresh sushi or pull up a chair and watch a skilled chef prepare your meal at one of Miso Asian Restaurant's Teppanyaki tables.
La Fondue Swiss Thematic Restaurant has a variety of rich and delicious Swiss dishes that will delight your taste buds. Dip appetizing meats, breads and fruits into warm, exotic sauces and savor the flavor.
Delight in fresh seafood with a view of the crystal clear waters of one of Grand Sunset's pools. Experience the preparation of fresh catches that helps define Mexican cuisine at Las Olas Seafood Restaurant.
Located on Grand Sunset's awe-inspiring Central Court, La Fleur offers French dishes so tasty that you'll forget you're dining in Mexico.
Relax, have drinks and sample a seemingly endless list of tempting Latin appetizers and treats at Tapas Spanish Restaurant.
Explore All-Inclusive Riviera Maya Resorts
All-Inclusive Vacation Destinations
Signup for Vacation Deals
Exclusive access to private sales, customized specials & more