Barcelo Grand Faro
Overview
Barceló Grand Faro boasts 350 rooms with all the extravagance you'll come to love when booking an all-inclusive resort package. All-inclusive resort deals include exotic dining, made-to-order Mexican fare at Las Olas Restaurant and fresh fish favorites at The Sushi Bar. Barceló Grand Faro offers fun for the whole family, including multiple pools, Jacuzzis and games in the Barclay Club.
Barceló Grand Faro is the perfect place for couples or families looking to get away for the perfect all-inclusive Mexico vacation. Barceló Grand Faro has four pools, including an infinity pool that overlooks the Sea of Cortez.
Check in time 3:00 PM
Check out time 11:00 AM
All rooms have private terraces or balconies
Wheelchair ramps & support rails in the bathrooms
Room Options
Barceló Grand Faro's 350 rooms consist of three grand towers sections: Luna, Estrella and Torre Sol. All rooms include individually controlled air conditioning, coffee machine, ironing board, alarm clock and satellite TV, including a private balcony or terrace.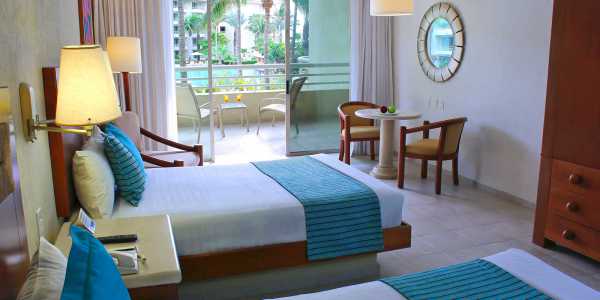 Superior Room
The Superior rooms come standard with nearly 500 square feet of space, a private terrace with views of lush gardens and contemporary Mexican decor.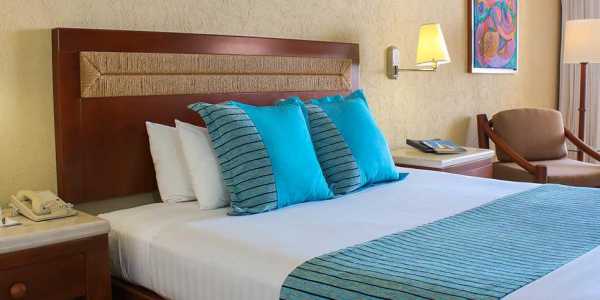 Superior Room Sea View
Enjoy all of the comforts of the Superior room with the added bonus of a breathtaking panoramic view of the Sea of Cortez.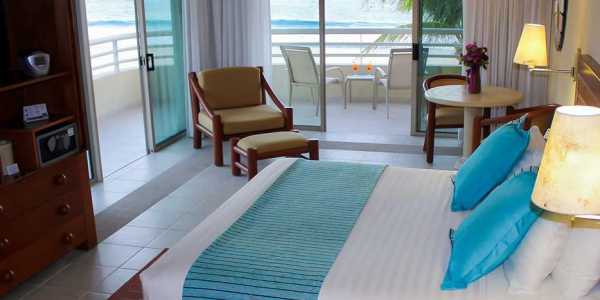 Junior Suite Beach Front Premium Level
Enjoy all the benefits of the Superior Beach Front Club Premium room with extra space and a hot tub when you book a Junior Suite Beach Front Premium room. With over 730 square feet of space, a gorgeous view of the Gulf of California and a private hot tub, the Junior Suite Beach Front Club Premium room is the beachfront perfect room for couples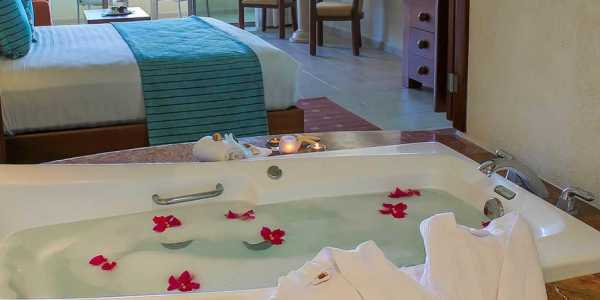 Deluxe Sea View Premium Level Room
All Deluxe Sea View Premium Level rooms boast over 600 square feet of space with private terraces that offer sweeping sea views. Club Premium Deluxe guests enjoy upgrades, like a full mini bar, VIP bracelets, 24-hour room service, endless a la carte dining and much, much more.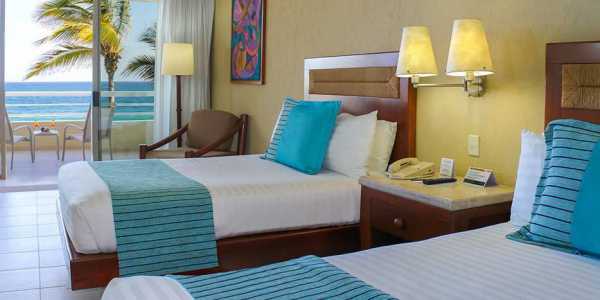 Superior Beach Front Premium Level
The Superior Beach Front Premium Level rooms feature 570 square feet of space with a large terrace overlooking the Sea of Cortez. Guests that book these rooms will also enjoy larger beds and the services offered under the Premium Level Deluxe option, like free Wi-Fi and 15% off of spa services.
Map, Location & Directions
Blvd. San Jose S/N Lote 9, Seccion Hotelera 1
Zona FONATUR C.P. 23400
San Jose del Cabo, B.C.S. Mexico

Located on the beach on the Sea of Cortez
Located in the exclusive Los Cabos resort zone
Just a five-minute drive to the historic town of San Jose Del Cabo
Amenities
Things to Do

Take advantage of the beautiful Sea of Cortez with exciting water activities! Snorkel and discover life under the surface of the crystal blue water, take a surfing lesson and let an expert show you how to ride the waves or watch for the famous Los Cabos whales.
Perfect your swing on one of Los Cabos' many golf courses. Even the most avid golfer will enjoy a day on the green at one of Los Cabos' well-manicured courses.
Swim in one of Barceló Grand Faro's four pools or unwind in one of their two Jacuzzis.
Drop off the kids at Barceló Grand Faro's Children's Club for planned activities while you head over to the on-site gym or racquetball court.
Spa Amenities

Start your day of pampering at Deep Blue Spa with a hydrotherapy circuit that includes a steam room, sauna and Jacuzzi.
Choose from Deep Blue's five treatment rooms or spend a day at the spa with your partner in the suite for couples.
Offering special seaweed treatments and products, Deep Blue draws inspiration from the beautiful surrounding waters of the Sea of Cortez.
Dining Options

Las Olas Restaurant - Enjoy a breakfast, lunch and/or dinner with authentic Mexican flavors next to the sea at the popular Las Olas Restaurant.
Albatross International Restaurant - Bring the family to a dinner buffet featuring different nightly international themes. Located in the Terre Sol building, Albatross International Restaurant offers a variety of options for a unique taste sensation.
Las Jicamas Restaurant - Choose Las Jicamas Restaurant for a genuine Mexican dining delight. Let your taste buds be your Mexico tour guide when you dine at Las Jicamas.
La Góndola Restaurant - La Góndola offers Mediterranean food with influence from Baja California. Enjoy a truly sensational Mediterranean experience as you sample the expertly prepared dishes.
La Isla Snack Bar - Looking for a quick snack, cocktail or both? Look no further than the La Isla Snack Bar. At La Isla, you can order a beer and a burger, or fresh seafood dishes and cocktails with local ingredients.
Sushi Bar - Head up to the top floor of the El Faro building for good conversation, great drinks and exquisite cuisine. Sushi lovers and first-time sushi diners alike will appreciate the fresh fish offerings on Sushi Bar's menu.
Acuario Lobby Bar and Sky Sports Bar - If you are just looking to catch up on the latest sports event while playing a relaxing game of pool, head over to the spacious Sky Sports Bar. For a quick drink after dinner, pool with friends and live music, visit the popular and exciting Acuario Lobby.
All-Inclusive Mexico Resorts
All-Inclusive Vacation Destinations
Signup for Vacation Deals
Exclusive access to private sales, customized specials & more