Fun Facts About Aruba
Just south of the hurricane zone, and just north of South America lies the happy island of Aruba. For ten months of the year, the trade winds blow across the arid island and make the hot Caribbean sun seem mild and friendly. Aruba's multi-cultural people are also known for their sunny friendliness, earning the island's nickname, "The Happy Island."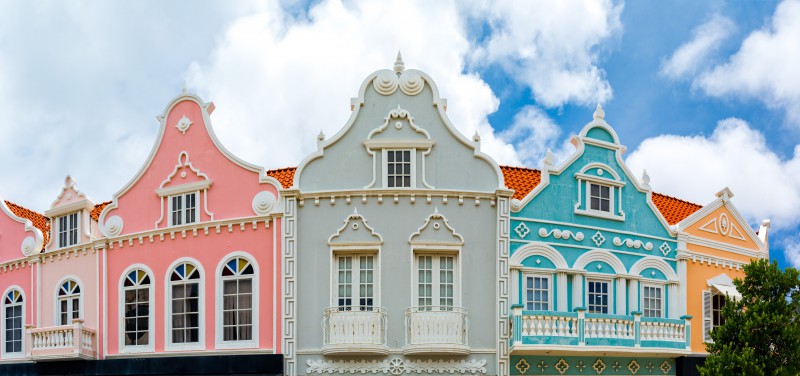 Fun Facts about Aruba
If you are planning a Caribbean vacation in Aruba, you might want to know a few fun facts about this cheerful spot.
Tourists love Aruba. Nearly 800,000 visitors flock to the perfect breezy beaches and clear waters at all times of the year, and a large percentage of these visitors return to the island year after year. Although it is really a year-round destination, the winds that keep Aruba habitable most of the year tend to die down in early fall. But as temperatures rise, hotel rates fall. So a summer or fall vacation may be a little hotter and as much as 50% cheaper. The weather all year is dry – unlike most tropical Caribbean islands – and there is rarely a rainy day.
When Aruba was discovered by the Spanish explorer Alonso de Ojeda in 1499, he called it "la isla de los gigantes" because the native inhabitants were considerably taller than the European invaders. Later, it became known as the useless island because after a hundred years, they found no gold or treasures there. However, in 1824, a boy herding sheep found gold stones in a dry riverbed near the north coast and a minor gold rush ensued. It was discontinued by the Dutch government in 1828 when it was no longer profitable.
This tiny island is just 20 miles long from northwest to southeast, and six miles wide at its widest point. It is nearly flat. With no natural fresh water and no rivers, the island relies on a large desalination plant for fresh water. Aruba has strict standards for drinking water.
The official languages of Aruba are Dutch and Papiamento, a native language that blends African, Spanish and Portuguese influences. Papiamento is also spoken in Curacao, Bonaire and other Dutch Caribbean islands. Surprisingly, most native Arubans speak four languages, including English and Spanish. Some speak Portuguese, which immigrants brought to the island from Brazil.
Aruba is a "green" country and expects power generation to be completely fossil-fuel free by the year 2020. It relies on wind power, taking advantage of the nearly constant trade winds. By 2020, there will be two large wind farms and a solar field to supply power to the island. Aruba will be energy-independent.
All beaches in Aruba are public. The most popular beaches are Palm Beach and Eagle Beach. Palm Beach, on the northwest side of the island, is two miles long and hosts the high-rise hotels, dive and surf shops, barefoot restaurants and tiki bars. This is the place to rent snorkel gear or charter a sailboat for a sunset cruise. Just south of Palm Beach is Eagle Beach, home to the low-rise hotels, condos and apartments. This beach never seems to be crowded, and there is plenty of room to lay down a blanket on the powdery white sand.
Here are a few other fun things to do in Aruba:
Segway tours: This is a fun way to see the island. Training and a one-hour tour are generally less than $100 for a couple, and it is not strenuous. If you can stand up, you can ride a Segway. You'll enjoy panoramic beach views as you speed along the shoreline roads at a maximum of around 13 miles per hour.
Jet packs: Yes, they are riding jet packs over the ocean in Aruba. These fun devices strap onto your back like a backpack and shoot jets of water to propel you up to 30 feet high over the water. An instructor is with you at all times and remotely controls your flight until you get used to the operation of the jet pack.
Kukoo Kunuku tour: Hop on a wildly painted open air double-decker bus and cruise the city streets of Oranjestad and nearby country roads, looking for a party. The bus plays loud reggae music as the passengers shake maracas and greet pedestrians along the way. It stops at all the favorite watering holes and dining venues, but it's really more fun to stay onboard for a great night out.
By Kay D. Harrison
Signup for Vacation Deals
Exclusive access to private sales, customized specials & more