3 Reasons to Consider An All-Inclusive Resort
Are you in desperate need of a vacation but stressed about your tight budget? Do you feel that with the word "vacation" comes an imminent laundry list of expenses for a hotel, car, meals and entertainment? Do those things overwhelm rather than excite you?
Well if you answered yes to any one of these questions, then you definitely a) need a vacation and b) need to continue reading this post.
All-inclusive packages are some of the hottest vacations around right now. The beauty of an all-inclusive vacation lies in its economic practicality and the fact that it can cater to almost all types of vacationers. Whether you are planning your romantic honeymoon or fun-filled family reunion, an all-inclusive resort could be the best option for you.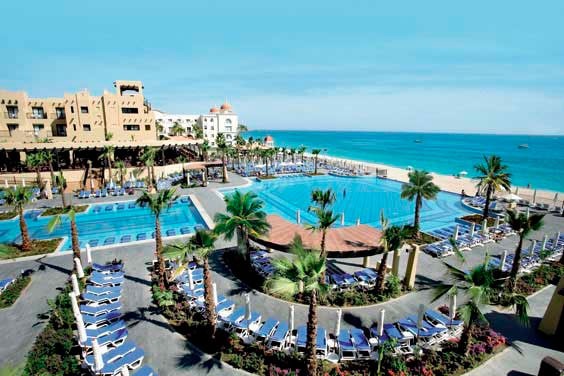 All-inclusive packages allow you to make the most of your money by giving you a worry-free vacation, extreme value and a paradise escape:
1. Worry-free vacation
This is probably the biggest reason people choose all-inclusive resorts. These low-maintenance vacations certainly appeal to people looking to get the most of their money without worrying once they arrive. Where else can you go on vacation and not have to worry about a budget or walking around with a wallet filled of cash and credit cards? Since you pay everything up front, and don't need to dish out cash throughout your trip, you can whole-heartedly enjoy your vacation without thinking twice. Everything is included, so stop stressing about prices and start appreciating all the resort has to offer! Many resorts have not only buffet restaurants, but sit-down specialty restaurants that may require reservations, but at no additional charge. If you are traveling on your honeymoon, you may want to check out an adults-only resort for an experience catering to romance, quiet and relaxation.
2. Extreme value
The best way to plan an all-inclusive vacation is to book a combo with air (which allows you to save additional money). Typically these packages include roundtrip airfare and hotel transfers. Take the total cost of your all-inclusive and divide it by the number of days you are staying there. That total per day amount includes as much food you can stuff yourself with for breakfast, lunch and dinner, as many strawberry daiquiris or other drinks you can sip on throughout the day and all of your entertainment such as nightly shows, tennis courts and non-motorized water sports (depending on the amenities offered). The value will probably shock you when you think of how much your typical vacation costs. In addition to saving money on food and activities, you also won't need to rent a car as everything is right on property. If you're traveling with young children, I highly suggest looking into family friendly properties, specifically geared toward a kid-friendly atmosphere, as many of these resorts have kids stay and eat free promotions.
3. Paradise Escape
The type of vacation an all-inclusive property offers its guests is simply paradise. Think pina coladas under the umbrella on a white sand beach, kayaking in the crystal-blue water, swim-up bars in the pools and live outdoor entertainment while indulging in your meal. These are the types of vacations you dream of available at extremely reasonable prices. All-inclusive resorts are abundant on the beautiful Caribbean islands and in many of Mexico's hotspots. Typically, the weather is beautiful year-round and you can almost always find great deals.
Escape to paradise for a worry-free vacation at an affordable price. With an all-inclusive resort, traveling has never been so stress-free! These vacations are even better when you find a great all-inclusive travel deal at even lower prices. Many resorts offer additional value in spa discounts, resort credits, air credits and more, so be sure to do your research prior to booking. Happy relaxing travelers!
Signup for Vacation Deals
Exclusive access to private sales, customized specials & more